What We Know About Frank Ocean's Mysterious Relationship History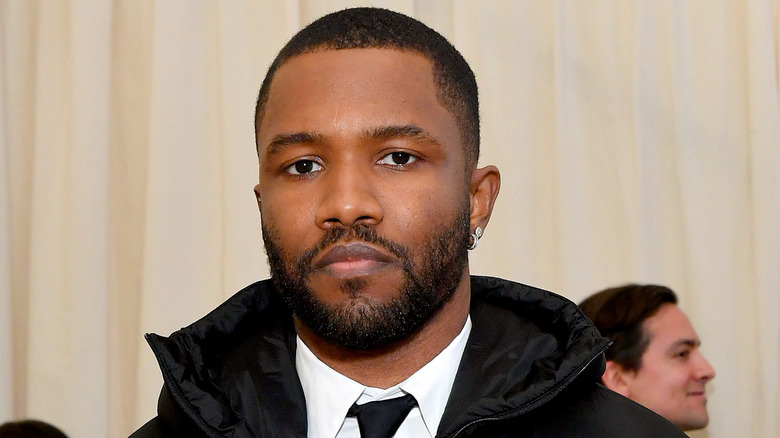 Mike Coppola/mg19/Getty Images
No artist can capture the emotions of love and heartbreak in a song quite like Frank Ocean. From "Thinkin' Bout You" to "Ivy," his music perfectly conveys the essence of love. Although he often includes personal experiences in his lyrics, Ocean has been exceptionally guarded about the identities of the people he's singing about.
There have only been a few occasions where the musician discussed his love and relationships, and one was when he spoke candidly about his sexuality. In 2012, Ocean penned a vulnerable letter to Tumblr and wrote, "4 summers ago. I met somebody. I was 19 years old. He was too. We spent that summer, and the summer after, together...By the time I realized I was in love, it was malignant." The emotional letter continued as the rapper and songwriter officially came out, describing himself as a "free man."
Fans were happy to see Ocean live his truth –and if anything — it only made his music better. The singer even agreed as he told GQ that falling in love had elevated his craft. He said, "I had never been in love. I had never been heartbroken. When that happened, that's really what changed everything. That turned me into a real artist." Ocean has released two highly successful albums titled "Channel Orange" and "Blonde," and while he's still private about his love life, there are some details we know about the singer's past relationships.
Frank Ocean had a 3-year relationship
Frank Ocean has been incredibly private about his relationships, so he shocked nearly everyone in 2019 when he casually revealed he had been in a relationship for three years. The musician dropped the news when Gayletter asked if he had been on dating apps. Ocean said, "I don't use dating apps. I've been in a relationship for three years. I definitely wasn't using dating apps before then. I don't think I would use dating apps now." Ocean's surprising confession intrigued many.
Ocean never mentioned who he was in a relationship with, but that didn't stop fans from speculating. According to Capital Xtra, the rumored mystery beau was Memo Guzman. The two reportedly had been together since 2017 and were spotted on several outings, including a UFC fight. Guzman only fueled speculation when he posted a photo of Ocean performing in 2017 to his Instagram. Fans were convinced the two were an item after Ocean seemingly mentioned Guzman in his song "Provider." The musician sang, "Memo finna start acting out if I don't see him soon." 
Although it appeared the "Lost" singer was referencing Guzman, neither confirmed the speculated romance. It's unclear how the two ended things, but it seems as though Guzman still supports Ocean. In 2023, he shared a photo of himself at Coachella, which Ocean was famously headlining. Whether they ran into each other or not, we'll never know.
Frank Ocean was rumored to be with Omar Apollo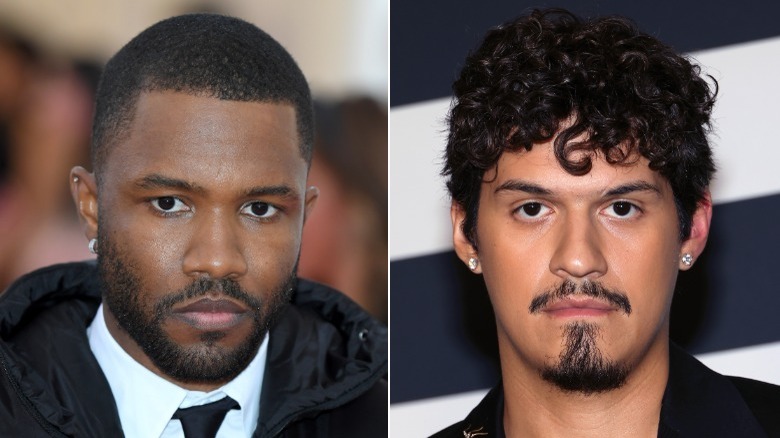 Karwai Tang & David Livingston/Getty
Frank Ocean and Omar Apollo are both talented and handsome musicians, so it's no surprise that fans suspected they were in a relationship after a series of coincidences. It all started in the summer of 2022 when a TikTok user posted a video offering a deep dive into how the two musicians spent time with one another in Italy. Granted, Ocean and Apollo were amongst other friends, but fans questioned if they were working on music or, perhaps, it was something more.
Similar to Ocean, Apollo has been incredibly candid about his sexuality. When speaking with NPR, the "Evergreen" singer spoke about putting a label on his sexuality. He said, "I don't really care. I feel like in the beginning, I was trying to be mysterious and stuff, but now I'm just like — I'm very gay, so I'm just like, whatever."
Fans have been convinced the two were an item since their Italian escapades. They were further convinced when the notoriously reclusive musician attended SZA's 2023 tour — for which Apollo was the opening act. A TikTok video showed the "Nights" singer vibing to Apollo's set. However, this all remains speculation as neither one has confirmed a relationship, and with Ocean's history of privacy, we'll most likely never find out.