Robert De Niro's On-Off Relationship With Grace Hightower Led To A Messy Divorce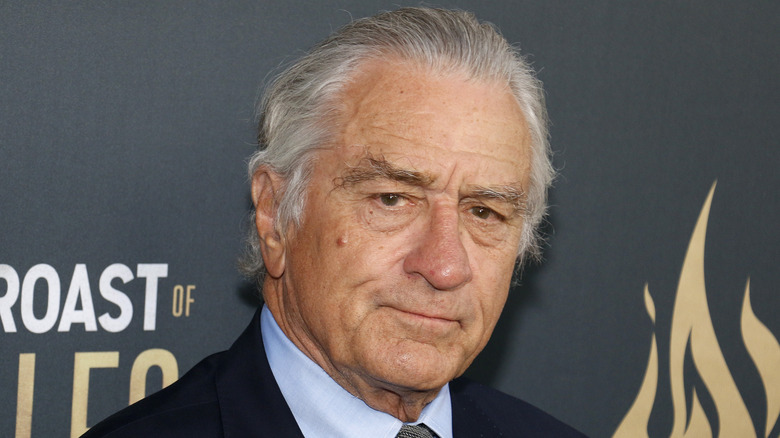 Tinseltown/Shutterstock
Robert De Niro's relationship with Grace Hightower was unusual from the get-go. "The Godfather" star met Hightower in 1987 when she worked at a London nightclub. Though De Niro already had two Oscars under his belt by then, Hightower didn't recognize the man asking her too many questions, as she told Katie Couric in 2013. De Niro and Hightower avoided directly addressing the nature of their relationship in those early days. "It was an ease-in. It wasn't a whirlwind," she told The New York Times in 2013.
A year after meeting Hightower, De Niro divorced his first wife, who is the mother of his first two children. It is unclear what led to their separation, but De Niro has hinted it wasn't simple. "It's easier probably not to have children if you're going to split up," he told the Belfast Telegraph in 2013. He and Hightower, a philanthropist, maintained an on-again, off-again relationship through the next decade.
In that time, he dated model Toukie Smith, with whom he had twin sons in 1995. After De Niro split from Smith, he became more on than off with Hightower. In 1997, they wed and started a family the following year with the birth of their son, Elliot. In 2011, they expanded their brood with the addition of their daughter, Helen Grace. The marriage would only last a few more years, though. In 2018, De Niro and Hightower filed for divorce, marking the beginning of a long, drawn-out legal battle. 
Division of assets became a major point of contention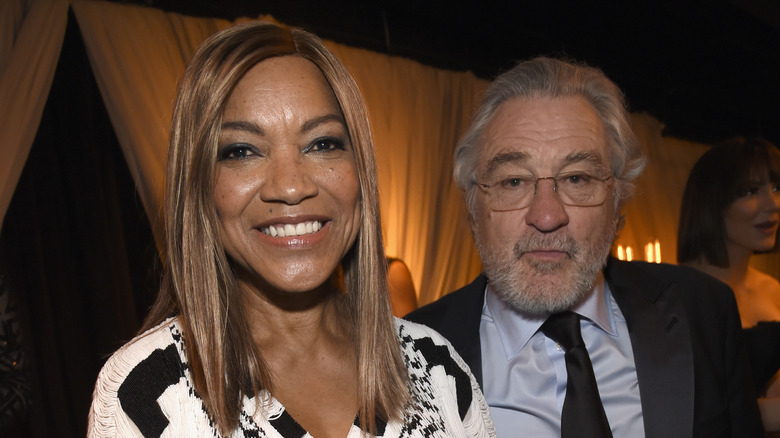 Kevin Mazur/Getty Images
Robert De Niro and Grace Hightower signed a prenuptial agreement in 2004 when they renewed their wedding vows. While the prenup established Hightower would get $6 million for an apartment, plus half a million and a yearly alimony of $1 million, it wouldn't start protecting either until the divorce was final, according to Page Six. And here's where things got complicated. While the wheels of justice did their thing, De Niro contended he was forced to pick up extra work to keep up with Hightower.
"When does he get the opportunity to ... not work six-day weeks, 12-hour days so he can keep pace with Ms. Hightower's thirst for Stella McCartney?" De Niro's lawyer argued in an April 2021 court hearing, Page Six reported. Hightower, for her part, argued De Niro had taken it upon himself to lower her credit card limit to $100,000 from the previous $375,000. "There have been no cutbacks and no slowdowns in Mr. De Niro's lifestyle whatsoever," her lawyer said. The back-and-forth continued over the next several months. 
In October 2021, an appeals court dealt Hightower a blow when it denied her claim for half of De Niro's earnings, according to Fox News. "The husband's income earned during the marriage and other business assets acquired during that time are his separate property," the decision read. Even though the couple has been separated for years, it's not looking like the divorce is going to be finalized anytime soon.
Robert De Niro and Grace Hightower had attempted divorce before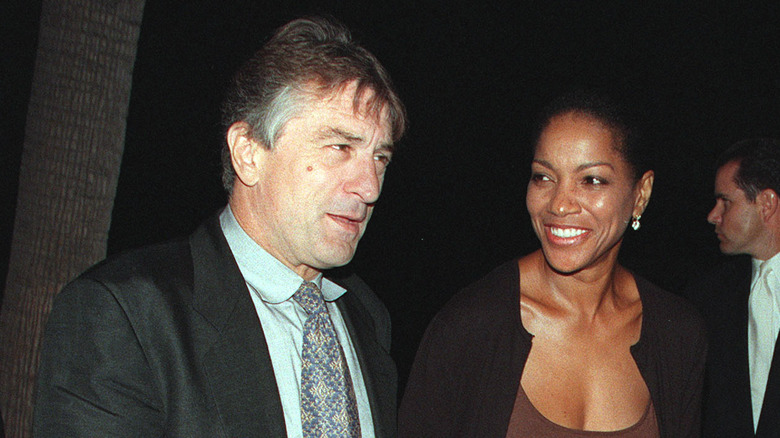 Frank Trapper/Getty Images
After marrying in 1997, Robert De Niro and Grace Hightower opened divorce proceedings just two years later. The pair was soon in court battling over custody of Elliot. Hightower accused De Niro of drug and alcohol abuse, using it as an argument to have a chaperone present for visitation and to have him screened for any substance use. De Niro denied having "a substance or drinking problem. Nor does he have a problem with overzealous imagination. Drug tests are not necessary," his lawyer argued, The Guardian reported in July 2001.
On the other side of the argument, De Niro claimed Hightower was violent and, therefore, unfit to care for their boy. Despite the serious accusations, De Niro and Hightower mended their relationship and went on to renew wedding vows before not one but two judges in November 2004, People reported. "So they can make sure this one sticks," De Niro laughed. Not only did it not stick, but the former couple engaged in a second custody battle in the wake of their 2018 split.
But this time around, De Niro and Hightower avoided going to trial and came to a custody agreement on Valentine's Day 2020 over their daughter, who was then age 8. "The agreement resolves all of the parenting issues ... My congratulations," the judge said in court, according to Page Six. "The decision is clearly in the best interest of your daughter, who you both love."