How Britney Spears Lost Custody Of Her Sons Sean And Jayden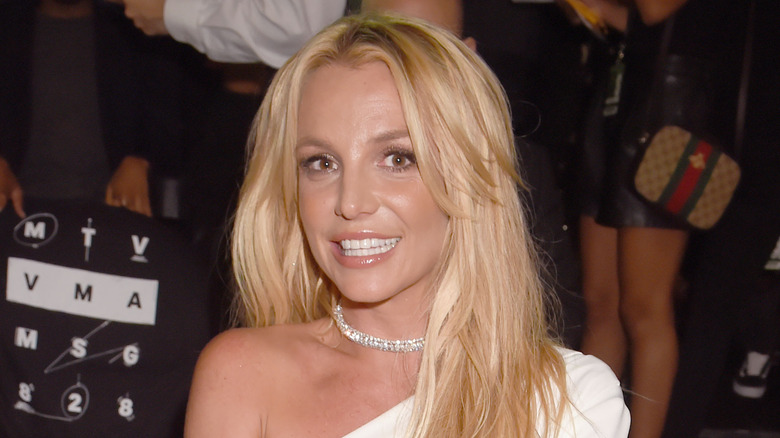 Jeff Kravitz/Getty Images
Britney Spears has lived most of her life under a microscope and, in more recent years, the media lens has really zoomed in. The pop star rose to fame in the late '90s with the release of "...Baby One More Time," which has remained of the most popular songs throughout her career. Spears' personal life has almost always been intriguing to fans, from her quickie wedding to Jason Alexander — that was annulled after 55 hours — to the birth of her two sons, Sean Preston and Jayden James, with her now-ex-husband, Kevin Federline. 
Spears and Federline had a sort of magnetic attraction to one another when they first met at a nightclub in Hollywood. "Our eyes met and that was it. We just hit it off right away. I learned real fast how much of a whirlwind the press and everything was," Federline told People in 2008. Indeed everything happened quickly for the two, with Spears inviting Federline on tour with her in Europe to their surprise wedding in September 2004 — just three months after they initially met. Babies came next. Spears gave birth to her first son, Sean, in September 2005, and to Jayden one year later, almost to the day. From here, however, things in Spears' life took a turn that no one really saw coming.
In November 2006, Spears filed for divorce, citing "irreconcilable differences" and requesting legal and physical custody of her two sons, according to Us Weekly. But in 2007, the world learned that Spears had lost custody of her boys.
Britney Spears lost custody of her sons amid her public struggles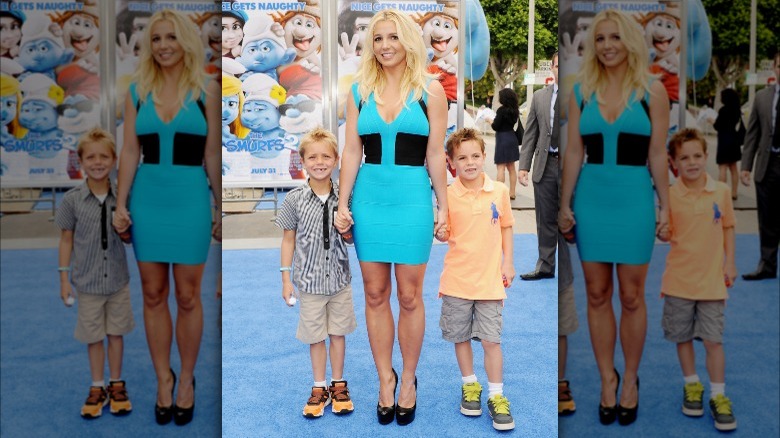 Jon Kopaloff/Getty Images
Following her divorce from Kevin Federline, Britney Spears was in a downward spiral. Perhaps one of the most notable moments of the singer's struggles was when she shaved her head in February 2007, just months after filing for divorce. All eyes were on Spears' every move and the paparazzi continued stalking each one — and so did the court system. The New York Times reports that Spears was ordered to undergo random drug and alcohol testing and, in October 2007, a Superior Court judge ruled that Federline would be granted full custody of Sean Preston and Jayden James.
In January 2008, fans all over the globe watched the news to see an ambulance outside of Spears' home. According to The Guardian, the "Piece of Me" singer was arrested and taken from her home in an ambulance "after refusing to hand her children over to Federline." At the time, TMZ reported that Spears was transported to UCLA Medical Center where she was placed on a 5150 hold. Spears was permitted to see her boys, although, at least for a period of time, those visits were supervised. "Since they've been gone I've honestly felt like a huge part of me has died. Like, literally, have no purpose anymore. They were my joy. They were my everything," Spears said in a now-deleted audio clip she shared on Instagram in September 2022 (via Insider).
Britney Spears doesn't see her boys much anymore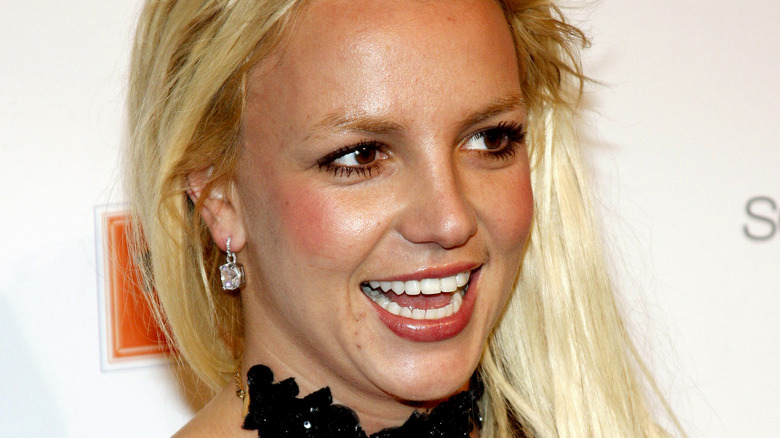 Tinseltown/Shutterstock
Britney Spears' mental health became a huge concern for those closest to her and a judge eventually granted a conservatorship, with her father, Jamie Spears, in control. This arrangement was sealed in February 2008, according to the New York Times. The watching world had high hopes for Britney Spears, hoping that she'd be able to right the ship and land on her feet — and she did. In fact, she was able to work out a deal with Kevin Federline to have 50/50 custody of her kids. Things were looking up for the entertainer as she started making new music and even landed herself a residency in Las Vegas, raking in a whopping $138 million, Billboard reports.
In 2019, Britney Spears was back in court with Federline, and a new custody agreement was reached; Federline was granted custody rights for 70% of the time while Britney Spears would have her two boys the other 30% (via TMZ). But there was a lot riding on Britney Spears' shoulders, including a feeling of entrapment and deceit from within her own family. Britney Spears would go on to fight her freedom, ultimately winning a war against her father when a judge ruled to terminate her 13-year conservatorship on November 12, 2021. And while she is now free of her father's thumb, Britney Spears doesn't get to see her kids much at all anymore. "The boys have decided they are not seeing her right now," Federline told the Daily Mail in August 2022.