Britney Spears' Sons Are All Grown Up And Look Just Like The Famous Singer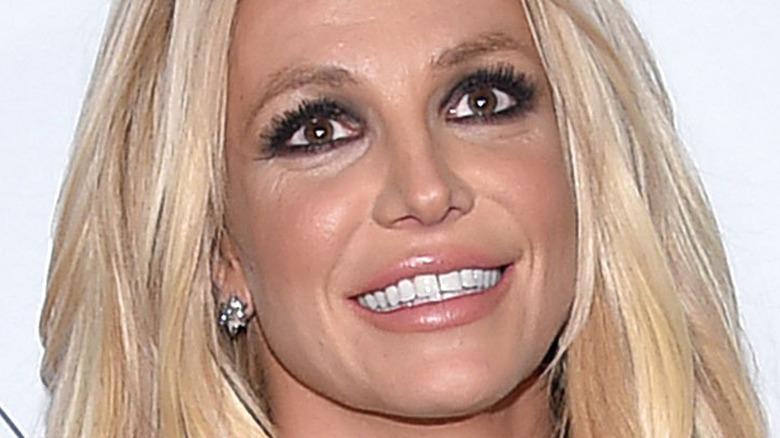 DFree/Shutterstock
It feels like yesterday that Britney Spears' sons Sean Preston and Jayden James were just babies. Who could forget the time in 2006 when she was caught driving with Sean, then an infant, in her lap? 
While the media immediately treated the incident as evidence of the pop star's supposed descent into mental health struggles, Spears claimed she was reacting to a "horrifying, frightful encounter with the paparazzi," according to Today. In a statement, she said, "I was terrified that this time the physically aggressive paparazzi would put both me and my baby in danger." She continued, "I instinctively took measures to get my baby and me out of harm's way, but the paparazzi continued to stalk us."
Save for the occasional red carpet appearance, Sean and Jayden have stayed largely out of the spotlight. But now well into their teens, Spears' kids just made a rare appearance on social media — and they have a striking resemblance to their mother.
Sean Preston and Jayden James look just like their parents
Kevin Federline's friend Eddie Morales shared a photo with the now-teenage Sean Preston and Jayden James via his Instagram on October 5. Both boys look dapper in black while also showing off their different personalities with their unique hairstyles. In the caption, Morales wrote of his friend, "THE WORLD WILL SEE HOW MUCH OF A GREAT #DAD HE HAS BEEN !" In addition to photos, the post also included a video clip of Sean playing the piano while someone — presumably Morales or Federline — hyped him up in the background a la DJ Khaled.
Considering they're teenagers in the social media era, both of Britney Spears' sons almost certainly have profiles of their own that are just not publicly available due to privacy concerns. Britney once addressed this very subject, explaining on Instagram, "I haven't posted pictures of them for some time cause they're at the age where they want to express their own identities and I totally get it."
Either way, it's not hard to see the resemblance between Spears and her now-grown sons.