What We Know About Lainey Wilson's Relationship With NFL Player Devlin 'Duck' Hodges
Jason Kempin/Getty Images
Between snagging the most wins and debuting her new relationship with Devlin "Duck" Hodges, Lainey Wilson dominated the Academy of Country Music Awards on May 11. Wilson, who received six nominations, led the pack of winners, earning four awards across some of the biggest categories, including Female Artist of the Year and Album of the Year. Dubbing her album, "Bell Bottom Country," a labor of love, Wilson gave a powerful acceptance speech, shouting out to some of the industry's legends. "I'm up here because of y'all. Because of people like Dolly Parton, paving the way," she said, per AP. "For the little girls watching this, this stands for hard work," Wilson said, referencing her trophy. "If you're going to be a dreamer, you better be a do-er."
Since releasing her breakout project, "Redneck Hollywood," in 2019, Wilson has enjoyed a successful run, racking up impressive achievements, a feat she says came with its own challenges. "The only things that get me through hard times are my faith and my people," Wilson said in an interview with Taste of Country. Outside of her music though, Wilson has maintained a private personal life, only revealing in October 2022 that her song "Weak End" was inspired by a personal heartbreak. "You know, you gotta go through the bad to get to the good, and that's where I was," she said of the track.
These days, however, Wilson seems to have found love with Hodges. Here's what we know about the twosome.
Lainey Wilson and Devlin Hudges first connected via social media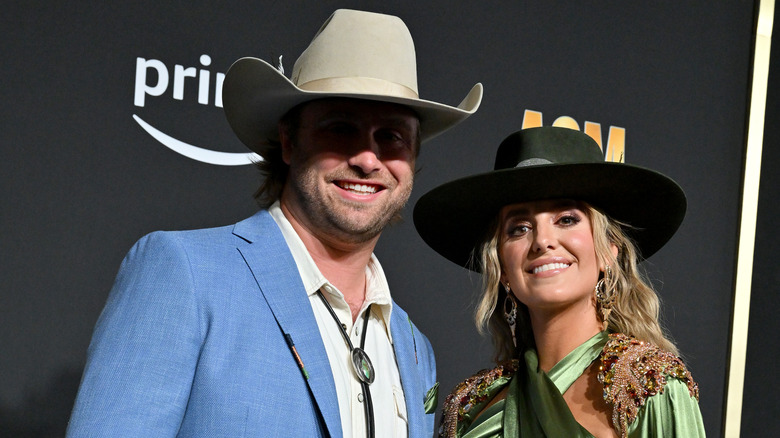 Axelle/bauer-griffin/Getty Images
Pulling up to the ACMs red carpet, Lainey Wilson stunned in a metallic, green jumpsuit, accessorized with a cowboy hat. However, Wilson's outfit wasn't the star of the night, as all eyes fell on her date, Devlin "Duck" Hodges. "Yup, yup. I brought me a hot date tonight," she confirmed to Entertainment Tonight. "I sure did. I mean, he's looking like a snack over there, ain't he?" Wilson also joked about allowing Hodges to be her date under on one condition. "I said, 'You know what, you can be my date but you can't steal my thunder,'" she added.
Wilson and Hodges have been linked since April 2023 when Hodges started lauding the country star for her singing skills. "Lainey Wilson damnnn she's so gooooood," he wrote in one tweet. In another tweet, Hodges also hinted that he was communicating with Wilson through her DMs. That same month, Wilson fueled speculation after performing at a Luke Comb concert wearing Hodges' NFL jersey.
When they are not dropping subtle hints, though, Hodges and Wilson are outright flirting on social media. On April 30, after Wilson shared an Instagram post showing her at the Luke Combs concert, Hodges took to the comments section, dropping what might arguably be the coolest pick-up line we've ever heard. "Well, you got my number. How about I get yours now?" Hodges commented.
Like Lainey Wilson, Devlin Hodges is pretty accomplished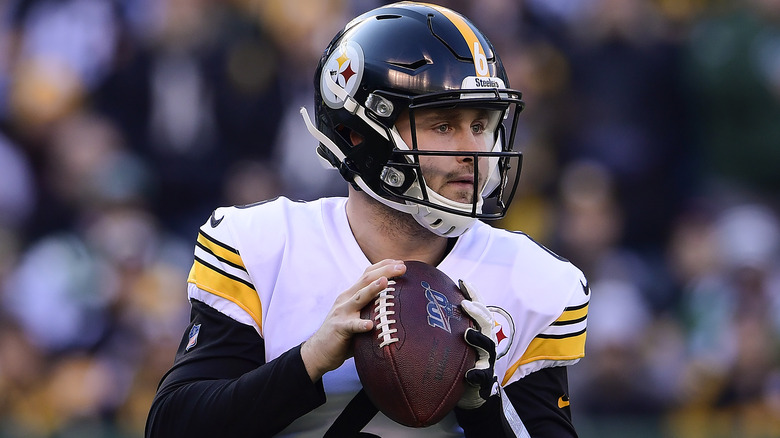 Steven Ryan/Getty Images
He might not be stacking up Academy of Country Music awards, but Devlin Hodges is successful in his own right. According to Entertainment Tonight, Hodges is a football player who enjoyed a successful college career while studying at Samford University in Alabama. During his time there, Hodges racked up a number of achievements, including winning the Southern Conference's Offensive Player of the Year three times. Additionally, Hodges also broke Steve McNair's record for passing yards.
Sadly, Hodges' impressive run at Samford was apparently not enough to get him drafted into the NFL, much to his disappointment and that of his fans. "It was definitely a little bit of a disappointment. That's one of the reasons I thought maybe there was a chance to get drafted and for sure get signed — just because of what I did at Samford," he admitted during an interview with NBC Sports.
Hodges went on to play for Pittsburgh Steelers as a free agent, initially spending only three months with the team. In September 2019, Hodges re-signed with the Steelers, making his first NFL appearance only a month later. With the team, Hodges played in the 2019 season, recording 1,063 yards passing, with a total of five touchdowns. But, while the football field might be his first love, Hodges seems to have found just as much happiness with Wilson.