What Sarah Jessica Parker And John Corbett's Relationship Is Like In Real Life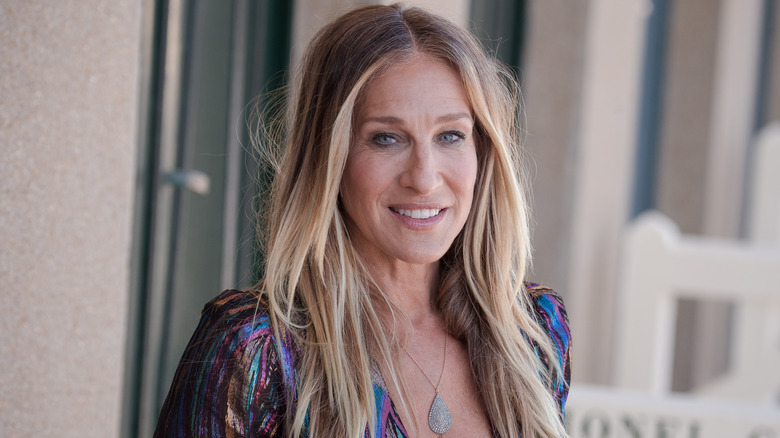 Francois G. Durand/Getty Images
Sarah Jessica Parker has reprised her role as Carrie Bradshaw in the "Sex and the City" revival, "And Just Like That." In the first season of the show, which aired on HBO in 2021, fans rekindled their love for the television series, getting reacquainted with Bradshaw and her pals Charlotte York, (Kristen Davis) and Miranda Hobbes (Cynthia Nixon). Noticeably absent from the friend group — but certainly not forgotten — was Samantha Jones, played by Kim Cattrall. Cattrall chose not to be a part of the new series. The show depicted Carrie's life as a married woman living in New York in her 50s — and without any children. It began with quite a shock, of course, when (spoiler alert!) Carrie's husband, John Preston aka Mr. Big, had a heart attack while exercising inside the couple's swanky Manhattan home. The remainder of the season featured Carrie leaning on her friendships and new life experiences like never before. 
With season 2 having already wrapped filming, fans are well aware of what's ahead for Bradshaw, at least in some capacity. The fashionista will link up with an old flame. Enter Aidan Shaw, played by John Corbett. "Shh. Don't tell anyone," read the caption of an Instagram photo showing Parker and Corbett filming back in January. While SATC fans know all about Carrie's past with Aidan, they're about the find out what the future holds. And knowing what we know about Parker's real-life friendship with Corbett, we think he may be sticking around for a while. 
John Corbett may be sticking around on And Just Like That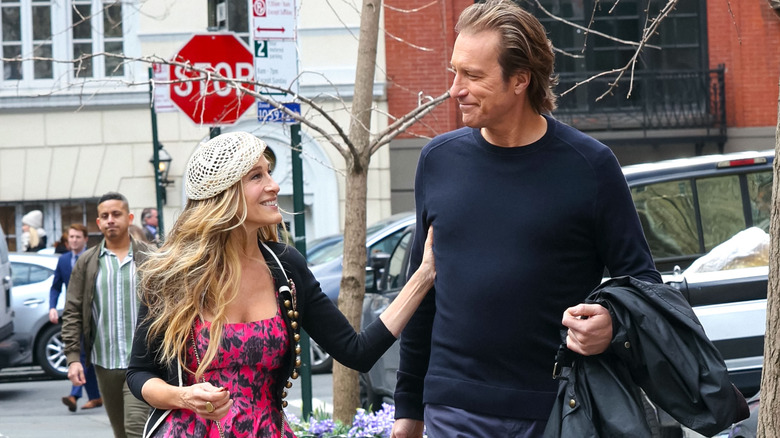 Jose Perez/bauer-griffin/Getty Images
Before "And Just Like That" aired, Sarah Jessica Parker shared her thoughts on John Corbett and Aidan. "I love John Corbett so much and I loved Aidan. I loved his Aidan and it was, you know, the best of both worlds is in fact having your cake and eating it too. So I feel like I got both teams, you know?" she told E! News when asked to choose between Team Big and Team Aidan in a 2020 interview. Ultimately, Parker revealed she was Team Big — and Corbett totally understood. "Selfishly I like to win, my characters like to win. But no, there's no other way for that formula to go down except with Mr. Big. It wouldn't have been a good show if she'd ended up with this guy, [Aidan]," he told Entertainment Tonight. 
All jokes aside, Parker and Corbett have built a strong friendship over the years, so it's no surprise that he agreed to make an appearance in season 2. Although we have a funny feeling that it's going to be more than just a cameo. In February, a few pics from set were shared by the official "And Just Like That" Instagram. In one of the photos, Carrie and Aidan were kissing. "And just like that Carrie is back on her tip toes," the caption read.
John Corbett caused some confusion about his decision to join the show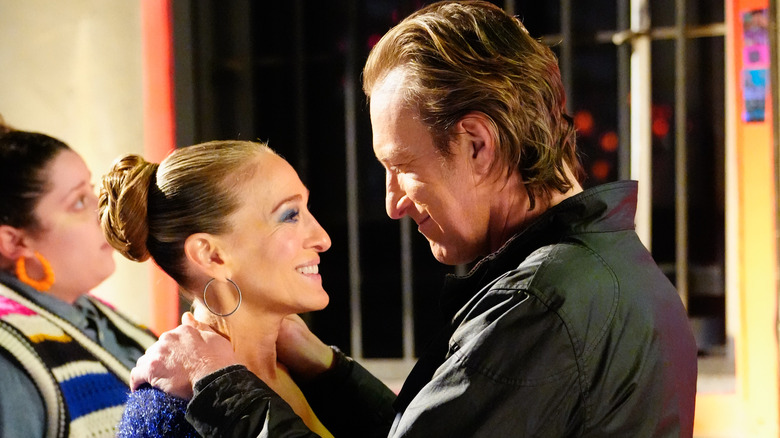 Gotham/Getty Images
When HBO first announced the "Sex and the City" reboot, John Corbett made it pretty clear that he was going to be a part of it. "I'm going to do the show," he told Page Six in April 2021. "I think I might be in quite a few [episodes]. I like all those people, they've been very nice to me," he said. But there was just one problem: he wasn't confirmed as part of the cast. "John Corbett should be writing personal apology notes. We didn't say anything," AJLT writer Julie Rottenberg said in an interview with Deadline more than a year later. Flash forward to 2023, and Corbett is indeed back. 
While we have no idea how all of that shook out, we're excited to see where Carrie's journey takes her. Will she end up rekindling with her old flame and possibly even get married again or will this be another Aidan fling? Fortunately, fans won't have to wait too long to find out. According to People, season 2 of "And Just Like That" is set to kick off in June.