Derek Jeter And His Wife Hannah Have A Bigger Age Gap Than We Thought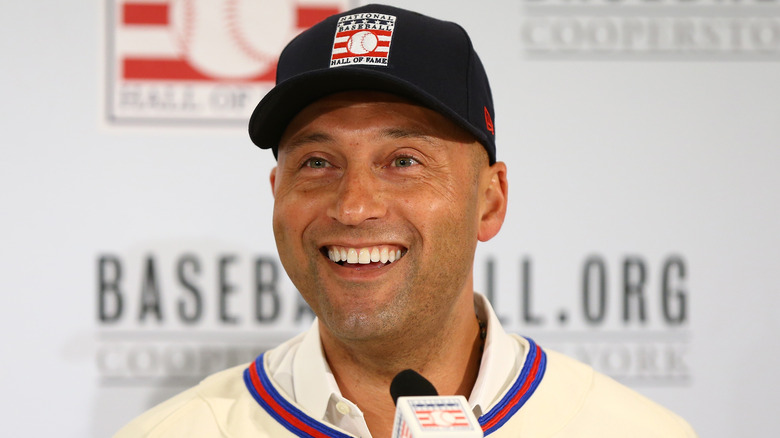 Mike Stobe/Getty Images
As the once deemed "most eligible bachelor" in sports, Derek Jeter's love life has attracted plenty of public attention over the years. At the height of his career, the former New York Yankees star had many a high-profile relationship. Among his list of former girlfriends are Mariah Carey, Jordana Brewster, and Jessica Biel, in addition to a slew of famous models, including former Victoria's Secret Angel Adriana Lima and the 2000 Miss Universe Lara Dutta.
Despite his star-filled relationship past, Jeter never dated anyone for long until 2012, when he was close to retiring. That year, he stared dating Sports Illustrated model Hannah Davis. That one stuck. In November 2015, the shortstop casually confirmed their engagement in an entry on The Players' Tribune to introduce his puppy. "I had no idea what I was in for as a new dog owner. He was a Christmas gift last year from my fiancée, whose family had Mastiffs growing up," he wrote.
They wed in July 2016 and Hannah Davis was now to be known as Hannah Jeter. Derek and Hannah started their family a year later, welcoming Bella Raine in August 2017. They added another daughter, Story Grey, to the brood in January 2019 and then another, River Rose, in December 2021. Derek altered his girl-dad status in May 2023 with the addition of their son, Kaius Green. Derek and Hannah seem so perfect for each other that's it's hard to notice at first glance that they have a considerable age gap.
Derek Jeter is nearly 16 years older than Hannah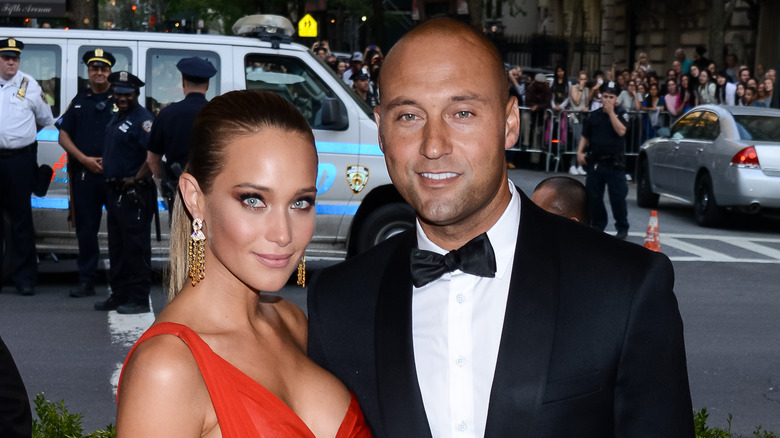 Sky Cinema/Shutterstock
When Derek and Hannah Jeter started dating, he was in the twilight of his career, while she was about to peak. The year they met, Hannah turned 22 in May, while Derek celebrated his 38th birthday the following month. This means they are 15 years and 11 months apart in age. Derek retired two years into their relationship and Hannah snagged her first Sports Illustrated Swimsuit spread a year into. The gap also means that when Derek signed with the New York Yankees, Hannah was 5 years old. 
While their age difference is considerable, it was never an issue for the Jeters. "Her mom told me, when Hannah was about 16, that she was an 'old soul,'" a family friend told the New York Post in 2015. "I think of that often when we are talking about her career and making big decisions. She definitely has a wisdom beyond her years." 
Derek and Hannah have a chemistry that goes way beyond their age. "Their relationship works because they are both supportive and sweet to each other," a source told Us Weekly in October 2015, shortly after they sparked engagement rumors. "They almost never fight." As loving as the couple is, not everyone was OK with their relationship... or Hannah's age. "She was like 7 when him and I dated," Derek's ex Vida Guerra told TMZ. Hannah was actually 15 in 2005, when Derek and Guerra went out, but we get her message.
Hannah Jeter didn't know who Derek was when they met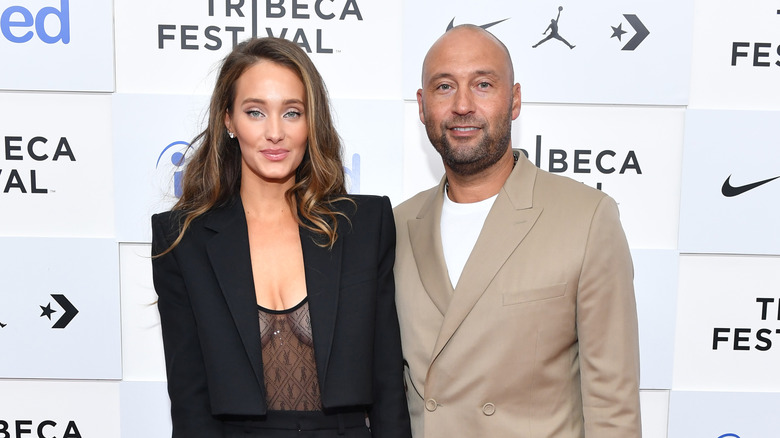 Noam Galai/Getty Images
Hannah Jeter was at a restaurant with her mother when a friend introduced her to Derek Jeter. She exchanged pleasantries with the tall, handsome man without knowing who he was. "I can just imagine all of the New Yorkers reading this right now thinking, 'Oh, come aawwnn.' They probably don't believe me," Hannah wrote in a 2017 entry for The Players' Tribune. "You probably don't believe me. But it's true."
Hannah has a fairly decent excuse for the gaffe, though. Baseball isn't huge where she's from. "I grew up in the [U.S.] Virgin Islands, on St. Thomas, which is only about three miles wide," she explained. On some level, not knowing how big Derek was played in their favor. "Derek and I met during the off-season, and I think that was a lucky break ... I didn't have any preconceptions about who he was," she wrote.
Derek believes they were at the right place at the right time. "I couldn't be luckier that our paths crossed when they did," Derek said during his induction into baseball's Hall of Fame in September 2021 (via People). Timing was key for their relationship to work. Had they met when his main focus was his career, they might not have lasted. "I was very selfish. It was all about me and my career and I just wasn't able to [have a family]," he said the ESPN docuseries "The Captain" (via Extra).