Tom Felton's Wife In Harry Potter Was Played By His Real-Life Girlfriend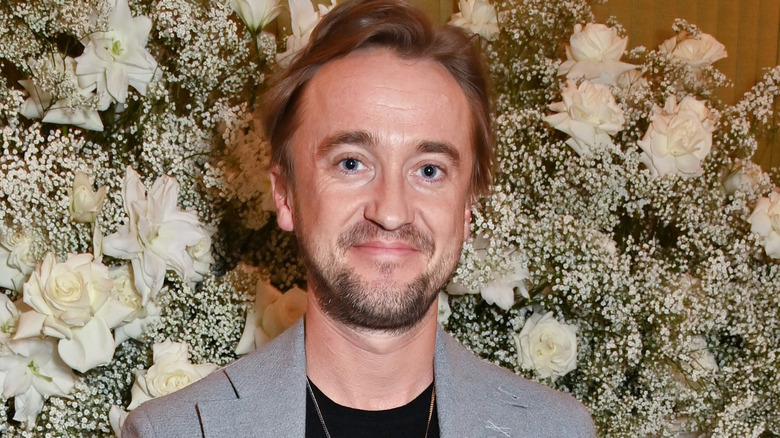 David M. Benett/Getty Images
Tom Felton had his breakout role in "Harry Potter" when he was 12 years old. Starring as the love-to-hate villain Draco Malfoy in all eight movies, Felton joined Daniel Radcliffe (Harry Potter), Rupert Grint (Ron Weasley), and Emma Watson (Hermione Granger) for an unforgettable journey in a magical world that still has millions of fans waiting for their Hogwarts acceptance letters. And while it may have taken some of the actors time to grow into the heartthrob roles they had earned by the last few films (cough cough Matthew Lewis), there seems to have always been some interest in Felton from fans, which led to an interest in his dating life. 
What some fans may not know is that Fenton actually had a serious girlfriend beginning in 2008 — and she appeared in "Harry Potter," too. Although she didn't have a big role, she surprisingly played Felton's wife in the final film. As Potterheads all know, Malfoy married pureblood Astoria Greengrass years after graduating from Hogwarts. 
Tom Felton first met Jade Olivia Gordon on set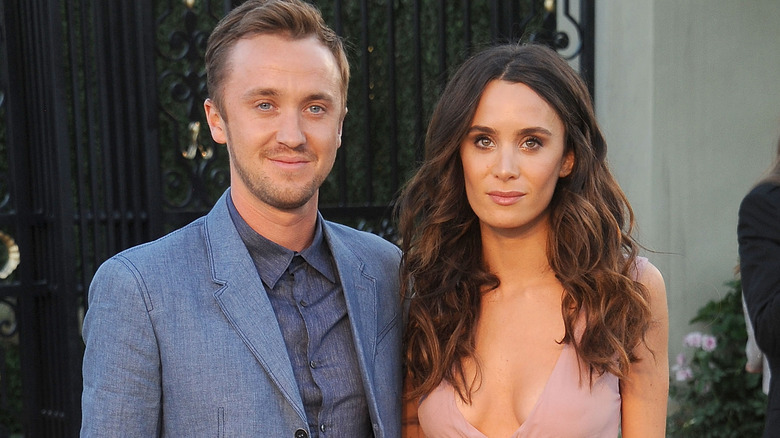 Gregg Deguire/Getty Images
Jade Olivia Gordon actually met Tom Felton when she appeared as an extra in the early "Harry Potter" days. "We met on the set five years ago. It was love at first sight in the Hogwarts Great Hall — for me at least. Jade had been asked to be an extra for the day. The Slytherin table were doing our naughty thing, looking around for good-looking girls, and she caught my eye. The weird thing is, I didn't really see her or speak to her for about two years after that, then we ran into each other on set again, and three cups of tea later, here we are," Felton told the Daily Mail in 2011.
Interestingly, Gordon isn't an actor. To have a spot of fun, we suppose, Gordon agreed to appear in the film in a non-speaking role. She's actually a British stunt assistant with about a dozen credits to her name on IMDb, including for films like "Inkheart," "The Da Vinci Code," and "Prince of Persia: The Sands of Time."
Are Tom Felton & Jade Olivia Gordon still together?
Todd Williamson/Getty Images
Tom Felton and Jade Olivia Gordon dated from 2008 through 2016, but the two eventually split. In an interview with The Guardian in 2022, Felton opened up about how playing the role of Draco Malfoy has affected his dating life. "Some people really struggle with the idea that I wasn't this special, popular kid. But I was walking around with dyed hair and played an evil wizard. It wasn't cool. It did me no favors with the girls," he explained. 
In the years since his split from Gordon, Felton hasn't taken another romance public, though he was briefly linked to another "Harry Potter" co-star. In 2019, fans went absolutely crazy when Felton was spotted hanging out with Emma Watson. An Instagram post shared by Felton at the time showed Watson sitting with a guitar on her lap and him apparently teaching her how to play. "Quick learner x," he captioned the snap. 
In 2022, Watson called Felton her soulmate. "Like Tom, I always struggle to explain to people the nature of our connection and relationship. For more than twenty years now we've loved each other in a special way," she wrote in the forward of Felton's book, "Beyond the Wand: The Magic & Mayhem of Growing Up a Wizard," according to CapitalFM. "It's one of the purest loves I can think of. We're soulmates, and we've always had each other's backs. I know we always will. It makes me emotional to think about it," she added. The two have actually never dated.