The Truth About Emma Watson And Tom Felton's Relationship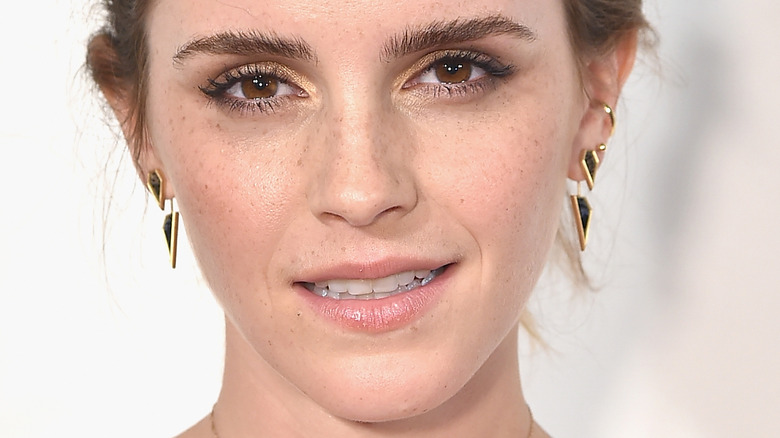 Theo Wargo/Getty Images
Emma Watson and Tom Felton, like many other members of the main cast of the "Harry Potter" series, were just kids when they embarked on the decade-long journey of filming the massively popular movies. That means that the actors spent their full adolescence on set with one another, sharing those wonderful — and often awkward — moments characteristic of those formative years. For many of them, their co-stars became more like family. 
Daniel Radcliffe, Rupert Grint, and Watson, who played the main characters and best friends, Harry Potter, Ron Weasley, and Hermione Granger, often talk about how they developed a sibling-like bond during those years. In fact, Radcliffe and Grint have both admitted that kissing Watson was awkward because of how close they were. "I've known Emma since she was literally 9 years old and we had this very brother-sister relationship," Grint told People, adding he can never watch their kissing scene because of it. Tom Felton, on the other hand, revealed to Metro in 2011 that he had a big crush on Helena Bonham Carter, who played the villain Bellatrix Lestrange, and who is 20-plus years his senior. "I had a little boy crush ... she's a very beautiful woman," he said.
On screen, Granger and Malfoy despised each other, which may lead many of us who obsessed over the franchise to believe Watson and Felton should also have a similar relationship in real life. But that's not true at all. Keep reading to learn the details about Watson and Felton's relationship.
Emma Watson had a crush on Tom Felton during 'Harry Potter'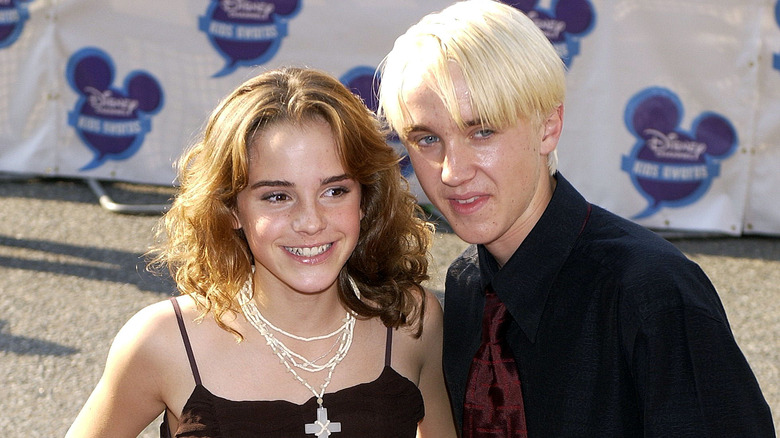 Brian Rasic/Getty Images
Hermione Granger famously punched Draco Malfoy in "Harry Potter and the Prisoner of Azkaban," a cathartic moment that had built up over the previous two films after putting up with the villainous boy's shenanigans. Behind the scenes, however, Emma Watson had been fighting off something different regarding Tom Felton. 
In those early years, Watson had feelings for her co-star, which she admitted on "The Jonathan Ross Show" in 2012. "Between the ages of 10 and 12 I had a really terrible crush on Tom Felton. [Girls] love a bad guy and he was a few years older and he had a skateboard. And that just did it, really. ... He used to do tricks on it. He was so cool," she said. Speaking with Seventeen in 2018, she contended she had never felt it before. "He was my first crush," she said.
Did he reciprocate the feelings?  "Er, uh, um, no," he told Seventeen in the same interview. Watson told Seventeen that her childhood crush on him is but a funny story between them today. "He totally knows. We talked about it — we still laugh about it," Watson said. Felton agrees that it was just an innocent feeling. "We're talking a good decade ago ... And it was very flattering for a 12-year-old boy, but it's nice that we've become friends since then and we can kind of look back and have a laugh at it," he told E! News in 2011.
Rumors about a romance between Emma Watson and Tom Felton abound
Ever since Emma Watson revealed she had feelings for Tom Felton — even if it was just a childhood crush — "Harry Potter" fans haven't stopped hoping for a possible romance between the two. In spite of fans' wishes, Watson and Felton had never been anything more than friends — at least not up to this point. "We were always very close, but no, nothing of that nature. Sorry to disappoint," Felton told E! News in 2016. 
In June, Felton lit up the internet when he told Entertainment Tonight that he and Watson "are something, if that makes any sense." Even more, in a 2019 interview with Entertainment Tonight, Rupert Grint acted surprised about the rumors that his former co-stars were dating, but admitted he wouldn't be too shocked if it ever happened. "There was always something. There was a little bit of a spark," Grint said. 
In the same June interview with ET, Felton dismissed that there was anything between them, though he added he and Watson are close and speak often. "I spoke to Emma a couple days ago and immediately it was conversations about, 'Oh wow, the kitchen sink's been plugged' or some trivial nonsense like my dog wouldn't eat a particular kind of food," he said. Per E! Online, Watson, who is dating Leo Robinton, didn't respond to the rumors. So, as of this writing, Watson and Felton are simply great friends, though fans will surely remain hopeful that they could turn into something more.