Are Tom Felton And Emma Watson In A Relationship?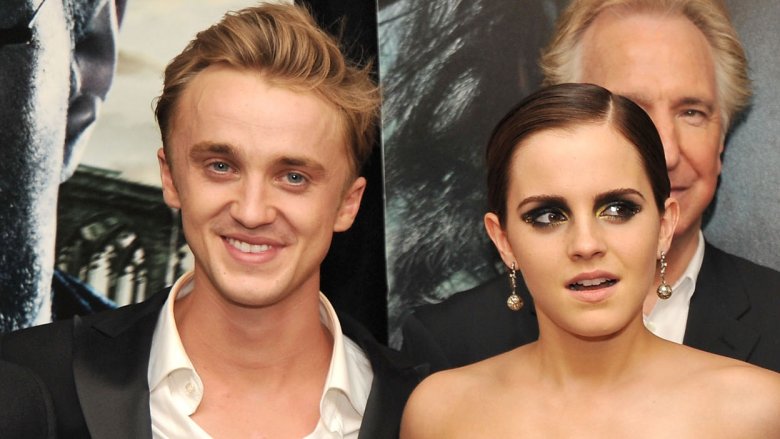 Stephen Lovekin/Getty Images
Tom Felton and Emma Watson posted a photo together in August 2019, and Potterheads everywhere went crazy. In the snap, the pair each appear to be in pajamas as Felton teaches Watson to play a song on the guitar. Felton captioned the photo "Quick learner x." In February 2019, Watson posted a photo of herself in an SUV with the top down captioned "Friends capture you best," crediting the photo to Felton. In November 2018, Watson posted a selfie with Felton at the beach plugging his then-new YouTube Premium show Origin. She also shared a video of them together on a skateboard. As Watson clings to Felton, he jokingly tells her to hold her feet still to avoid "wobbling" as she giggles and says, "They are!"
All of that would just be adorable, platonic fun, except the Harry Potter co-stars had a bit of a history. In 2012, Watson confessed to having a huge crush on Felton while they co-starred in the wizard franchise.
"Between the ages of 10 and 12 I had a really terrible crush on Tom Felton," she gushed on The Jonathan Ross Show. "We love a bad guy, and he was a few years older and he had a skateboard and that just did it really. He used to like, do tricks on it ... He was so cool. He totally knew. And the thing is, he'd turn and go, 'Oh, I see her in like, a younger sisterly way.' And it just broke my heart, still does." When Ross joked that Draco Malfoy broke Hermione Granger's heart, Watson replied, "He really did! It was gutting, really."
That said, the two reportedly still are not dating, perhaps much to Watson's chagrin (and to that of Hogwarts shippers everywhere). In August 2019, Entertainment Tonight reported that Watson and Felton are still just good friends and aren't romantically involved. If you believed that Watson and Felton were in a relationship, you aren't alone — check out even more lies about Watson that the world believed.