Why Emma Watson Refuses To Take Selfies With Fans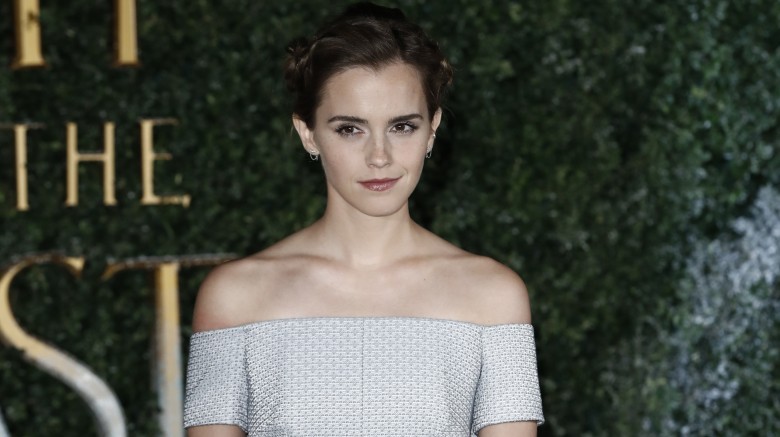 Getty Images
Sorry, Potterheads: Emma Watson isn't going to pose for a duckface photo with you anytime soon.
The British beauty, who stars in the upcoming Beauty And The Beast (2017) live action film, explained why she's avoiding selfies with strangers from now on.
"For me, it's the difference between being able to have a life and not. If someone takes a photograph of me and posts it, within two seconds they've created a marker of exactly where I am within 10 meters," she told Vanity Fair. "They can see what I'm wearing and who I'm with. I just can't give that tracking data."
Still, she's not opposed to interacting with fans, because, well, she's a doll.
"I'll say, 'I will sit here and answer every single Harry Potter fandom question you have, but I just can't do a picture,'" she explained. "I have to carefully pick and choose my moment to interact. When am I a celebrity sighting versus when am I going to make someone's freakin' week? Children I don't say no to, for example."
Part of it stems from concern for her own safety, while another aspect is concern for her own sanity, some of which has been negatively affected by fame in the past.
"I'd walk down the red carpet and go into the bathroom," she recalled to the magazine about her past. "I had on so much makeup and these big, fluffy, full-on dresses. I'd put my hands on the sink and look at myself in the mirror and say, 'Who is this?' I didn't connect with the person who was looking back at me, and that was a very unsettling feeling."
Watson, who reportedly turned down Emma Stone's Oscar-winning role in La La Land (2016) for not meeting her alleged "diva demands," is also wary of being overworked at the behest of studio heads. "There have been hard moments in my career when I've had an agent or a movie producer say, 'You are making a big mistake,'" she said. "But what's the point of achieving great success if you feel like you're losing your freakin' mind?"
The brainy beauty, who enrolled in Brown University in 2009, continued, "I've had to say, 'Guys, I need to go back to school,' or 'I just need to go home and hang out with my cats.' People have looked at me and been like, 'Is she insane?' But, actually, it's the opposite of insane."
She then added, "I've been doing this since I was 10 or 11, and I've often thought, 'I'm so wrong for this job because I'm too serious; I'm a pain in the ass; I'm difficult; I don't fit.' But as I've got older, I've realized, 'No! Taking on those battles, the smaller ones and the bigger ones, is who I am.'"
One battle she's not interested in at all is making her private life public. The actress refused to answer any questions about her rumored boyfriend, William "Mack" Knight, the 36-year-old business manager to whom she's been linked for more than a year—and may have called out "showmances" in the process.
"I want to be consistent: I can't talk about my boyfriend in an interview and then expect people not to take paparazzi pictures of me walking around outside my home. You can't have it both ways," she said. "I've noticed, in Hollywood, who you're dating gets tied up into your film promotion and becomes part of the performance and the circus. I would hate anyone that I were with to feel like they were in any way part of a show or an act."