How Elizabeth Holmes Really Feels About Amanda Seyfried's Portrayal In The Dropout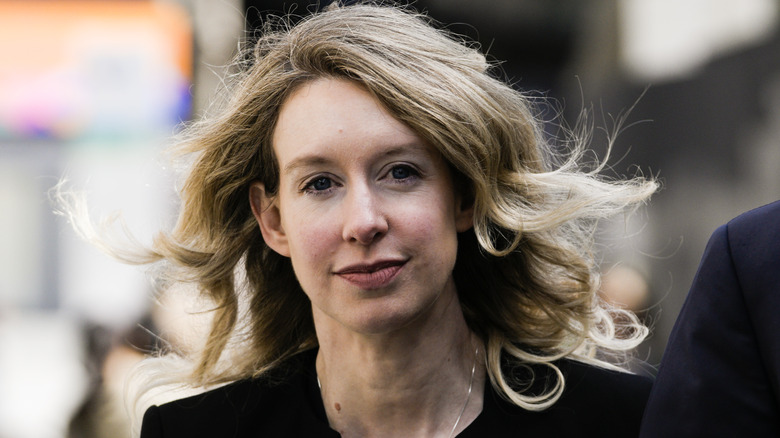 Philip Pacheco/Getty Images
Disgraced CEO Elizabeth Holmes unveiled her opinion of actor Amanda Seyfried's impersonation of her in "The Dropout." The former Theranos CEO awaits her eleven-year prison sentence for defrauding investors — and patients, but she wasn't technically convicted for that — in her infamous fake blood-testing scheme. The lies, coverups, and manipulations were depicted in Hulu's T.V. adaptation of the rise and fall of Theranos, with Seyfried starring as the black-turtlenecked Stanford drop-out.
When "The Dropout" was released in 2022, the "Mamma Mia" actor's performance gained critical acclaim for the way she captured Holmes's essence. At the 2022 Emmy Awards, Seyfriend won the award for best actress in a limited series for her uncanny portrayal. Even actor Jennifer Lawrence, who was slated to play the CEO in a separate project, asserted that Seyfried's portrayal was "terrific" and didn't need to be redone before she had dropped the role.
With the major success of Seyfried's version, many have wondered if Holmes has watched "The Dropout" while awaiting her entry into prison. Although she was found guilty of fraud last November, her lawyers' appeals allow her to remain free as her case is considered by the courts (basically a bunch of legal red tape). When asked if she had seen the "Mean Girls" actor's interpretation of her personality, Holmes had a surprising yet unsurprising response.
Elizabeth Holmes recognizes Amanda Seyfried was playing a caricature the CEO created herself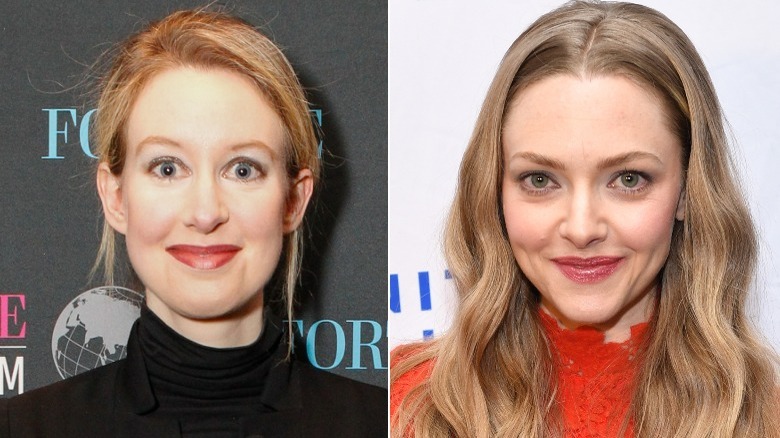 Noam Galai/Getty & Kimberly White & Axelle/bauer-griffin
Elizabeth Holmes is in her "court era," as the kids would say, and she's spending some of her time on the outside trying to get people to know the "real her." The rehabilitation of her image included a profile with The New York Times from May 7, where the interviewer followed her life as a wife to financier Billy Evans and their two children. When the interviewer inquired about Amanda Seyfried's performance in "The Dropout" and Jennifer Lawrence's potential role, Holmes shared her mixed reaction.
"They're not playing me. They're playing a character I created," she answered. "I believed it would be how I would be good at business and taken seriously and not taken as a little girl or a girl who didn't have technical ideas. Many people picked up on that not being authentic since it wasn't."
Of course, the former Theranos CEO is referencing the persona she became famous (and later infamous) for, including her purposefully deepened voice and Steve-Jobs-inspired black turtleneck. The author of the NYT profile noted that the current iteration of Holmes uses "a soft, slightly low, but totally unremarkable voice," not the tone of her false persona.
Amanda Seyfried has 'compassion' for Elizabeth Holmes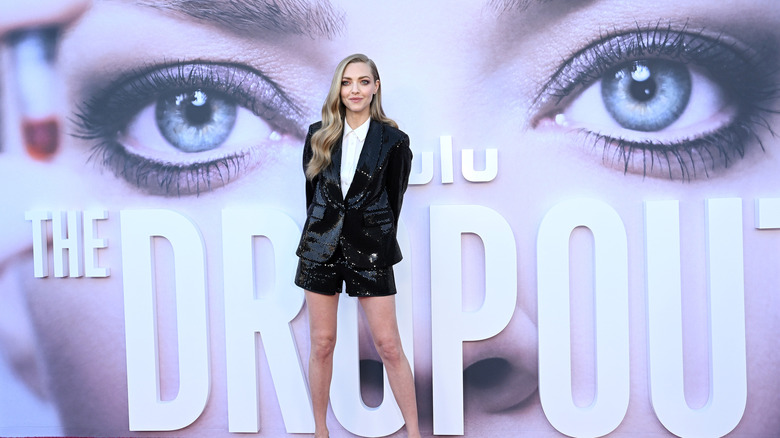 Axelle/bauer-griffin/Getty Images
Taking on the role of someone who was a real person is a struggle... just ask Austin Butler, Daniel Day-Lewis, or Ana De Armas. But when Amanda Seyfried underwent the role of Elizabeth Holmes in "The Dropout," she was also tasked with finding some kind of connection or sympathy to what some would consider an unsympathetic person due to her harmful, fraudulent behavior with Theranos. In her June 2022 "Actors on Actors" alongside Jared Leto, Seyfried opened up about what she's learned from playing the role and her predictions for Holmes's future.
"We tried to figure [Elizabeth] out from a place of compassion and worthiness," she explained. "I know whatever she's sentenced with... it's what she deserves. And I also know, in my gut, that there's a space for her outside of this whole Theranos thing, outside of prison, if she goes to prison. Then she'll get out, and she will invent something new that'll work. I don't know if I'm the only person who feels that way."
One criticism the "Les Misérables" actor had for the former entrepreneur was that she hasn't "[taken] accountability" for her actions, but posited that Holmes "has her whole life ahead of her." Considering Holmes has appealed the court's rulings many times, it doesn't seem like accountability is coming anytime soon.