Why Rachel Bilson And Hayden Christensen Might've Been Doomed From The Start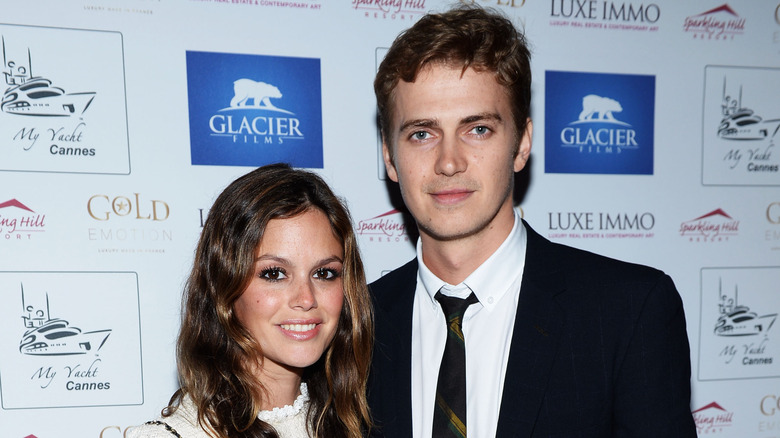 Michael Buckner/Getty Images
Rachel Bilson and Hayden Christensen were once the young "It" couple of Hollywood. In 2008, the actors met while filming the sci-fi action movie "Jumper," per People. Sparks flew immediately, with the pair getting engaged at the end of that year. An insider told People, "They're so excited. They're a great couple. Rachel seems thrilled beyond belief." However, in June 2010, Us Weekly reported the two were "taking a break." At a red carpet event, Bilson showed up without her engagement ring, noting that she didn't have plans to get married. Their relationship proved to be a rollercoaster filled with highs and lows, as the pair got back together in November.
In 2014, Bilson and Christensen welcomed a daughter named Briar Rose together, according to another Us Weekly report. However, things became complicated for the pair following their split in 2017. In 2018, Bilson admitted there was a learning curve to co-parenting with her ex. She told People, "We're still kind of trying to figure it out. It's a tricky one. And I don't know that there is any right way, necessarily." But it wouldn't be the first time the duo faced challenges together, as things weren't quite so perfect from the get-go.
Rachel Bilson and Hayden Christensen had vastly different personalities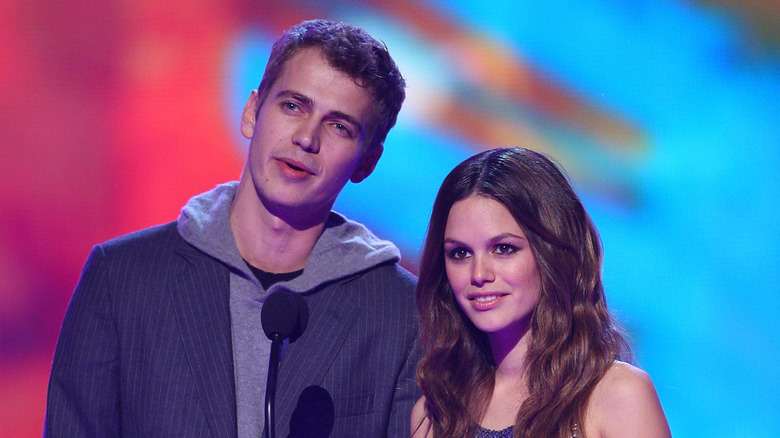 Michael Tran/Getty Images
Early on, Rachel Bilson and Hayden Christensen's relationship was marked by plenty of positivity. In a 2013 cover story for Cosmopolitan, Bilson praised herself as a partner. She revealed, "I'm a really good girlfriend — I always put all that first in my life. I'm definitely the person who would make him his favorite dinner to come home to." She also gushed about Christensen's support for her, particularly when it came to her clothing choices. She said, "I'm lucky that my boyfriend is open-minded when it comes to fashion. There will be an outfit I'm convinced will be too crazy for him and he's like, 'That's awesome!'"
Although Bilson and Christensen seemed to be in a good place in some ways, certain problems arose in their relationship. This wasn't exactly a case of "opposites attract," as their differences in personalities reportedly caused friction between them and contributed to their breakup. An insider told People, "Rachel is very outgoing and her friends are very important to her. Hayden is the opposite. He can be very antisocial." As Christensen preferred staying private, Bilson would make solo appearances at events. By the end of their relationship, their "constant conflicts about every day stuff ... became exhausting and almost depressing for Rachel," according to the People source.
Rachel Bilson and Hayden Christensen have come a long way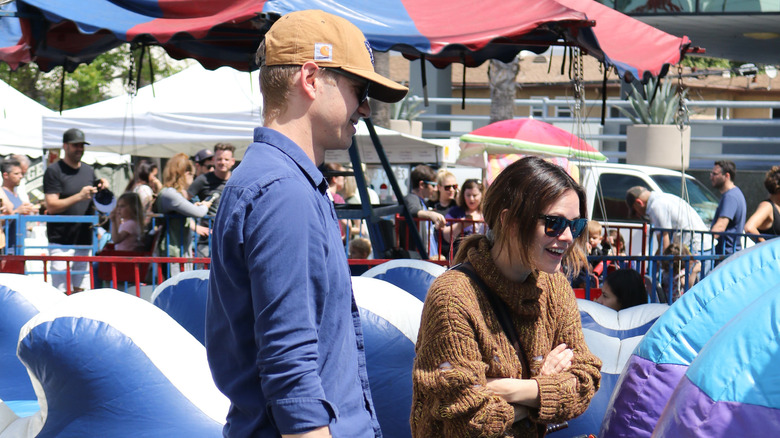 Gotpap/bauer-griffin/Getty Images
Although their clashes in personality significantly impacted their dynamic while dating, Rachel Bilson and Hayden Christensen have made headway in their relationship in the following years. Since they split up in 2017, the two have reportedly kept things civil, per the Daily Mail. Their relationship was put to the test during the coronavirus pandemic as they co-parented their then-6-year-old daughter Briar Rose. In a 2021 episode of the "Betches Mom" podcast (via Entertainment Tonight), Bilson explained "they have to trust each other completely." She expressed her gratitude regarding Christensen's compliance with COVID-19 regulations. Bilson added, "It's nice because she's had the opportunity to have another house to go and not be stuck in our house the entire time. So I'm grateful for that and we've just handled it. Survival mode."
Bilson and Christensen seem to be devoted parents, as well. Back in October 2019, the former couple accompanied Briar Rose to Disneyland for a birthday celebration, per Us Weekly. As it turns out, their enthusiasm for Disney inspired her naming. In 2015, Christensen revealed to Hallmark Channel's "Home & Family," "There's a Disney reference there I suppose. The original Sleeping Beauty was called Briar Rose. Rachel — we both love all things Disney — but Rachel especially was very keen on the name."