Why Brooke Shields And Dean Cain Really Broke Up (The Second Time Around)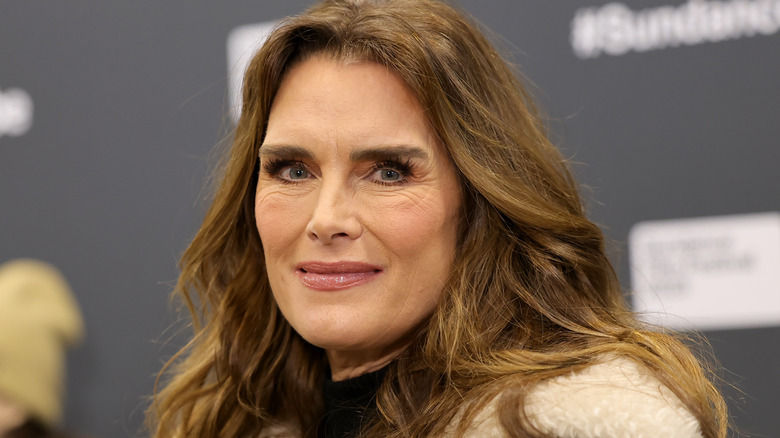 Amy Sussman/Getty Images
Brooke Shields has revealed why her and Dean Cain's romance eventually concluded. Shields and Cain first encountered one another as Princeton University students, Hollywood Life stated. In her 2014 memoir, "There Was a Little Girl: The Real Story of My Mother and Me," Shields got candid about her reaction to losing her virginity to Cain at 22 years old.
"I got so overwhelmed that I jumped out of my bed," Shields said, per E! News. She added, "I was buck naked, streaking down a hallway and running as if I had just stolen someone's wallet." Shields said next, "Dean leapt up and ran after me with the comforter in his arms. He threw it around me, grabbed me around my shoulders and stopped me from running." 
That same year, Cain complimented the "Suddenly Susan" star and called himself and Shields "college sweethearts" in a "Today" show chat. "Brooke is a wonderful, wonderful girl," Cain said. As The U.S. Sun wrote, the pair was an item for two years somewhere in the timeline of 1983 to 1987. Though they had a second chance at love, Shields and Cain would split once more.
Brooke Shields grew apart from Dean Cain
Brooke Shields decided to walk away from her relationship with Dean Cain due to where she was in life at the time. In April 2023, Shields visited "The Howard Stern Show" to talk about her recent docuseries, "Pretty Baby: Brooke Shields." When the subject of dating Cain came up, Shields explained why they split the first time. "We broke up once because I had only ever been with him in every way. I thought, 'God, I can't get married, so I better branch out,'" Shields said before adding that Cain became "very angry and very hurt" as a result. In March 2023, Shields told People she and Cain again dated about three years after this. 
Though they reached this reunion, Shields and Cain separated for good during a time when Shields was evolving. "I was just sort of growing away from the older me," Shields said to Stern. "I was really separating from my mom and really needing to separate from him because he was of a different era in my psyche, you know? And I needed to be challenged differently." The couple's connection didn't endure, but following their breakups, they were met with a new romance.
Brooke Shields ended up with Chris Henchy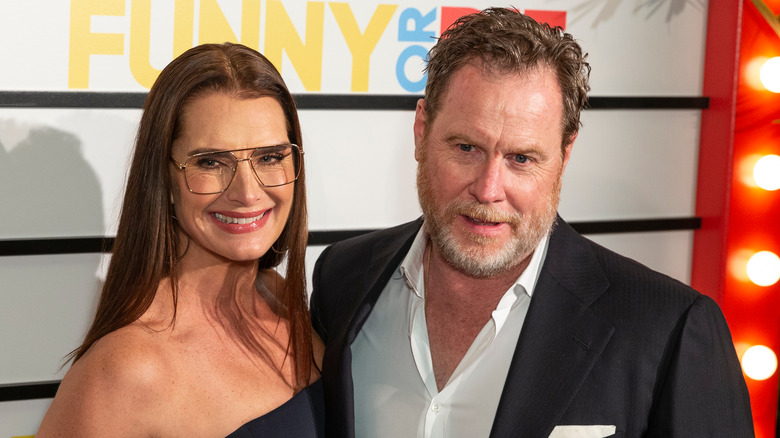 lev radin/Shutterstock
Since they parted ways, Brooke Shields and Dean Cain have moved on to find love with other people. As Page Six stated, Shields started seeing Andre Agassi in 1993. They wed in 1997 before divorcing in 1999. Soon after this separation, Shields encountered Chris Henchy on the Warner Bros. Studios lot, Today recalled in April 2023. The couple later got married on Catalina Island in 2001, per the New York Post. As Hollywood Life wrote, Shields and Henchy share two daughters together: Rowan and Grier.
Cain, meanwhile, went on to date public figures such as Gabrielle Reece, Mindy McCready, and Samantha Torres, per Distractify. Through his relationship with Torres, Cain is a father to a son named Christopher, via People. As Shields's 2014 memoir was released, Cain said that he and Shields have remained cordial over the years. "We're still great friends," Cain said on "The Meredith Vieira Show." Cain added of the past romance, "We were in love with each other." 
In her recent discussion with People, Shields revealed that she expressed her regrets to Cain "a few years back," saying, "I said, 'I'm sorry for you, and I'm really sorry for me.'"