Kevin Costner Has Way More Kids Than You Might Realize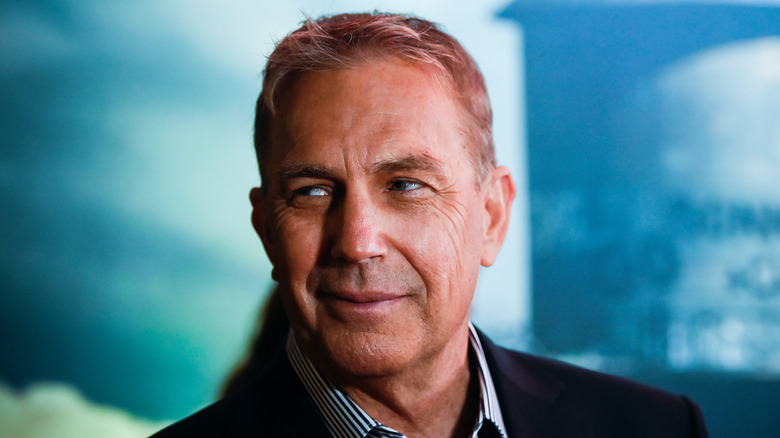 Samuel De Roman/Getty Images
Acting legend Kevin Costner has been a Hollywood staple since the '80s. Showing no signs of slowing down, Costner won an Emmy award in 2023 as the best actor in a dramatic series for his role as John Dutton in the TV series "Yellowstone." Sadly, he was unable to accept the award since he skipped the ceremony to deal with terrible flooding at his home in California. "Yesterday we had to pull the kids out of school in Santa Barbara. This is the second time in five years that the freeway has flooded out, we found ourselves on the wrong side of the town and we couldn't get back last night," Costner explained in a Twitter video. The actor revealed that despite the difficulties, his wife, Christine Baumgartner, "went out and bought me some gold and yellow and black and silver balloons," the color palette of the series, so the family could celebrate together at home.
Baumgartner and Costner married in 2004 at a ranch in Aspen, Colorado, and in 2007, the couple welcomed their first child together, son Cayden. Things appeared to be going well as the couple grew their family even more and were married for 18 years before the shocking news that Baumgartner filed for divorce in 2023. "We ask that his, Christine's and their children's privacy be respected as they navigate this difficult time," Costner's representative told TMZ. The pair both asked for joint custody in the divorce settlement of more kids than you might realize.
How Kevin Costner became a father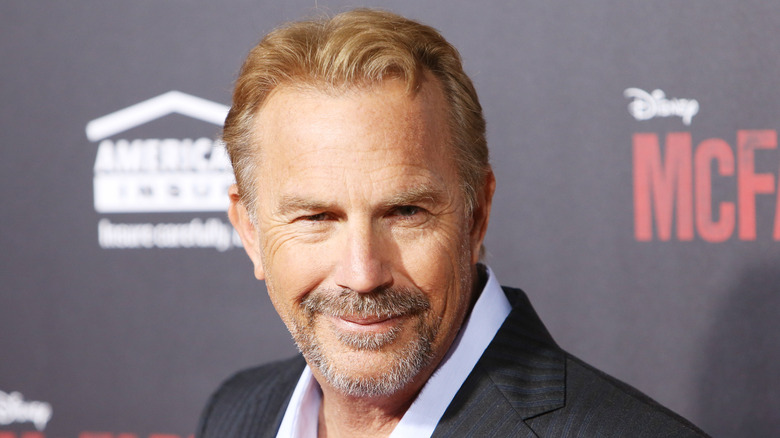 Michael Tran/Getty Images
In 1978, Kevin Costner married Cindy Silva, before he made his on-screen debut in the 1981 film "Malibu Hot Summer." The couple had their first child together, daughter Anne, in 1984. Two years later, Costner and Silva had their second daughter Lily and expanded their family with a son Joe in 1988. During this marriage, Costner first met Christine Baumgartner, who is 19 years younger than the actor. The meet-cute occurred on a golf course while Baumgartner was a model at the time and Costner was preparing for his role in the golf film "Tin Cup." By 1994, Costner and Silva split up. He then linked up with Bridget Rooney and though never married, the couple welcomed their son Liam together in 1996.
Two years later, Costner reconnected with Baumgartner and went on a date together, starting a new romance that lasted until 2002 when the pair split up. "Fear kept me from marrying Christine. [She] wanted a child, but I was afraid I couldn't be an effective father," Costner confessed to Closer Weekly. After dating for four years, "I woke up and thought, Am I going to lose a beautiful woman who is willing to be with me to my very last breath because I am afraid to say yes to a child? That's all it took," Costner said about his decision to reconcile and marry Baumgartner. After Cayden in 2007, Costner and Baumgartner had two more children, a son Hayes and a daughter Grace.
Life as a dad for Kevin Costner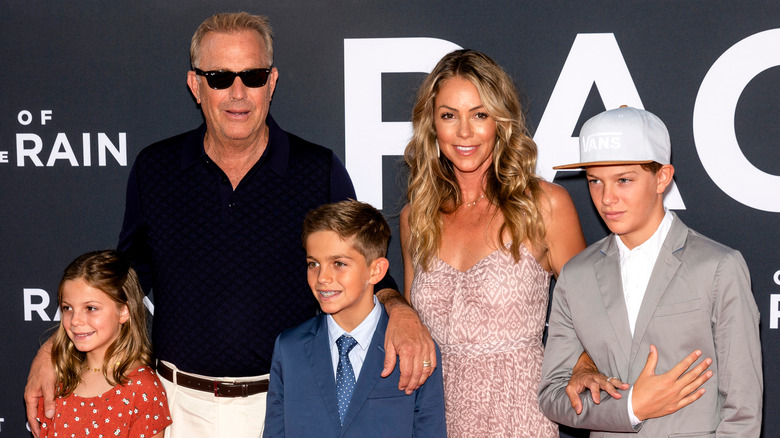 Ovidiu Hrubaru/Shutterstock
With so many children, a common question Kevin Costner receives is whether or not it's difficult to handle such a big family. Even more, he had to navigate a set of kids from two separate marriages and three different mothers. According to the actor, it was natural for his oldest kids to be skeptical of their younger siblings. To alleviate any concerns, Costner told them "They were going to have twice as long with me on this planet. I said, 'Look, they're not going to have what you had,' and at that point, they all just embraced each other," he told Mom. "You have to talk about how big love is. The ability to be able to love somebody else doesn't mean there's less love for you," the actor added. 
Even with seven children, Costner admitted that he is not an expert on being a father. "I'm like any other parent: I'm trying to figure it out," he revealed to People. Costner said his goal was to play with his kids as much as possible and though bittersweet, to teach them how to be independent. Plus, given his successful career in show business, Costner still says there is nothing quite like his job at home. "I have played two roles in my life, one I get paid to do, which is the movies, and the other one is being a father, for which I'll be rewarded my whole life," he told Closer Weekly.