The Rumored Affair That Supposedly Ended Kevin Costner's First Marriage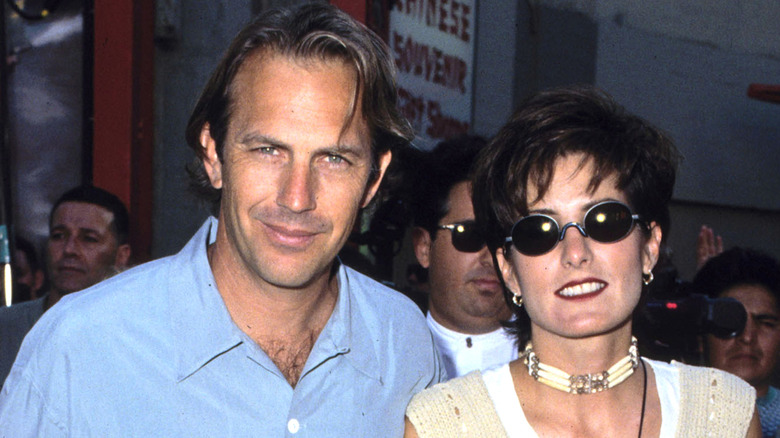 Steve Granitz/Getty Images
Kevin Costner may be one of the most successful actors in Hollywood, but you can't say the same about his marriages. The "Field of Dreams" actor has been married twice: first, to Cindy Silva for nearly two decades, and then to Christine Baumgartner for nearly the same time span. The latter apparently blindsided him with her request to divorce, while his split from Silva was amicable — at least according to the former couple.
"After 16 years together, we are ending our marriage," Costner and Silva said in a joint statement in 1994. "We have amicably resolved all issues regarding our children and financial affairs and a full marital settlement has been reached." Perhaps unsurprisingly, theirs was reportedly one of the most expensive Hollywood divorces of all time, amounting to a whopping $80 million. Forbes noted it was during their marriage that Costner enjoyed his meteoric rise to fame with his involvement in a string of blockbuster films and multiple Oscar wins, allowing Silva to walk away with a significant chunk of his earnings.
But while the split was a financial win for Silva, it wasn't completely drama-free. According to reports, Costner's rumored affair with one of his co-stars was one of the key reasons behind their divorce.
Kevin Costner supposedly had an affair with his Waterworld co-star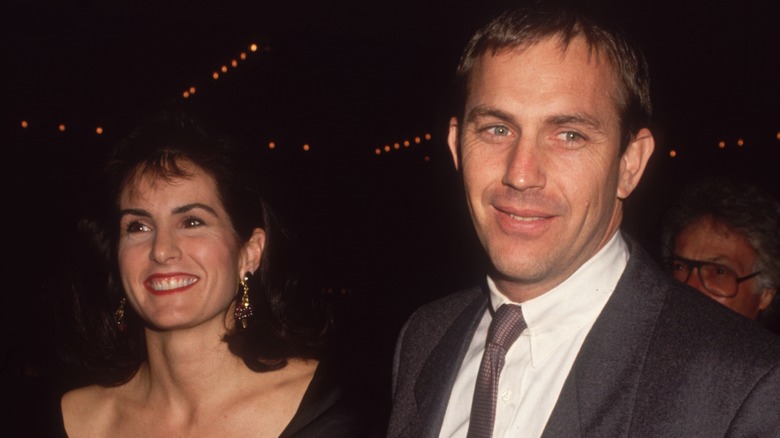 Darlene Hammond/Getty Images
During his marriage to Cindy Silva, Kevin Costner built a reputation for being a family man. He also didn't seem the type who would ever venture into womanizing. In fact, in 1989, he had nothing but praise for his then-wife, gushing to People, "She was beautiful, she was sweet, she was smarter than me... She represented everything about women that I like."
But Costner's loyal image came crumbling down when he supposedly had an affair with his "Waterworld" co-star Michelle Amaral. The outlet reported in 1994 that Costner was rumored to have engaged in an extramarital affair with the dancer, but Amaral's husband vehemently shut down all speculation. What's more, he was also embroiled in another cheating scandal years prior, and at the time, it was with Sheri Stewart, the receptionist at a nightclub he frequented when he was shooting in London. Costner brushed it all aside, deeming these rumors "off the wall" stories with absolutely no credence whatsoever.
Interestingly, while he outright denied the affair rumors, he once alluded to his propensity for cheating. "The temptations are pretty strong — and there's a hungry world out there waiting for you to fall. So you can't even dabble without paying a huge price," he once said, according to Page Six. "I try to conduct my life with a certain amount of dignity and discretion — but marriage is a hard, hard gig."
Kevin Costner's second marriage was also plagued with infidelity rumors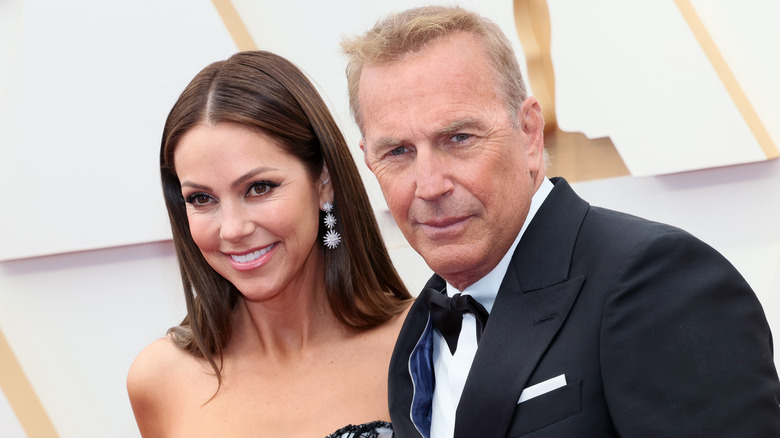 David Livingston/Getty Images
Rumors of Kevin Costner being a disloyal partner followed him into his split from his second wife, Christine Baumgartner. In May 2023, the former lovebirds announced they were parting ways, with Costner revealing it had been a one-sided decision. A representative for the actor noted, "It is with great sadness that circumstances beyond his control have transpired which have resulted in Mr. Costner having to participate in a dissolution of marriage action."
Some had assumed the divorce was due to Costner's refusal to leave "Yellowstone," but there were also rumors that accused the actor of getting one of his co-stars pregnant. Sources close to Costner, however, denied all accusations, with an insider telling TMZ it was "total BS." A friend of the star also shared with Page Six that "there was no issue of cheating at all."
But while their divorce filing noted "irreconcilable references" as the primary reason for the split, Costner apparently has no clue why Baumgartner chose to dissolve their marriage. "I have no idea if Kevin even knows what the reasons are," the friend added. "Kevin was very surprised by Christine's actions, he obviously doesn't want the divorce and he would take her back."