Kevin Costner Hit With Divorce Filing From Second Wife: Here's Everything We Know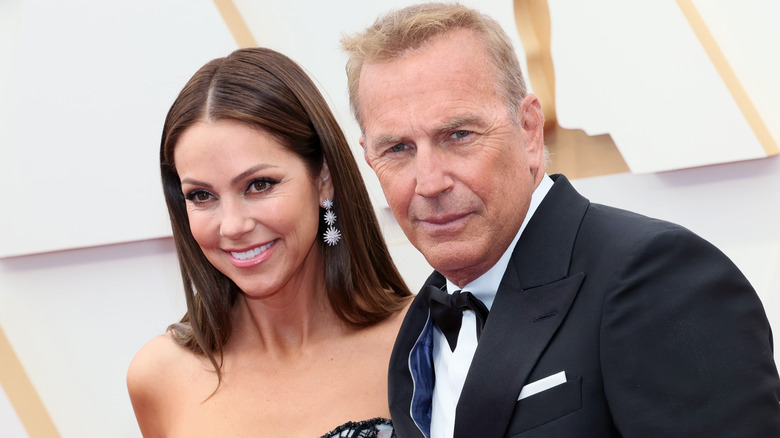 David Livingston/Getty Images
Kevin Costner and wife Christine Baumgartner are parting ways after nearly two decades of marriage.
TMZ reported the designer had filed for divorce from the "Yellowstone" star on May 2, citing "irreconcilable differences" as the key reason. A representative for Costner issued a statement to express grief over Baumgartner's decision to conclude their union of over 18 years, saying, "It is with great sadness that circumstances beyond his control have transpired which have resulted in Mr. Costner having to participate in a dissolution of marriage action." The rep also noted that the family is asking for their "privacy [to] be respected as they navigate this difficult time."
Baumgartner, who shares three children with Costner, reportedly isn't seeking spousal support, but Costner's response stated that they have an existing prenuptial agreement that outlines what she would receive post-divorce. "Spousal support to be payable to petitioner pursuant to the terms of the parties' Premarital Agreement," the "Field of Dreams" actor's filing read. The divorce papers also apparently noted that she is looking to have joint custody of their kids, and so is Costner. And while there is no clear reason as to why the divorce filing happened, there was already tension between the couple months prior, with Baumgartner reportedly asking Costner to step back from acting.
Was Yellowstone the reason behind Kevin Costner and Christine Baumgartner's split?
Arturo Holmes/Getty Images
In October 2022, reports of Christine Baumgartner giving Kevin Costner an ultimatum surfaced online. A source told Radar Online that the handbag designer wanted Costner to quit "Yellowstone" despite its unprecedented success, as he no longer had time for his family.
"It's really knocked a hole in their family life. The show is such a mega-hit, producers want it to go on forever!" the insider dished, noting that Baumgartner had grown tired of being the only one tending to their three children when Costner was away — which he usually was for months at a time. "She wants a firm commitment this is his last season — or he might have to hit the dusty trail!" they added. While Costner eventually teased leaving "Yellowstone," he is up to his elbows with work on a new Western project, "Horizon," whose shooting schedule is rigid. "So, I'll probably shoot for eight months... It's a mountain — a mountain of time," he told Variety in June 2022. "I'm as pressed as I've ever been in my life in terms of the responsibilities and the amount of decisions I'm having to make every day, between doing what I'm doing every day for 'Yellowstone' and my own [work]."
Meanwhile, Paramount, the network behind "Yellowstone," remains optimistic about Costner's involvement series in the coming seasons. "What I can say is our star, the face of our show, and executive producer, are very confident he is going to continue with our show," network executive Keith Cox told Insider.