Mireille Enos: Here's Who Succession Star Alan Ruck Is Married To In Real Life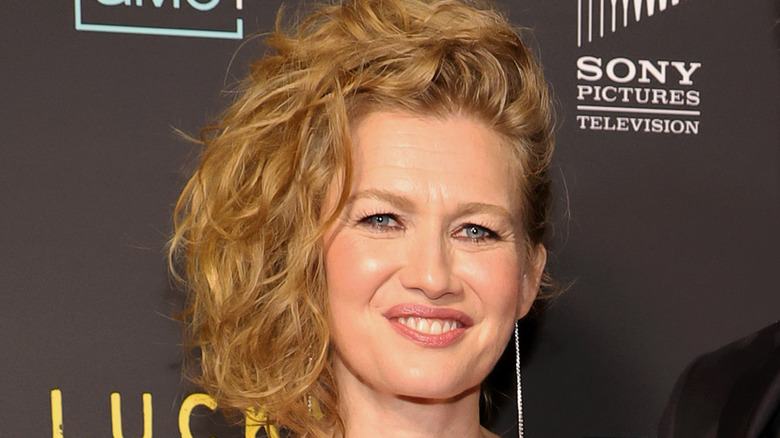 Kayla Oaddams/Getty Images
"Succession" fans saw Alan Ruck's character, Connor Roy marry Willa Ferreyra in an epically chaotic boat wedding in the show's final season. But what do we know about the actor's wife in real life, Mireille Enos?
Enos is Ruck's second wife, and after tying the knot back in 2008, the two have been wed for more than a decade. The couple share two kids, and Enos is also stepmom to Ruck's children with his first wife, Claudia Stefany. However, raising kids is just part of what keeps this couple busy. 
Ruck is instantly recognizable for his role on "Succession," and prior to that, he was known for "Spin City" and "Ferris Bueller's Day Off," but he's not the only actor in the family. Au contraire, Enos is a big name on film, TV, and stage herself. In fact, Ruck has even joked in the past that his wife's career breathed new life into his own. As he told Page Six, "I kind of coattailed on my wife when we first got together." As for what said coattailing entailed, Ruck explained that when they lived in Los Angeles, Enos was in and out of meetings — and when casting directors realized he was married to her, they would ask him to audition, too. "I kind of got a second wind," he reminisced. Suffice it to say, Enos has got her own thing going on — so, just what do we know about the actor and her career? 
She's known for serious roles -- but that could change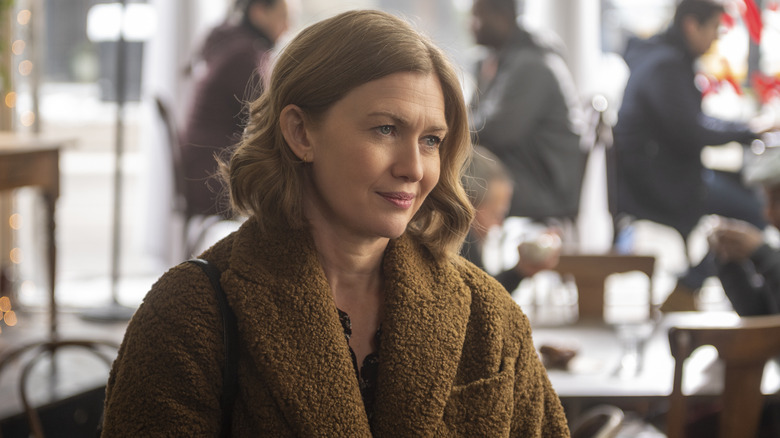 Sergei Bachlakov/AMC
Mireille Enos has been featured in a number of films over the years — and she's shared the screen with some pretty big names doing it. We're talking Brad Pitt in "World War Z," Sean Penn in "Gangster Squad," and Reese Witherspoon in "Devil's Knot." And, her TV resume is just as impressive. From "The Catch" to "Hanna," she's been a lead in several big series — and her part in "The Killing" even saw her nominated for a Golden Globe and an Emmy, among others. 
That the majority of her past work is pretty serious — and oftentimes dark — isn't lost on Enos. In fact, speaking to USA Today, she joked that she couldn't watch many of her past projects with her kids. "My daughter wants to sit and watch the things that I've done with me, and she can't!" she shared. It's for precisely that reason that her role on AMC's "Lucky Hank" was a welcome change from that. "I was really holding out for something like this, that walks that incredible line between real life and the absurdity and comedy of life," she explained. 
Speaking of that holding out, she also joked that she would have been willing to go back to more serious roles if the need had arisen. "I would go to Alan [Ruck] and say, 'I promise I won't let us starve," she shared. 
... and she met Alan Ruck in a stage production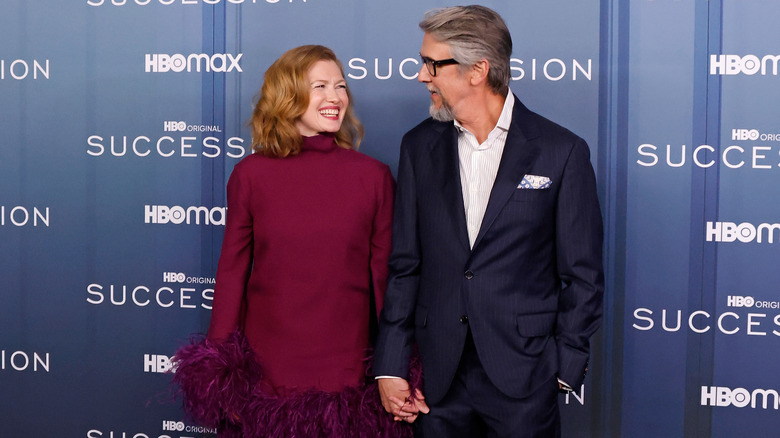 Taylor Hill/Getty Images
Speaking of Alan Ruck, it would be remiss not to point out that these two lovebirds met as colleagues. Back in 2005, the seasoned stage actors (did we mention Mireille Enos is a Tony nominee?) were co-stars in the Broadway production of "Absurd Person Singular." 
While the play is centered on three couples, Ruck and Enos weren't paired up as husband and wife. However, they were certainly smitten from the get-go. As Enos recounted to People, there was an almost instant click for her. "Alan walked in the door and my brain said, 'Oh, there he is.' It was a moment of recognition of some other person who was going to change my life." It certainly helped that she was already a fan of his ... and that he'd been her celebrity crush since she'd seen him in "Ferris Bueller's Day Off." Apologies to Ruck's co-star, but, as she reminisced, "Matthew Broderick was never a thing ... It was always Cameron, tall and skinny and singing to himself." 
Sure enough, Enos' feeling turned out to be right, and 18 years after they met, she and Ruck seem to be as happy as can be. And, while "Succession" is winding down, "Lucky Hank" is just getting started. Something tells us we'll be seeing more of this couple for years to come.