Donald Trump Totally Snubs Melania In Seething Mother's Day Post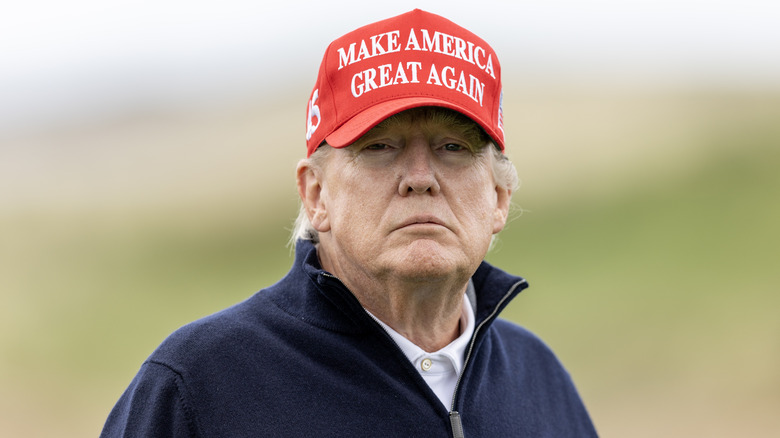 Robert Perry/Getty Images
Donald Trump has five children with three different women, but the former president couldn't spare a kind word for even one of his kids' moms on Mother's Day. Maybe his wife of 18 years, Melania Trump, at least got a nice card and some flowers from their son, Barron Trump?
If Donald secures the GOP presidential nomination again, he'll most likely face off against incumbent President Joe Biden. On Twitter, the Democratic POTUS went the traditional route in his simple but sweet tribute to his wife of almost 46 years, Dr. Jill Biden — and by that, we mean that Joe actually let Jill know that he was thinking about her. "To the love of my life, and the life of my love — Happy Mother's Day, @flotus," he wrote. His tweet included a photo of himself and Jill smiling and holding hands. The couple has one child, a daughter named Ashley, and Jill is the stepmom of Joe's three children with his late wife, Neilia Hunter: Beau, Hunter, and Naomi. In a second tweet, Biden wrote in part, "Our mothers and grandmothers believe in us, sacrifice for us, and lift us up. They're the people in our lives who have given us the most."
Biden's messages stand in stark contrast to the single Mother's Day post that Donald shared on his social media platform, Truth Social. Donald didn't tag Melania, nor did he mention her by name. Instead, he used the holiday as an excuse to attack moms whose political views he disagrees with.
Donald Trump's message for moms on the left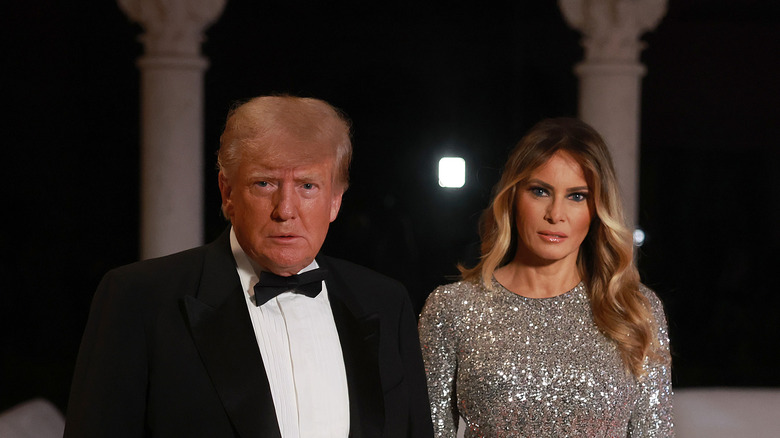 Joe Raedle/Getty Images
Donald Trump's Mother's Day message actually got off to a promising start. "Happy Mother's Day to ALL," he wrote — but it all went downhill from there. He didn't honor moms in any way; instead, it seems, his aim was to convince some mothers to change their entire worldviews. Naturally, he did this by insulting them, accusing them of being a destructive force, and deeming them political extremists. "In particular the Mothers, Wives and Lovers of the Radical Left Fascists, Marxists, and Communists who are doing everything within their power to destroy and obliterate our once great Country," his message continued.
Donald ended his post with a plea, and we also learned that he believes the way to create more MAGA voters is to nurture qualities such as compassion, tenderness, and intelligence in the electorate. "Please make these complete Lunatics and Maniacs Kinder, Gentler, Softer and, most importantly, Smarter, so that we can, quickly, MAKE AMERICA GREAT AGAIN!!!" he wrote.
Like Joe Biden, Donald shared more than one social media message on Mother's Day. However, his other posts were simply screenshots of old tweets from E. Jean Carroll's Twitter account, per Newsweek. Carroll won $5 million in a civil lawsuit against Donald after a jury found him guilty of sexual abuse and defamation, and he was clearly preoccupied with thoughts about her court victory on what was supposed to be a special day for Melania     Trump. And, this is after Melania told Fox News that she's backing his next presidential bid.
Donald Trump's remarks about Melania Trump as a mother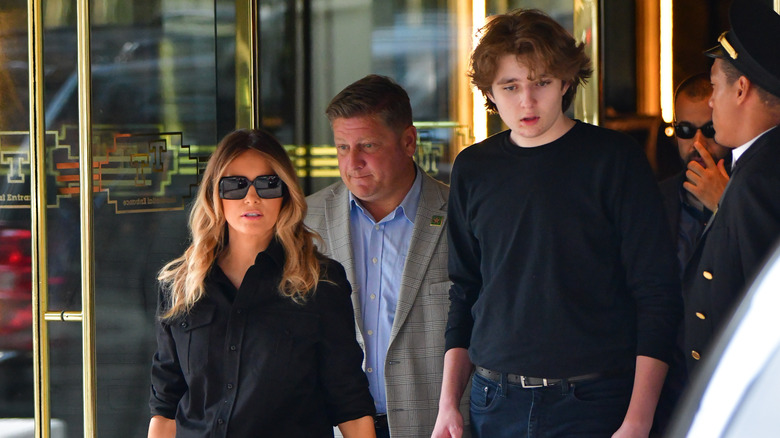 James Devaney/Getty Images
Okay, we didn't get to hear Donald Trump's thoughts about Melania Trump on Mother's Day, but he has spoken about what she's like as a mom in the past. In 2020, he didn't forget to mention Melania on Mother's Day, although it might have helped that he happened to be appearing on "Fox & Friends" at the time (which meant that he couldn't celebrate the holiday with his wife). "Melania has been a great mother to Barron," Donald said (via AP). "Barron is growing up, really beautifully and she's been a great mother to Barron."
When Barron was still a baby, Donald told the New York Post that he didn't change his son's diapers, saying of Melania, "She loves doing it!" However, the publication's reporter observed that Melania frowned when Donald said this. And when the reporter commented on Melania appearing to be back to the weight she was before her pregnancy, Donald chimed in, "She's almost lost all the baby weight." He apparently knew Melania's weight but not Barron's age at the time, because Melania had to correct him when he said that his son was 8 weeks old (he was actually two weeks older).
Donald has a lot to say about his own mother, Mary MacLeod. For Mother's Day in 2018, he filmed a special video tribute for MacLeod and shared it on Twitter. "She was just incredible. Warm, loving, really smart," he said. But again, he made no mention of Melania.