How Many Times Was Anna Nicole Smith Married?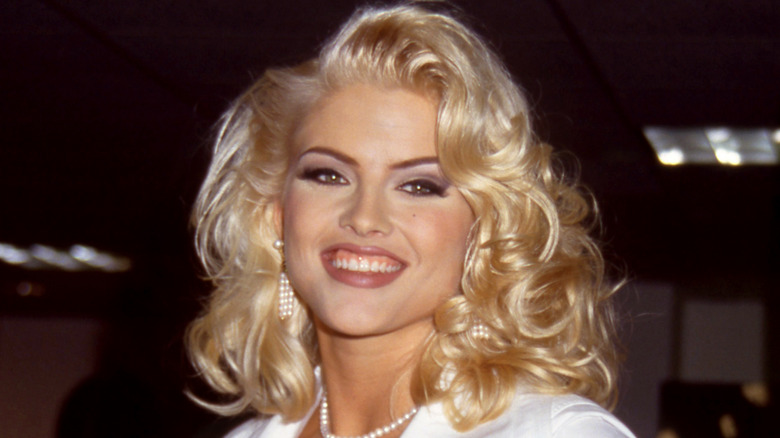 Ron Davis/Getty Images
Anna Nicole Smith was known for her bombshell looks that had many falling in love with the Playboy model. But there were only a handful of men that actually captured the actor and TV personality's attention — two of whom ended up walking down the aisle with Smith.
Smith had an interesting dating history that included rumors of having been with former President Donald Trump, per Who's Dated Who. Her romantic life has captivated many, who wondered who would be lucky enough to be in a relationship with the stunning model. However, Smith didn't let just anyone into her life, and when it came to something as serious as marriage, she had some criteria they had to fit. In an interview with Stina Dabrowski, the "Be Cool" star detailed what she looked for in a potential husband. She said, "Someone very nice, someone very understanding, someone who fell in love with my kid ... I love a funny man. They have to be very sensual." The model knew what she was looking for in a life partner, and thought she had found it.
While she was involved in several romances before her tragic death in 2007, the Playboy model is mainly remembered for three of those relationships: Billy Wayne Smith, J. Howard Marshall II and Larry Birkhead. However, only two of the three men actually said "I do" with Smith.
Anna Nicole Smith was married twice
Ron Davis/Getty Images
Anna Nicole Smith thought she found her forever love not once, but twice. According to HollywoodLife, the Playboy model first got married in 1985 to Billy Smith long before she had gained any fame. At the time, they were only 16 and 17 years old respectively. During their marriage, the couple welcomed a baby boy named Daniel Wayne Smith, who died years later due to an accidental drug overdose. Anna Nicole and Billy's marriage didn't last long, as they broke up in 1987 and got divorced in 1993.
Before the couple had finalized their divorce, Anna Nicole had already moved on to someone else. While working at a strip club in Texas in 1991, she met billionaire J. Howard Marshall. The two began an affair, but what was even more shocking was that Anna Nicole was 63 years younger than Marshall. The couple got married just a year after she was divorced from her first husband, per CNN.
While many believed the actor had used Marshall for his money, Anna Nicole continuously denied this idea and claimed she was madly in love with Marshall. According to CNN, Anna Nicole told Larry King, "I loved him for so much for what he did for me and my son. I've never had love like that before. No one has ever loved me, and done things for me, and respected me and didn't care about what people said about me."
Anna Nicole Smith's second marriage ended in death and a Supreme Court case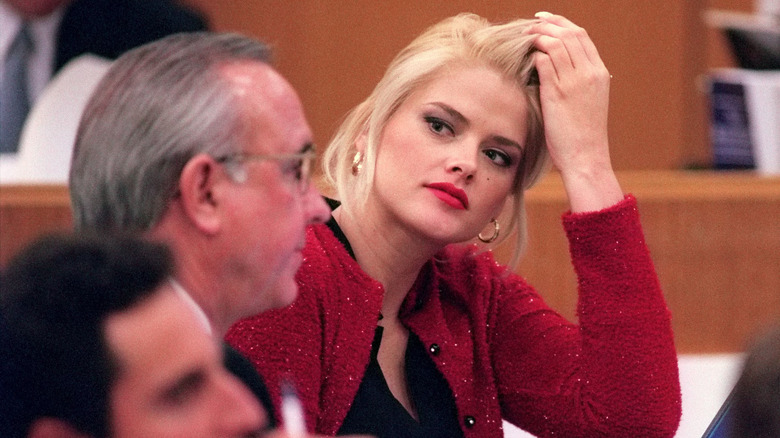 F. Carter Smith/Getty Images
Anna Nicole Smith was 26 when she married the 89-year-old J. Howard Marshall II. Unfortunately, the couple didn't get much time to enjoy their marriage, because Marshall died a little over a year after they tied the knot. As the Playboy model was grieving her late husband's death, she was also engaged in an ongoing battle for Marshall's assets.
After the billionaire died, Smith discovered she wasn't a part of Marshall's will, per Forbes. Pierce, Marshall's eldest son, was happy to hear this and believed that Smith had used his father for money. Smith took Pierce to court, but the Texas court sided with Marshall's eldest son. However, the model wasn't done fighting and filed for bankruptcy in California. Smith claimed that "Pierce had interfered with her potential inheritance." Surprisingly, the California court awarded Smith 474 million dollars. However, the U.S. Court of Appeals didn't agree and felt it wasn't the place of a bankruptcy court to decide as the original case began in Texas.
Eventually, everything was brought to the Supreme Court to decide whether "a federal court in California had jurisdiction over a Texas probate matter," as Forbes reported. The court sided with Smith, allowing her to continue to fight. Unfortunately, Smith and Pierce passed within months of each other. While many would think this would be the end of the battle, it continued until 2014, when Smith's estate eventually lost, per NBC.