What Ben Affleck Is Really Like As A Step-Dad According To Jennifer Lopez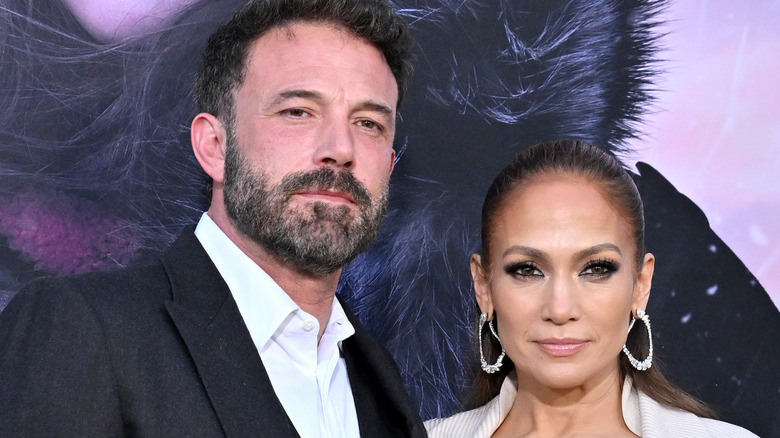 Axelle/bauer-griffin/Getty Images
Bennifer 2.0 reignited our love for early aughts Ben-and-Jen, while simultaneously proving that first loves can be endgame. But another footnote in that great romantic saga is the fact that Ben Affleck and Jennifer Lopez also seem to be great step-parents to each other's respective children from previous relationships. Before J.Lo, Affleck was married to another Jen — Garner, that is. The exes co-parent children Violet, Seraphina, and Samuel, and Affleck continues to be heavily involved in their lives despite splitting from their mom. "Our kids are lucky to have a dad who looks at them the way you look at them and loves them the way you love them," Garner praised his parenting skills in a sweet Instagram from 2018.
Affleck has also spoken affectionately about his children and what they mean to him. Mega movie star he might be, but "my life right now is focused on, for sure, being a dad, and that's the most important thing to me," the "Batman" actor told Access in 2020. He's also been candid about the challenges of parenting, sharing with People, "Sometimes I'm going to say and do the wrong thing but ... kids are okay with that. If you're honest and love them."
Though she's busy touring the world and stunning on the red carpet, parenting takes up a big chunk of J.Lo's time too. By her account, Affleck is just as good a dad to her kids as he is a husband to her.
Ben Affleck is a loving and involved dad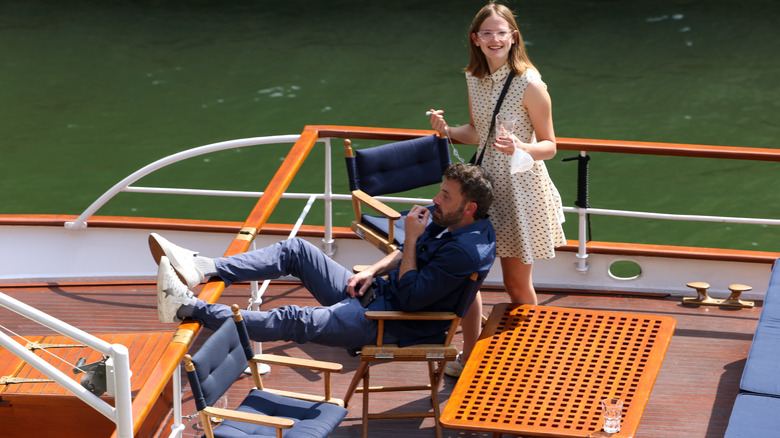 Pierre Suu/Getty Images
Family is a big priority for Jennifer Lopez. Back when she was engaged to Alex Rodriguez, the pair spoke often about their blended family. Now, Affleck is committed to being a loving step-dad to Lopez's 15-year-old twins Max and Emme, whom she shares with ex Marc Anthony. As the "Hustlers" star gushed on a 2023 episode of "The View," Affleck's parenting skills are one of the things she loves most about him. "[Ben] is honestly the best dad I've ever seen," J.Lo said. "He's so involved. He teaches me about how to ... interact with the kids. ...He must have read every book and everything you could possibly learn about children and he applies it." Not only is Affleck a wonderful father, but he manages to juggle fatherhood with his demanding work schedule. "He's present, and that's all you can ask for is a present, loving dad who cares and shows up every single day," Lopez added.
After the pair tied the knot in 2022, Affleck and his multi-hyphenate wife moved in together with all of their respective kids. "It's been ... an emotional transition, but at the same time all your dreams coming true," J.Lo said during an appearance on "Today." Though they're certainly not the only blended family in Hollywood, Affleck and Lopez are unique for choosing to raise their blended family under one roof. Others, like Kravis, have opted to live in separate homes.
Ben Affleck and Jennifer Lopez prioritize their children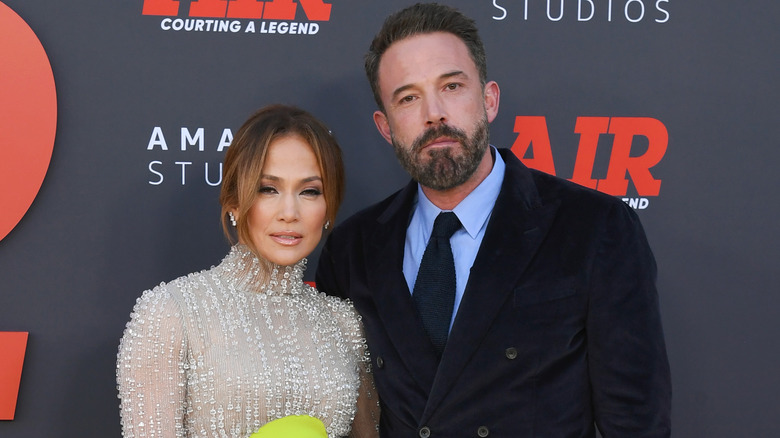 Jon Kopaloff/Getty Images
Jennifer Lopez and Ben Affleck might have all the money in the world, but they've made it clear their children are all that matters. That's why the kids took center stage during Ben and Jen's wedding ceremony. "We weren't only marrying one another; we were marrying these children into a new family," J.Lo explained in her "On the JLo" newsletter (via People). "They were the only people we asked to stand up for us in our wedding party. To our great honor and joy, each one did."
But as any parent knows, parenting a set of children — blended or otherwise — is never smooth sailing. J.Lo described her own experience of being a mom and step-mom to teenagers as "riding the waves." "I feel like it's surfing. I'm riding the waves, and then it's like, 'Oops, I just got knocked over!' Now, I'm back, I'm back!" she joked on "Live with Kelly and Mark."
As of this writing, memes of "Sad Ben Affleck" have been making the rounds on the Internet, hinting that Lopez and Affleck might not be as blissfully happy together as they appear to be. But whatever the future holds for Bennifer, Lopez will always have a special bond with Affleck's children and vice versa. After all, the singer didn't let a little thing like her breakup with Alex Rodriguez get in the way of her relationship with his daughters!