The Heartbreaking Story Of Anna Nicole Smith's Late Son Daniel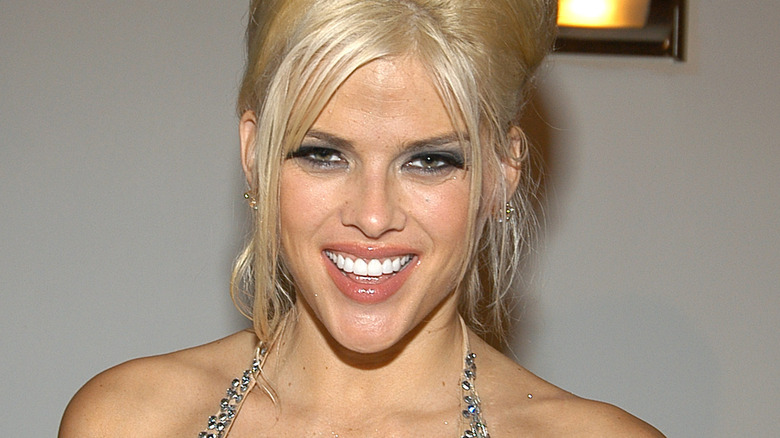 Jamie Mccarthy/Getty Images
In her short 39 years on earth, Anna Nicole Smith experienced a lot of tragedy, including the heartbreaking death of her son in 2006. 
Born Vickie Lynn Hogan in 1967, Anna Nicole's introduction to the challenges of life came pretty early, having been raised in poverty. After dropping out of high school, she went on to marry Billy Wayne Smith, a co-worker at the fast food restaurant where she worked at the time. In 1986, one year after their marriage, the future model welcomed the couple's first and only child together — Daniel Wayne Smith. Anna Nicole was only 18 at the time. Consequently, she took a job as a stripper at a club in Houston to help support her young son. While working, Anna Nicole met J. Howard Marshall, the man who would become her second husband shortly after she divorced Billy in 1993. Between Marshall's wealth and the fame she eventually found as a Playboy model, Smith was able to make something of her life.  
Sadly, just when it seemed like all was going well for the model, Daniel tragically died just days after a happy moment for their family.
Daniel died a few days after his sister was born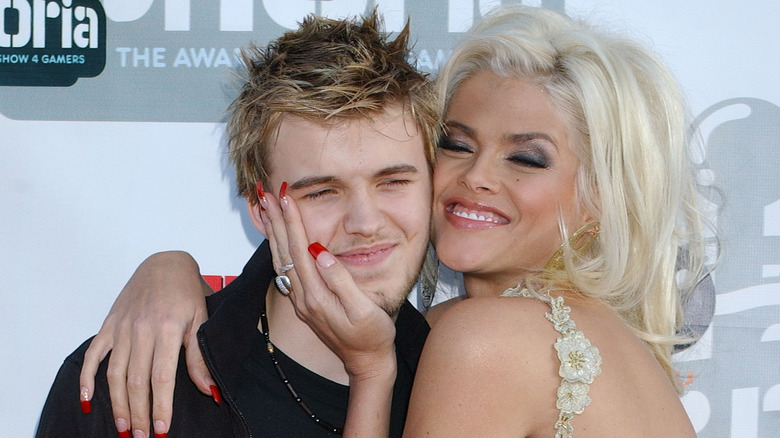 Gregg Deguire/Getty Images
On September 7, 2006 — years after J. Howard Marshall died in 1995 — Anna Nicole Smith welcomed another child, daughter Dannielynn Birkhead, with photographer Larry Birkhead. However, tragedy struck three days later when her son Daniel Smith died at just 20 years old while visiting his mother and sister at Doctors Hospital in the Bahamas. "He was found in a condition of non-responsiveness. I am not certain who made the alarm, and doctors were called in but he was pronounced dead," Reginald Ferguson, assistant commissioner of the Royal Bahamas Police Force told People at the time.
Opening up about the tragic event later, Anna Nicole's lawyer Howard K. Stern recounted waking up to the model's cries for help. "Well, I remember Anna saying 'Howard, Howard, wake up! Daniel's not breathing!'" Stern told Entertainment Tonight (via CBS). "I went over and checked his neck and I didn't feel anything and we immediately called the nurse."
It was later determined that Daniel died from a lethal combination of drugs, including methadone and antidepressants. During a 2008 inquest about Daniel's death, Dr. Lee Hern — a lab director at the Miami-Dade County medical examiner's office — suggested that, given the amount of methadone Daniel ingested, Daniel might have intentionally overdosed. "But for the methadone, he would not have died," he said, per Daily Mail.
Daniel's death left Anna Nicole Smith shattered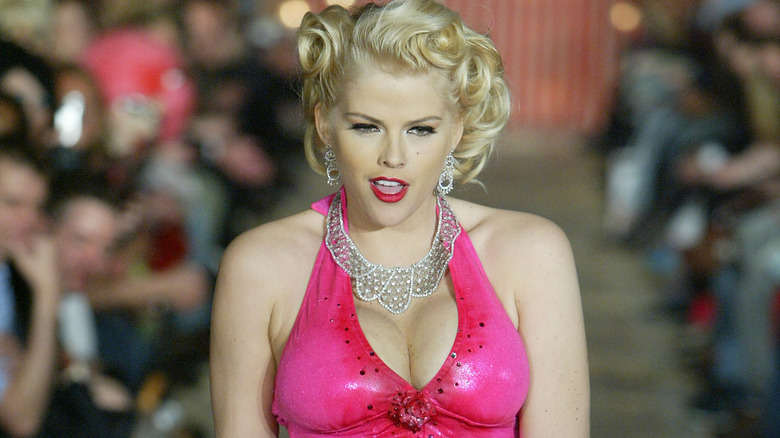 Matthew Peyton/Getty Images
Unsurprisingly, Daniel Smith's death left his mother Anna Nicole Smith heartbroken and incredibly upset. "Anna Nicole was so distraught at the loss of Daniel that she refused to leave his side and it was necessary to sedate her in order to check her out of the hospital," her lawyer Michael Scott revealed at the time, according to CBS News. In addition to this, Scott explained the former Playmate also suffered memory loss from the traumatic event.
Speaking in February 2007, Anna Nicole opened up about struggling with her son's death and how it caused her to fall into depression. "I think of him every day, and I dream of him every day and every night. He comes to me in my sleep, he comes to me in the sky," she said in her final interview. "It's like he's calling me to come to him. He looked like he was scared. Like he's scared, and he wants me to come to him," she added.
Sadly, barely five months after Daniel's tragic death, the model died from an accidental overdose at 39. She was subsequently buried next to her son — a final testament to the unbreakable bond they shared. "Anna and Daniel were inseparable. Daniel was without question the most important person in Anna's life. From the time I met her, everything was for Daniel," Howard K. Stern, who doubled as her lawyer and lover, told People.