Tiger Woods Had An Easier Break Up With Lindsey Vonn Before Erica Herman Split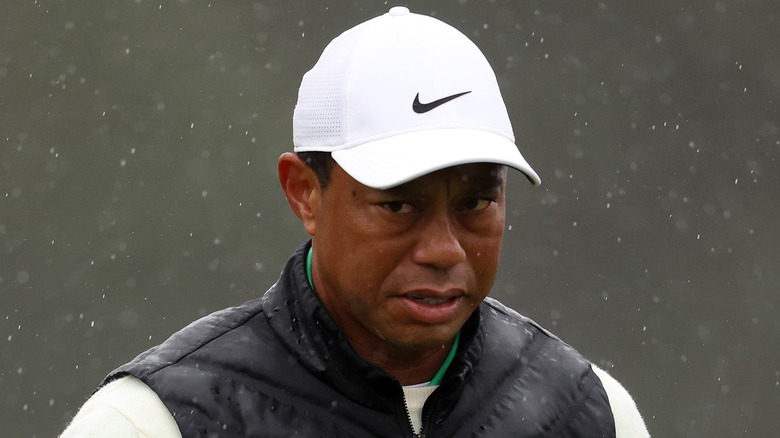 Christian Petersen/Getty Images
Tiger Woods isn't exactly setting the 2023 Masters alight. But then, he's battling fellow competitors and two of his old adversaries: Severe injury pain and personal gossip. Woods' former relationship with Erica Herman and their acrimonious split is a hot topic online. Still, he should be used to that by now. When Woods was at the top of his game, all anybody discussed was his outstanding talent and sweet, sweet swing. Then the Elin Nordegren serial cheating scandal exploded, and he became a tabloid fixture and the subject of lurid scandal after lurid scandal.
For a while, it was all disgraces and no deuces for Woods. It even looked like the golfer's career could be over, but before you could shout "fore!" Woods made the first of many inspiring comebacks. He also got back in the love saddle again, falling for Olympic skier Lindsey Vonn who he dated for three years before parting ways. The reason Woods and Vonn broke up is kind of hazy. "Tiger and I have mutually decided to end our relationship. I will always cherish the memories that we've created together," she wrote on Facebook.
Meanwhile, Woods blamed scheduling issues. "We lead very hectic lives and are both competing in demanding sports. It's difficult to spend time together," he wrote on his website. Well, whatever the actual reason for splitting was, Tiger Woods definitely had an easier breakup with Lindsey Vonn than Erica Herman — that one got really messy really fast.
Erica Herman's eager to spill the Tiger tea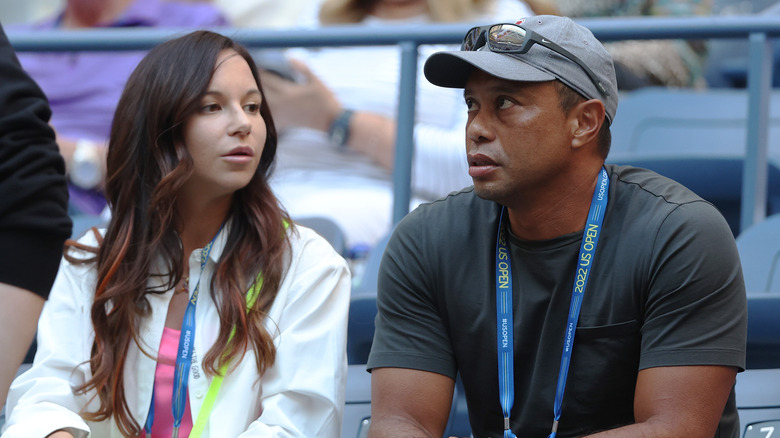 Matthew Stockman/Getty Images
As Erica Herman and others discovered, Tiger Woods handles a nine-iron way better than relationships. Woods figuratively threw a hand grenade at his marriage to Elin Nordegren (and $100 million, per TMZ). In return, she wielded her own nine-iron and took it to Woods' SUV, smashing its windows to smithereens following a mysterious car crash hours after Nordegren learned of his cheating, per the Daily Mail.
As a newly anointed bachelor, the golfing legend kept busy with the ladies — and his attornies. Woods quickly gained a rep for having his girlfriends sign NDAs — a smart move, given his roving eye. Following Woods' fling with Lindsey Vonn, he hooked up with Kristin Smith for two years. However, TMZ Sports reported their relationship ended after she discovered he was cheating. Woods handed Smith a wad of cash as per his now-bulging cabinet of NDAs, hushing her up and fending off more embarrassing headlines.
However, Woods wasn't getting off that easy with Herman. Their split's gone nuclear. According to New York Post, Herman alleges that Woods broke up with her by encouraging her to take a short vacay then changing the locks on the house they shared before she returned home. Brutal. Thanks to a Woods-NDA-special, news of their months-long messy breakup and court battle was suitably silenced. It only came to light after Herman filed court documents requesting her NDA be nullified and $30 million in damages on the grounds of "sexual assault." Put the kettle on; it's tea time.
Tiger Woods is keeping calm and carrying on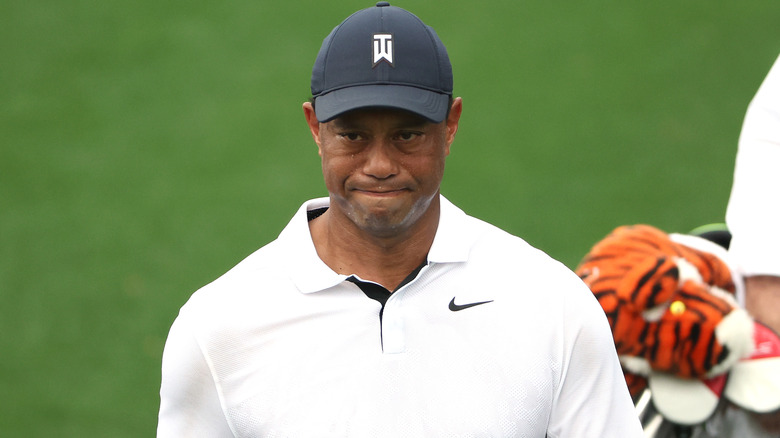 Patrick Smith/Getty Images
Erica Herman's $30 million lawsuit is just a splash in the ocean of pain for Tiger Woods. The golfer nearly lost his leg in a horrendous 2021 car crash, and according to his caddy, Woods is struggling badly right now. "Obviously [the injury] affected him physically, but I think it got to him mentally because he's grinding to block out the pain," Joe LaCava told the New York Post.
Still, he's confident Woods will weather the storm — and Herman's accusations and lawsuit. "Being in the spotlight, you're always going to get punches thrown at you.," LaCava told the Post. "I think he's got the mindset that he's able to deal with [the Herman case] even though it's in the public and still do what he has to on the golf course and at home with his family."
Woods talked about how he deals with the gossip surrounding his personal life in an interview with Time. "One, you don't listen to it. And two, in today's world, you don't go online," he said. As for his relationship with the press? Woods said he has a few good buddies in the media, but that's about it. "Hey, they made their career being negative and being outlandish. They've made a career out of it. But that's their take. They've almost created a character, per se," he said.