Kylie Jenner And Travis Scott Talk The 'Kardashian Curse'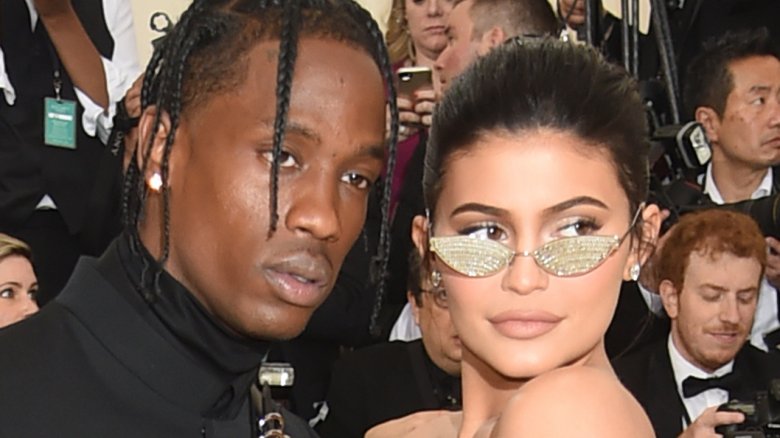 Getty Images
Kylie Jenner and Travis Scott have something to say about that so-called "Kardashian Curse."
In their first-ever joint interview, the young couple, who welcomed daughter Stormi Webster in February 2018, addressed the dreaded Kardashian Curse, which allegedly dooms the lives of men who date members of the Kardashian-Jenner family. Fortunately, neither Jenner nor Scott really believe in the silly superstition, as detailed in their cover story for GQ's August 2018 issue.
When asked if he was scared he'd soon be affected by the alleged curse, Scott replied, "I don't even be looking at motherf**kers. I don't be looking at s**t. Kylie actually likes me for me." Explaining that he's not at all nervous about the impact his relationship with Jenner could have on his career or personal life, he said that he's "on [his] own island." He continued, "So hey, come over there to Astroworld. I'm not into all the other s**t. I don't get involved. I'm over here. Kylie is different."
Jenner also gave her own two cents on the curse. Agreeing with GQ writer Mark Anthony Green that some men who date her and her sisters can't handle flying "close to the sun," the young beauty mogul stated, "They come and can't handle it."
She added, "But it's not just men — it's friends, it's people who come and just don't know how to handle it," noting that Scott, whom she's dated since April 2017, and even BFF Jordyn Woods still find it difficult to live in the spotlight sometimes. "There's a lot of people who love us, but there's also a huge handful of people who don't like us."
And apparently that's one reason why Jenner and Scott keep much of their romance private — so that they can enjoy life away from prying eyes and without the pressure of the public's input.
"I don't think he's really cool with it," Jenner said of Scott and his thoughts on the media scrutiny their high-profile relationship yields, "but he deals with it, because we love each other and we have a family. For sure, I know he doesn't like the attention. That's why we just go the extra mile to keep our relationship super private, or like, if he has events or something, I won't come. Because I want him to do his own thing."
Jenner continued, "I want him to be him. I don't want it to be Kylie and Trav. If people don't ever see us together, that's okay with me, because we just do our thing."
Glad to see that Jenner and Scott have found a way to deal with all the attention that surrounds them and Jenner's famous family.