14 Bands From The 2000s You May Have Forgotten (But Remembered Their Bops)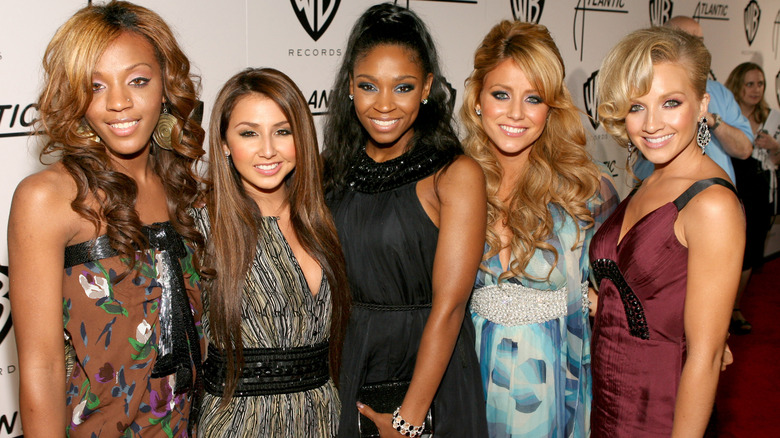 Jesse Grant/Getty Images
Not every millennial pop group could be the Spice Girls or NSYNC of their generation. Besides, there were nine other spots to fill on the daily "TRL" music video countdown! From slinky girl-powered groups to rollicking pop-punk bands, there was a plethora of pop-tinged ear candy in the 2000s to download on our iPods or add to our Hit Clips collection. 
"We're proud to come from an era of music that we feel is some of the best that ever came out. Late '90s, early 2000s," Nick Carter of the Backstreet Boys shared with TIME Magazine. "I believe that people miss that era. I think they do want to relieve that nostalgic feeling." And as the tweens and teens of the Pop2K era have grown into adulthood, he's right — the nostalgia factor is high, especially with reunion tours, genre festivals, and viral trends peppering social media feeds from one side of the globe to another. While on the topic of nostalgia, it's worth paying a visit to some of the arguably less remembered groups that we blasted on the regular on our Walkman CD players.
The Click Five was just the band we were looking for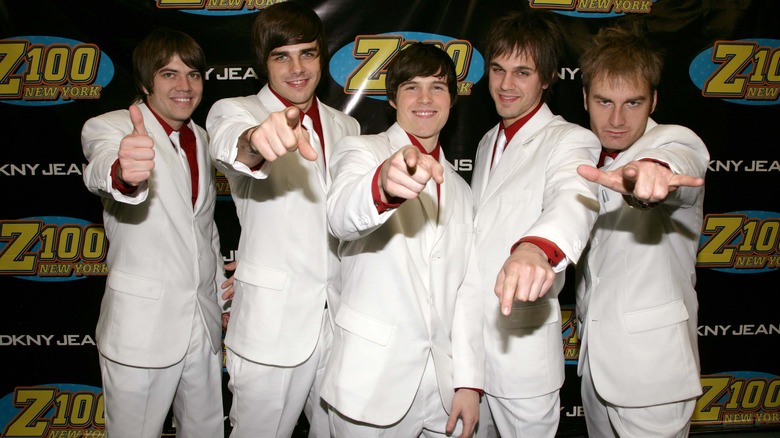 Jim Spellman/Getty Images
Back in the era of skinny ties and mop-top haircuts, the Boston-based The Click Five (aka TC5) was the boy band meets The Beatles ensemble that brought the infectious "Just The Girl" to airwaves in 2005. The group, originally composed of guitarist Joe Guese, bassist Ethan Mentzer, keyboardist Ben Romans, drummer Joey Zehr, and singer/guitarist Eric Dill, toured with Ashlee Simpson, Jesse McCartney, and the Backstreet Boys, as their debut single peaked at number 11 on the Billboard charts. The hit was written by the late Fountains of Wayne bassist Adam Schlesinger, who many may remember as the band responsible for getting everyone obsessed with "Stacy's Mom." "It was really cool for us," guitarist Guese told Pop Entertainment. "To get handed basically an unreleased Fountains of Wayne song, it's something really cool ... I've always thought they were such a great band." 
TC5 released their debut EP "Greetings from Imrie House" in August 2005. After a lead singer switch was announced via MySpace, the group followed up with "Modern Times and Pastimes" in 2007. While their sophomore album was well received in Southeast Asia, the group never managed to match the success of their debut single stateside. The group released one more album together in 2010, "TCV," before eventually announcing their disbandment via Facebook in 2013. "The feeling we got from inspiring you with our music was always at the top of the list for us," the statement read, in part.
Sugarcult is in our Memory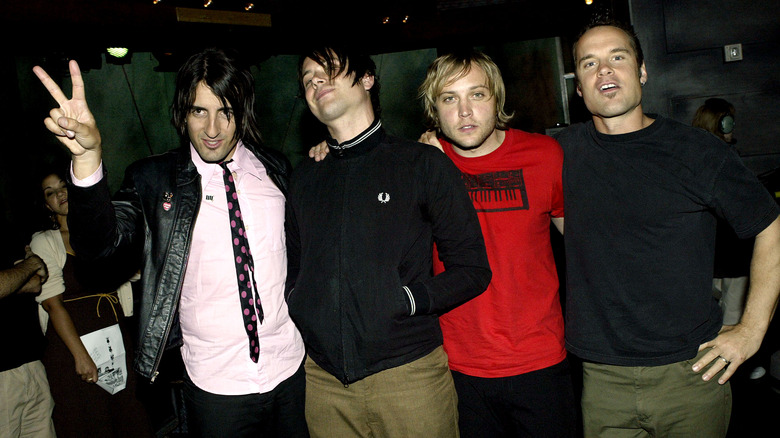 Paul Hawthorne/Getty Images
Any emo-alt kids from the early 2000s likely remembers California-based band Sugarcult's bouncy hit "Memory." The group originally consisted of vocalist/guitarist Tim Pagnotta, guitarist Marko DeSantis, bassist Airin Older, and drummer Ben Davis. Prior to "Memory" taking over the airwaves, the band had a minor hit with their song "Bouncing Off The Walls," which appeared on the "National Lampoon's Van Wilder" soundtrack in 2002. 
By 2004, Kenny Livingston was serving as drummer, and the band released the album "Palm Trees and Power Lines." The song "Memory" became a hit on MTV and was even featured on the "NHL 2005" soundtrack. The song's success led to the band's inclusion on the 2004 Warped Tour lineup, and later, their turn as an opening act on Green Day's "American Idiot" tour. "We're so in the moment," Pagnotta shared with Counter Culture. "Y'know, it's kinda one of those things when sometimes you hear a song one million times in a row, it can be the last song you want to hear, but then sometimes when the show goes great, you wanna turn a three minute song into a twenty minute jam, because it's like, 'F***, I don't want [it to] end!'" 
The band continued to tour off and on throughout the 2000s and into the 2010's, and even made some benefit appearances alongside the likes of 5 Seconds of Summer and Goldfinger. The band is still active with social media channels and a website, but they haven't released an album since 2006.
The Reason is, obviously, Hoobastank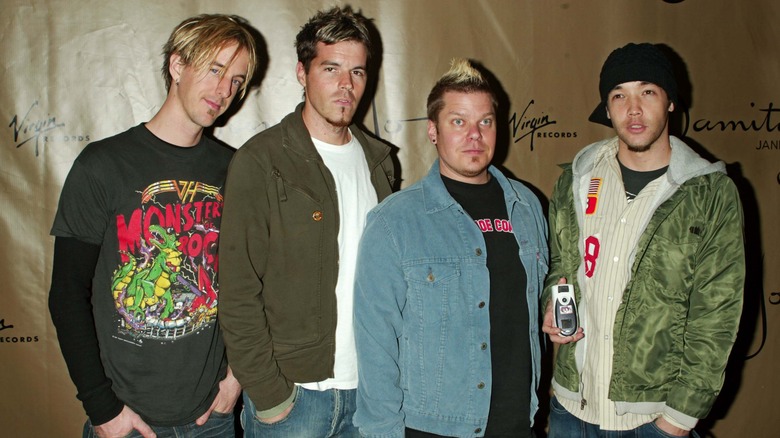 Jim Spellman/Getty Images
In 2004, California foursome Hoobastank released the now classic "The Reason" off of their second album of the same title. The band, originally composed of vocalist Douglas Robb, guitarist Daniel Estrin, bassist Markku Lappalainen, and drummer Chris Hesse, saw the song skyrocket all the way to number two on the Billboard Hot 100 chart. "It wasn't about anyone specifically," Robb told The Daily Beast. "I had a lot of journal entries, and at the time, our guitar player sent me some music that he liked — which was almost the song, about 90 percent complete — and I grabbed it, rifled through some notes, and it came together very fast." That same year, the band toured the world with Linkin Park alongside fellow rock ensembles P.O.D. and Story of the Year. 
Unlike many of their contemporaries, Hoobastank has continued to make music and tour together through the 2000s; by 2018, they had released five additional albums post "The Reason" and were touring extensively. "The Reason" has even received a viral revival thanks to a Tik Tok trend and a prominent feature in the Netflix series "Beef." "This wasn't the exact career path I think any of us had planned," Robb shared with StereoGum. "That being said, so much of our livelihood now, or for the past 10 years, is based on ... that song and a handful of other songs that we got so much success for ... The silver lining came late, but it came."
soulDecision was Kinda Crazy before they Faded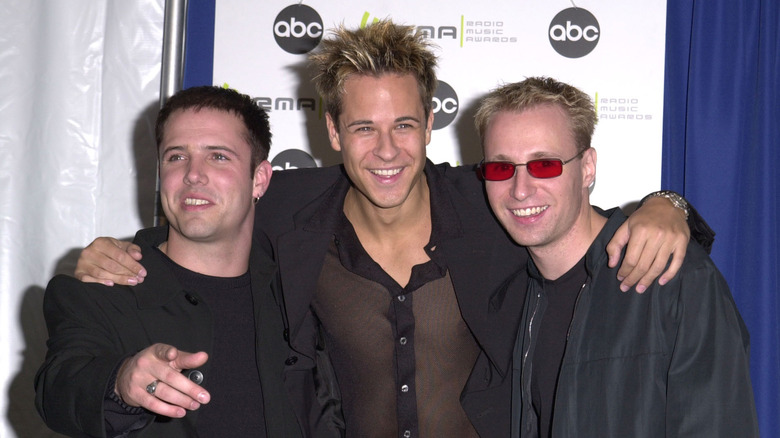 Steve Granitz/Getty Images
Canadian pop trio soulDecision exploded onto the music scene with the one-two punch of singles "Faded" and "Ooh It's Kinda Crazy" in 1999 and 2000, respectively. Lead vocalist/guitarist Trevor Guthrie, guitarist/vocalist David Bowman, and keyboardist Ken Lewko were marketed primarily as a boy band, slotting them alongside contemporaries like the Backstreet Boys and LFO. 
"From day one, we always wanted to be marketed as a band that writes and plays and produces our own music, but nobody was doing that," Guthrie shared with Vice in 2014. "A few years later, Maroon 5 comes out and it's like, it's a band performing pop music, that's what we were doing! Why weren't we marketed like that and why didn't we have a legitimate career? But looking back, we had a good run, we had a good experience." 
Despite how their label labeled them, the group saw success on MTV's video countdown "TRL" and supported fellow pop acts like Christina Aguilera and NSYNC on tour. The band was relatively short-lived, with their last tour taking place in 2005, according to Guthrie. But the singer/songwriter continued to make music and even made his mark in the EDM world on Armin van Buuren's "This Is What It Feels Like," which went on to win multiple global awards and was nominated for a Grammy Award. "I was always there, writing," Guthrie told Vice. "I was always trying, but Armin was the guy who put a brand on my name."
Dream was Diddy's OG girl group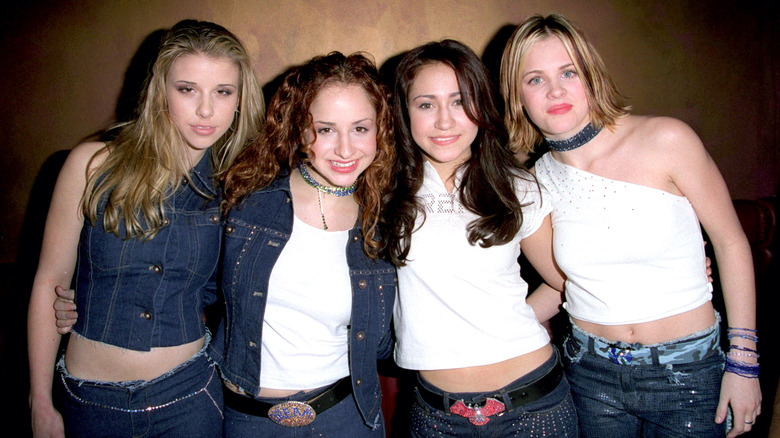 James Devaney/Getty Images
Fab foursome Dream was the girl group brainchild of Sean "Diddy" Combs who made their debut at the peak of the new millennium. After signing to Diddy's Bad Boy Records (aka Bad Boy Entertainment), the girls released their debut single "He Loves U Not," which took over both the Billboard Hot 100 chart and the TRL countdown in 2001. Everything was a whirlwind from there, as the girls released their debut album "It Was All A Dream" and embarked on tours with artists like Destiny's Child, Jessica Simpson, and Eve. 
Their follow-up single, "This Is Me," wasn't as successful as their debut, but the video did reach number one on "TRL" – a feat fit for only a select group of millennial music acts. "I feel lucky to have made music during that time when pop was just amazing," member Ashley Poole shared with You Know I Got Soul. Along with her bandmates Melissa Schuman, Holly Blake-Arnstein, and Diana Ortiz, Dream was on top of the world. But like many groups, the "dream" eventually faded; Schuman left the group in 2002 and the group eventually disbanded in 2003. 
They did, however, reunite in 2016 for the "My2K" tour alongside MTV favorites including 98 Degrees, O-Town, and Ryan Cabrera. "Everything within Dream has been organic," Ortiz shared with E! News. "Our chemistry has never failed to amaze one another."
Danity Kane's ups and downs left some damage
Denise Truscello/Getty Images
From one Dream to the next, Sean "Diddy" Combs started the search for his next girl group in the mid aughts on the third season of reality show "Making the Band," the show responsible for putting together fellow pop ensemble O-Town. After weeks of enduring a grueling pop diva boot camp, Diddy's Bad Boy Entertainment formed the final five ladies into their newest group, Danity Kane. Original members included Aundrea Fimbres, Aubrey O'Day, Dawn Richard, Shannon Bex, and Wanita "D. Woods" Woodgette. 
While their self-titled debut album, released in 2006, spawned several minor hits including debut single "Show Stopper," it was the smash single "Damaged" off of their second album "Welcome to the Dollhouse" that solidified their legacy in the 2000s's girl group pantheon. Despite the success, the group went through some tumultuous times, including O'Day and D. Woods being fired from the group and Fimbres leaving the group in the middle of a 2014 reunion tour. 
Danity Kane has gone through a number of iterations in the time since "Damaged," and the ladies have used their reunions as a platform to speak up against the misogyny they have faced in the music business over the years. "We were constantly fighting for each other, but we were young, we had no idea how to grab the power of our unity," Richard shared with Cosmopolitan. "I'm very proud that we're able to speak about this because I think we have been having a secret society of eyeballing for way too long."
The Donnas really took off (for a while)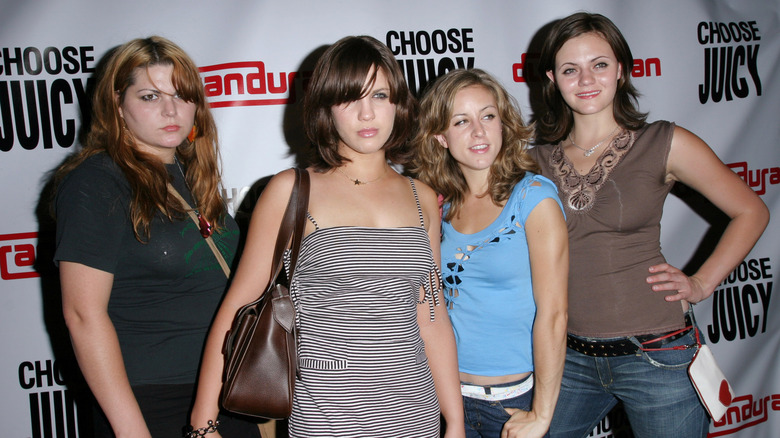 James Devaney/Getty Images
Not all girl groups of the aughts were of the pop or R&B persuasion. Guitar-thrashing quartet The Donnas took the stage (literally) in 2002 with their mega hit "Take It Off," their first big break despite having formed in California in the early 1990s and releasing records prior to their major label debut. Vocalist Brett Anderson, guitarist Allison Robertson, bassist Maya Ford, and drummer Amy Cesari brought new wave punk back to the mainstream scene after signing with Atlantic Records in late 2001. They released their first album on their new label, "Spend the Night," in 2002, and lead single "Take It Off" spent 10 weeks on the Billboard Mainstream Rock Airplay Chart. 
The band spent the mid 2000s being promoted on screens of all sizes before eventually splitting with Atlantic and forming their own record label in 2007. "Whatever formula we were in wasn't working for us, so now we're carving out a new formula," Anderson shared with Billboard (via Reuters) at the time. "After 14 years and a few other deals, I guess this makes it the new-new-new-new formula!" The band's time together began to wind down by the early 2010's, but their anthemic punk rock anthology lives on. "I think part of what kept the band going for so long is that our sound did change a lot," Anderson shared with Stereogum in 2019. "It was exciting seeing what we could get away with."
2Gether gave us our meta boy band fix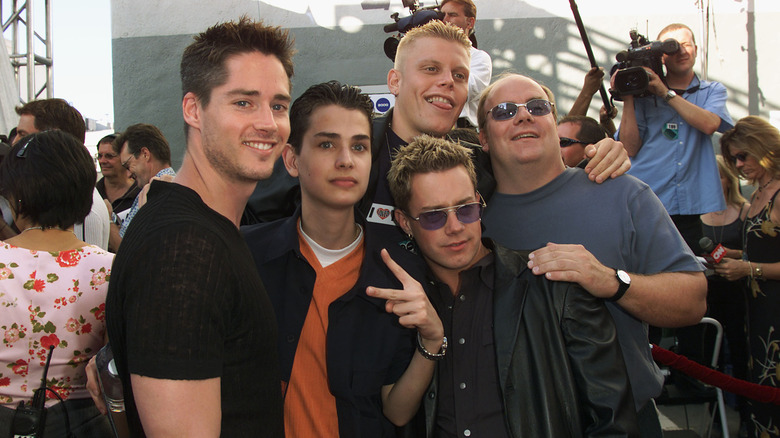 Frank Micelotta Archive/Getty Images
In the ultimate MTV meta moment, fictional boy band 2gether exploded on the scene in 2000 with a made-for-TV farcical film and television spin-off series that ended up being the impetus for their eventual success. The band included bad boy Mickey Parke (Alex Solowitz), handsome leading man Jerry O'Keefe (Evan Farmer), young heartthrob Jason "QT" McKnight (Michael Cuccione), shy boy Chad Linus (Noah Bastian), and the latter's quirky older brother Doug Linus (Kevin Farley, brother of the late Chris Farley). 
What was once a joke became an actual pop music success as the group released a pair of albums, "2gether" and "2gether Again," with singles like "U + Me = Calculus" and "The Hardest Part of Breaking Up (Is Getting Back Your Stuff)" took over the TRL charts. "We basically have two types of fans right now," Farley shared with MTV at the time. "Those who like our music, and those who get the joke. We live in both worlds at the same time, and that's fine with us." 
The band went on to even open for Britney Spears in concert. But as the millennial boy band craze faded, so did 2gether. The tragic death of youngest member Cuccione was also a driving factor in the group's demise. In the years since, the group has gotten back together (pun intended) for one-off performances and even discussed a full reunion. "I wouldn't have traded it for the world, I feel very lucky to be part of it," Farley told Billboard.
We want BBMak Back Here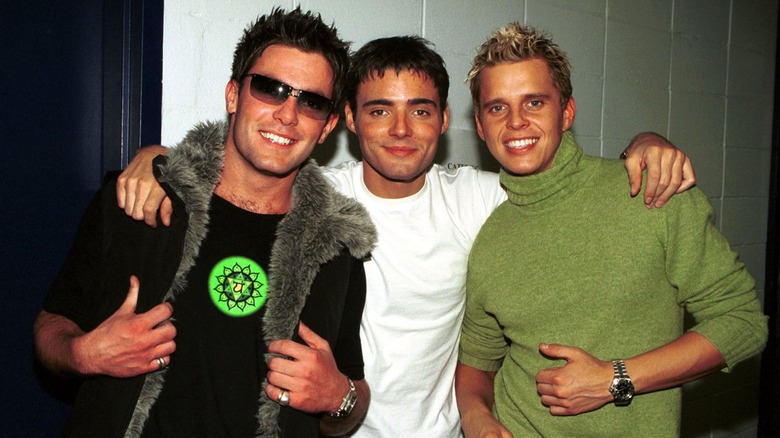 Rob Beccaris/Getty Images
British trio BBMak made a sizable splash in the pop music scene with their single "Back Here" in 2000. Although it was released off of their debut album "Sooner or Later" in 1999, it gained traction in the United States the next year, and the song eventually climbed its way up both the Billboard and TRL charts. "We were having coffee with [our producer] at his flat, and we were just messing around with chords; we wrote the whole song in about 45 minutes," member Christian Burns told MTV. 
Along with fellow members Steven McNally and Mark Barry, the trio of musicians (which set them apart from many of their contemporaries) soon embarked on a tour with Britney Spears and eventually their own headlining jaunt. Their follow-up album, 2002's "Into Your Head," was not as successful, but still saw lead single "Out Of My Heart" chart in the U.S. The group eventually split off to pursue solo endeavors by 2003. As for "Back Here," Rolling Stone named it one of the 75 greatest boy band singles of all time. The group later reunited in 2018 with new music and toured across America in support of their first album in 15 years. After all, "We all share the same passion for music," Barry once explained to MTV.
Dream Street left us dreaming of more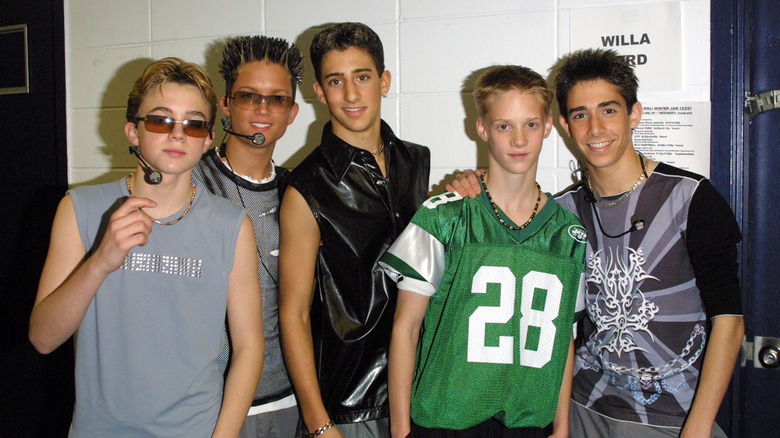 Kevin Kane/Getty Images
Amongst the bevy of boy bands that populated the aughts airwaves, five-piece set Dream Street made tweenage dreams come true at the turn of the century with their truly dreamy single, "It Happens Every Time." The song's eponymous album peaked at 37 on the Billboard 200 album chart, and the group were soon on tour with the likes of Aaron Carter and Britney Spears. Members of the group included Jesse McCartney (yes, that Jesse McCartney), Greg Raposo, Frankie Galasso, Matt Ballinger, and the late Chris Trousdale. The band appeared in a film, "The Biggest Fan," which featured Trousdale as the lead. A subsequent soundtrack was released, which marked the last album the group would release together. 
By 2002, the Dream Street "dream" had become a nightmare when lawsuits were filed against the band's creators with charges ranging from lack of pay to exposure to drugs and pornography. The group didn't reunite until 2020, when the four remaining members performed an acoustic tribute to Trousdale following his passing. "I certainly wish that it was better circumstances that we got together on that Zoom call, but it was a really nice moment," McCartney said of the mournful reunion to Bustle. "We promised each other that no matter what we would check in with each other much more often than we used to. But stay tuned! You never know."
If you or anyone you know needs help with addiction issues, help is available. Visit the Substance Abuse and Mental Health Services Administration website or contact SAMHSA's National Helpline at 1-800-662-HELP (4357).
3LW may be no more, but baby they're gonna do right
Theo Wargo/Getty Images
Pop trio 3 Little Women (aka 3LW) made a splash with their debut single "No More (Baby I'ma Do Right)" in 2000. Members Naturi Naughton, Kiely Williams, and Adrienne Bailon were the sassy teen dreams behind the sugary-sweet track, which peaked at number 23 on the Billboard Hot 100 chart. After signing to Sony Records under executive (and former Mr. Mariah Carey) Tommy Mattola, the girls released their self-titled debut album in late 2000. A few minor hits and several country-spanning tours later, Naughton departed the group in 2002, filing a lawsuit that claimed she was kicked out of the group, per Billboard.
Despite gaining a new member to replace Naughton, Williams and Bailon eventually transitioned to becoming one half of Disney Channel favorites The Cheetah Girls, alongside Raven-Symone and Sabrina Bryan. "I think when Disney Channel decided they were doing 'The Cheetah Girls,' ... they were like, 'Well, this is a movie about girl groups, maybe we should have the current young girl groups come audition,'" Bailon (now Bailon-Houghton) shared with Elle. Each of the girls went on to have flourishing careers on camera: Bailon-Houghton pivoted to daytime talk show duties, notably on "The Talk." Williams continued to act, appearing in films including "Stomp The Yard: Homecoming." Noughton also turned to acting, most famously appearing as Tasha St. Patrick on Starz's "Power." 
Years after their debut, bridges have been mended between the members. Why? "We did life together for so many years," Bailon-Houghton reminisced to ET.
The Calling was with us wherever we would go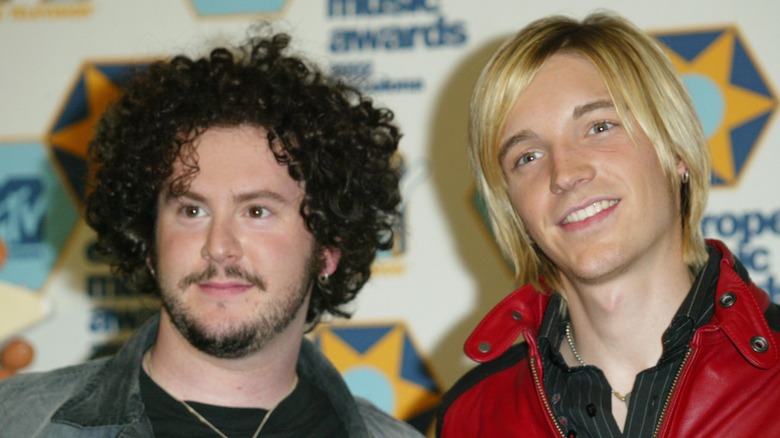 Toni Anne Barson Archive/Getty Images
By 2002, most adult pop radio stations were non-stop blasting "Wherever You Will Go" by California rock group The Calling. Released off of their debut album "Camino Palmero," the song exploded and eventually peaked at number 5 on the Billboard Hot 100. But the success of the single was just the beginning for the tumultuous life of the group. Remaining founding members, vocalist/guitarist Alex Band and guitarist Aaron Kamin, have dealt with lawsuits both from former members and from each other in the years since their chart-topping reign. 
"Ultimately I thought if we wanted to have longevity, we needed to be true to who we are," Kamin shared in a solo interview with Billboard. "And the more we did things that didn't feel right or didn't seem to make sense ... it started to not sit very well with me personally." The band (er, duo?) released several records afterward before breaking up for a time in 2005. 
Years later, Band experienced a harrowing kidnapping after a 2013 gig, which was the beginning of the group's resurfaced troubles. Both Band and Kamin filed separate lawsuits against each other over copyright claims of the band's name. "[He] and I have different viewpoints on what happened between us," Band told Billboard. "We are not going to agree ... what's done is done." Despite the drama, the song remains one of the 2000s' most beloved adult alternative anthems. "Some label guy called ["Wherever You Will Go"] 'the song that ate the band,'" Kamin spilled to Billboard.
All of the (kinda controversial) things that t.A.T.u. said
Jeff Kravitz/Getty Images
Russian electro-pop duo t.A.T.u. took airwaves by storm in the early 2000s with their smash singles "All the Things She Said" and "Not Gonna Get Us." The female-fronted group, composed of the then-underage Lena Katina and Julia Volkova, were known for their (at the time) controversial, sexually charged performances. The group's name in Russian roughly translates to "this girl loves that one," a wink-wink reference that shaped the group's marketing. "I think we had a very strong message, a lot of teens found themselves in our songs," Katina shared with MuuMuse. 
Their debut album in English, "200 km/h in the Wrong Lane," was released in December 2002 and peaked at number 13 on the Billboard 200 album chart. Though the success of their English debut was never matched stateside, the girls continued to perform as a duo across Europe until they disbanded in 2011 to pursue solo careers. They have reunited several times over the years to perform at a variety of events, including the 2014 Sochi Olympics. 
Despite their place in the LGBTQ+ community, the two have not only admitted that their same-sex sets were an act ("I looked at it as [a] role," Katina told The Daily Beast), but they have also made troubling remarks to the media. As far as their musical legacy goes? "A sexuality revelation from a problematic and dated work is still a revelation," writer Lio Min wrote for Them.
Eden's Crush told us to get over ourselves, goodbye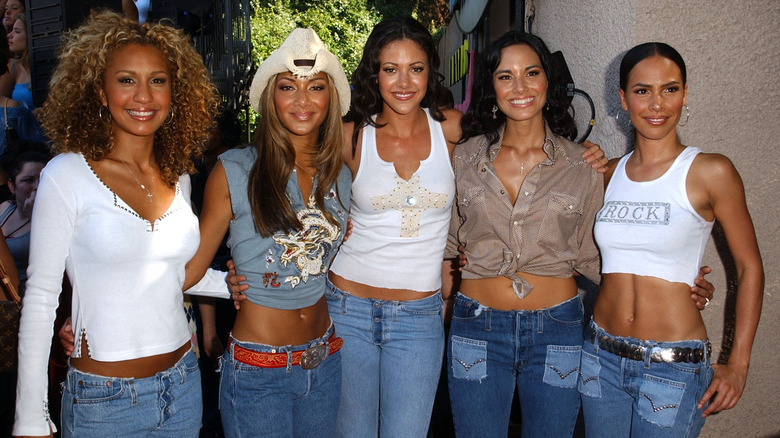 Steve Granitz/Getty Images
Some of the 2000s most memorable one-hit wonders had the smallest discographies. Fierce fivesome Eden's Crush may not have been the first one formed by a reality show, but they were the precursor group for Nicole Scherzinger of the Pussycat Dolls. The group was hand-picked after hundreds of would-be divas competed on the television series "Popstars," which inspired the "American Idol" series. "It was the forefront of reality TV," Scherzinger told The Daily Beast in 2011. "It was crazy. I wasn't used to the camera always being on me and having to leave Kentucky and move to Los Angeles. It was really scary. I was very green and very sensitive." 
Along with Scherzinger, members Ana Maria Lombo, Rosanna Tavarez, Ivette Sosa, and Maile Misajon released their debut single "Get Over Yourself," which debuted at number 8 on the Billboard Hot 100. Their first album, "Popstars," was also a commercial hit, eventually garnering Gold-selling status. Despite hitting the road with the biggest pop stars in the world and appearing on popular TV shows like "Sabrina the Teenage Witch," Eden's Crush eventually disbanded in the early aughts. "We really thought we were gonna go all the way," Sosa (now Sosa-Dempsey) shared with Billboard. "We were young, and there was no reason for us not to. We worked with [Michael Jackson's choreographer] Travis Payne, we went on tour with *NSYNC and Jessica Simpson. Why wouldn't we?"