Who Is Virgin River Star Benjamin Hollingsworth Married To In Real Life?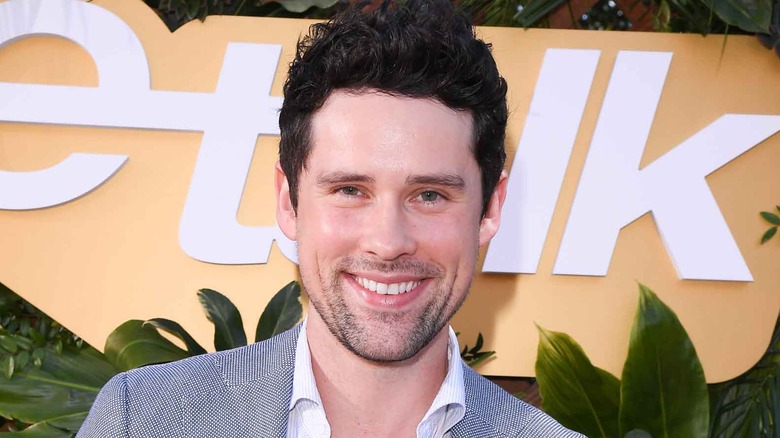 George Pimentel/Getty Images
Benjamin Hollingsworth is known for playing the town bad boy, Dan Brady, in "Virgin River." But underneath his mischievous and hard exterior, Brady has a soft spot for his love interest, Brie. His sweet demeanor towards the one he loves and his dashing looks has made fans fall in love with Brady and Hollingsworth himself. And we hate to be the one to break it to you, but Hollingsworth is not just taken on-screen — but in real life too.
According to Who's Dated Who, Hollingsworth has been with his longtime partner, Nila Myers, since 2010. The couple dated for two years before Myers got the best surprise of her life when the actor decided to pop the question on her 28th birthday in 2012. Hollingsworth and Myers wasted no time after their engagement to get married. US Weekly reports the couple tied the knot just two months after they got engaged. Hollingsworth shared his excitement for his wedding on social media. He tweeted, "Today is the day. I woke a boy and will go to sleep a man. I am so lucky to have found the woman I love and I want to grow old with." The couple ended up tying the knot in a sweet ceremony in Malibu alongside close family and friends.
As the years have passed, the couple has only gotten closer, and with Hollingsworth's rise to fame, more people are curious about the special person in his life.
Nila Myers had her own lingerie business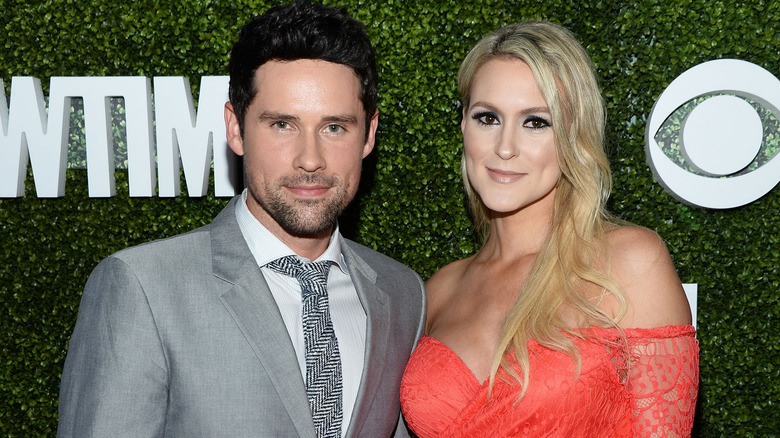 Matt Winkelmeyer/Getty Images
Before she married hubby Benjamin Hollingsworth, Nila Myers was focused on her lingerie business. According to the Independent, Myers started the lingerie business, Fair Verona, with her sister, Misha. The two described their lingerie as "loungerie" because their pieces are more practical to wear — even outside the bedroom. Myers described their collection to Betty Confidential (via Yahoo! Life), saying, "We wanted a ready-to-wear line that was also very romantic with lingerie hints."
According to Betty Confidential, in 2011, the sister duo drew inspiration from their love of Shakespeare and travel to craft unique pieces for their collection. Misha shared, "This line is romantic, feminine, layerable, and effortless." Clearly, the two were passionate about their growing business, and Myers knew they wouldn't be anywhere without their customers. She said, "Our pieces flow so well together, and I'm very proud of this collection. But we are so thankful to our customers and the people who have supported us. It's what keeps us going!"
However, when Myers and the "Virgin River" star tied the knot in 2012, things started to slow down for the business. It's unclear what happened, but in 2013, The Lingerie Blog reported that the company had a rebranding. While Misha was still involved, it seemed that Myers was not.
Nila Myers and Benjamin Hollingsworth have 3 children
Nila Myers may have stepped back from her lingerie business for a reason. Not only did she tie the knot to "Virgin River" actor Benjamin Hollingsworth, but the couple ended up welcoming three children. According to Entertainment Tonight, the couple gave birth to Hemingway, Gatsby, and Juniper between the years 2016 to 2020.
Hollingsworth detailed the chaotic buildup to the birth of their third child with ET. He said, "I spent the days leading up to the birth running around trying to gain some sort of control of an uncontrollable situation." Despite doing this twice already, the actor and his wife felt unprepared for Juniper's birth. Myers told the actor that they were "not ready" and he was not one to disagree with his pregnant wife. But after Juniper's arrival, everything seemed to click for the family as their missing puzzle piece was complete. Hollingsworth shared, "I'm constantly in awe of how quickly our hearts transform and make room. That's certainly what happened to mine the minute I set eyes on my little angel."
The family continues to spend as much time with one another as they can. Myers even once shared a sweet post of the family on an outing together on her Instagram with the caption, "We love when daddy has a day off! The boys bringing the baaaaaad to badlands." So, no matter how busy their lifestyle gets, Myers and Hollingsworth will always make room for each other and their children.