Shannen Doherty's Entire Relationship History Explained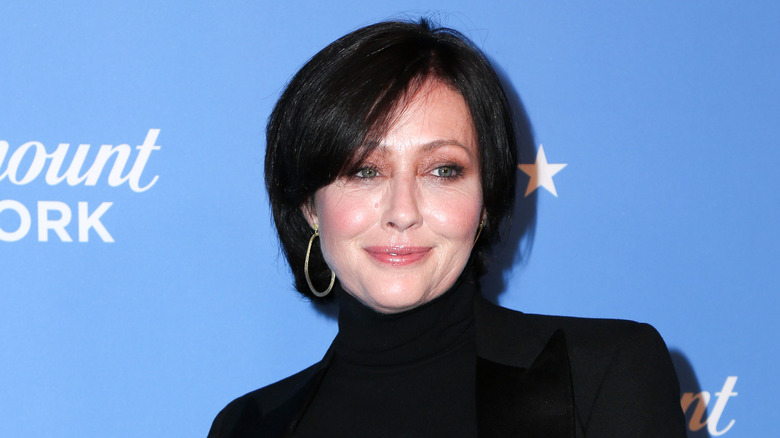 Kathy Hutchins/Shutterstock
This article contains allegations of domestic violence.
If you watched TV shows like "Beverly Hills, 90210" and "Charmed" in the 1990s and early 2000s, then you know Shannen Doherty. She played Brenda Walsh in the Los Angeles-based teen drama before taking on the role of Prue Halliwell in the witchy classic. It's well known that Doherty is passionate about her work as an actor — in fact, she claimed the reason she left "Charmed" after three seasons was because there wasn't the same level of enthusiasm coming from other people on set. However, Doherty's dedication has often been overshadowed by the off-screen drama that followed her from one project to another. Her alleged feuds with co-stars like Jennie Garth and Alyssa Milano are well documented, but it's her tumultuous relationships with high-profile "bad boy" celebrities like Ashley Hamilton which really drove home her own "bad girl" image.
And some of Doherty's relationships have even been as drama-filled as the storylines she's portrayed on screen. She's been engaged a total of six times to date. Three of these engagements led to marriages, though her third marriage to photographer Kurt Iswarienko lasted much longer than the others. Three of Doherty's engagements came about during her four-year stint on "90210" as her popularity and fame continued to rise, and there's been some overlap in her relationships. She's dated co-stars and fellow actors, musicians, businessmen, and other Hollywood creatives. Keep reading for the breakdown of Shannen Doherty's entire relationship history that you didn't know you needed.
Chris Foufas was her first fiancé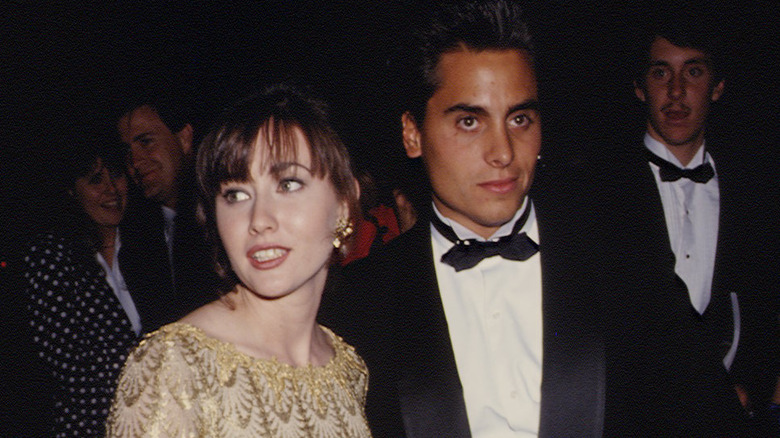 Frank Trapper/Getty Images
Shannen Doherty started acting in the early 1980s, before claiming a role as one of the titular Heathers in the 1989 film of the same name. She was on the cusp of turning 18 as the film was released and, just over a year later, when she was 19, she burst onto TV screens playing Brenda Walsh in "Beverly Hills, 90210." Up until this point, Doherty never had a public relationship. But, her first documented romance came around quickly, when she began dating Chicago-born real estate manager Chris Foufas.
It was apparently serious, as Doherty accepted Foufas' marriage proposal in 1991. However, the couple called off their engagement the following year. Foufas, who was three years older than Doherty, was reportedly the one to end their relationship. While speaking to People after their split, Foufas shared a few choice words about his ex, who appear not to have parted ways on the best terms. "Shannen can be a great, wonderful, loving person. But she wants to be a dictator. Shannen gets people to commit to her and then says, 'See ya!' She is like a kid who wants a toy, gets it and then gets tired of it," he said two years after their break-up.
Oh, brother! Shannen Doherty and Jason Priestley's brief fling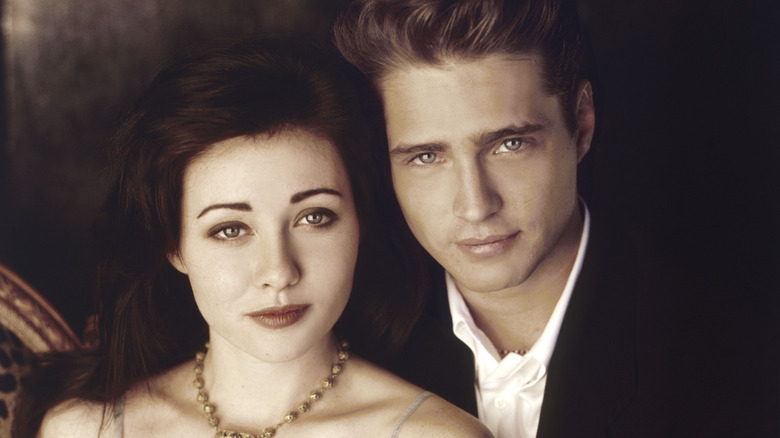 Aaron Rapoport/Getty Images
Although it was rumored that Shannen Doherty was dating her "Beverly Hills, 90210" co-star Luke Perry — who played her on-screen love interest Dylan McKay — during the early '90s, the pair were never actually romantically involved. She and Perry were just close friends, and remained so for the rest of his life. However, Doherty did have a fling with another of her co-stars; Jason Priestley. The two worked closely together as he played her twin brother, Brandon Walsh, on the show.
The actors denied being in a relationship at the time of filming, and details of their real-life relationship didn't surface until decades after fact. In his 2015 book "Jason Priestley: A Memoir," the "Call Me Fitz" actor admitted that a romance had in fact blossomed between himself and Doherty on set, albeit briefly. "Various combinations of people slept with each other over the years. Nobody ever got attached," Priestley wrote (via Us Weekly).
"We never let it get in the way [of] what we were doing ... work always superseded everything," he added. Priestley didn't go into too much detail about his relationship with Doherty, but a photo of the pair kissing at the 1991 Emmy Awards helps narrow down the time of their fling. However, it is unclear if their relationship predated or overlapped with Doherty's engagement to Chris Foufas.
Her short-lived romance with Vince Neil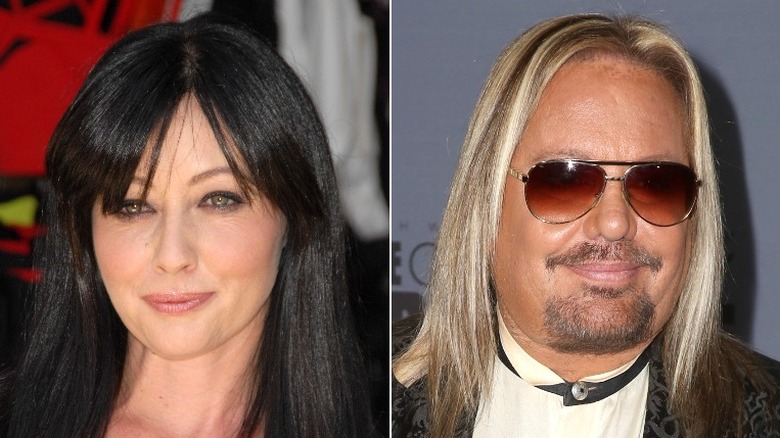 Kathy Hutchins & s_bukley/Shutterstock
After her break-up with Chris Foufas, Shannen Doherty started dating musician and actor Vince Neil. The pair met early in 1993 at Bar One, a Sunset Boulevard establishment that Neil part-owned, having bought a share of the bar the year before. The rocker once had a reputation for romancing A-list starlets, and according to his memoir, "Tattoos & Tequila," he's dated everyone from Tori Spelling and Christy Turlington to Pam Anderson.
The lead vocalist of Mötley Crüe was a decade older than the 21-year-old "Beverly Hills, 90210" star when they got together. At the time, the musician was newly divorced from his second wife, Sharise Ruddell. NNDB categorized their romance as a relationship, citing Doherty as Neil's ex-girlfriend. However, their relationship was short-lived, and they parted ways later the same year. While there isn't much information about this pair available to dig into, perhaps it has something to do with Neil's alleged foggy memory — or the fact that he's chosen to forget certain trysts. "He's got a memory as clear as diamonds when he wants to," explained one ex-wife in "Tattoos & Tequila," adding, "Sometimes it's just easier to say you forgot. He has a lot of regrets."
Neil immediately started dating Playboy model and actor Heidi Mark and was engaged two months later. Meanwhile, Doherty also went on to pursue a new relationship that also led to an engagement.
Allegations of abuse rocked her relationship with Dean Factor
DFree/Shutterstock & Michael Tran Archive/Getty Images
Shannen Doherty had several big relationships in 1993. After a less-serious romance with Vince Neil, she went all-in with Dean Factor, quickly getting engaged to the son of businessman and makeup mogul Max Factor.
However, Doherty and Factor's relationship quickly soured, and ended in May of the same year amidst allegations of physically abusive behavior from both parties. Factor took his allegations to court and filed a restraining order against his fiancée. In his claim, he shared details of the alleged abuse, saying: "I was weary of the verbal assaults and locked myself in our bathroom. At this point, she threatened to shoot me and said, 'I'm going to drop you!' I knew she had a loaded 9-mm automatic ... I heard the chamber pulled back; at that point, I hastily exited the house through a back door connected to the bathroom and escaped" (via People).
However, he "90210" star denied the allegations, saying in a TV interview (via People), "To paraphrase Mark Twain, half the things you read about me are untrue, and the others are lies." In fact, her dad Thomas Doherty claimed that Factor was lying and that his daughter had been the victim of assault. Factor later admitted to hitting the actor. Doherty recalled an incident shortly after the pair were engaged when his daughter returned home with a black eye which the actor claimed was from surfing. "In reality he'd hit her," he said, adding that their argument stemmed from Factor's jealousy over the nature of Doherty's relationship with another man.
If you or someone you know is dealing with domestic abuse, you can call the National Domestic Violence Hotline at 1−800−799−7233. You can also find more information, resources, and support at their website.
Shannen Doherty's on-off relationship with Judd Nelson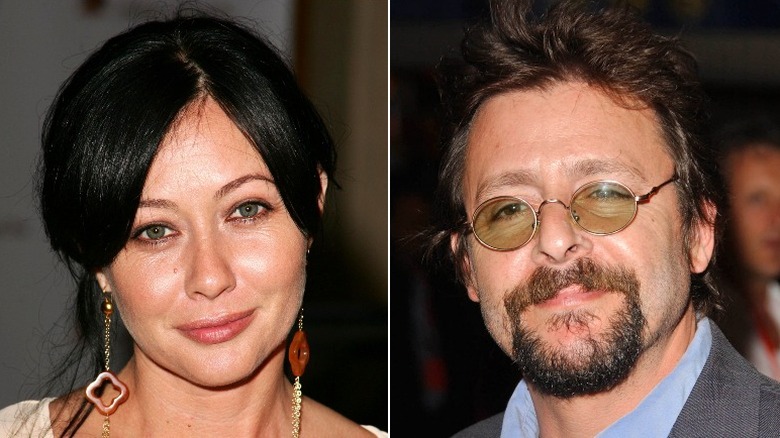 s_bukley & Everett Collection/Shutterstock
That other man was Judd Nelson. Shannen Doherty met "The Breakfast Club" alum on the set of the crime thriller "Blindfold: Acts of Obsession" in April 1993. Whether their romance did overlap with Doherty's relationship with Dean Factor has not been confirmed, though it is heavily speculated. And, Doherty and Nelson did publicly step out together immediately after the actor split from her second fiancé in May.
Although they were already in Dallas to film "Blindfold," the couple checked into the Mansion on Turtle Creek — an exclusive Dallas hotel — together the day that Factor filed his restraining order, according to People. Nelson was 12 years Doherty's senior, a relatively small age gap by Hollywood standards. Soon their relationship progressed into a serious but tumultuous affair, which saw the couple splitting up and getting back together several times. Eventually, it culminated in the pair getting engaged in 1994. However, they split before making it down the aisle.
Shannen Doherty married Ashley Hamilton in 1993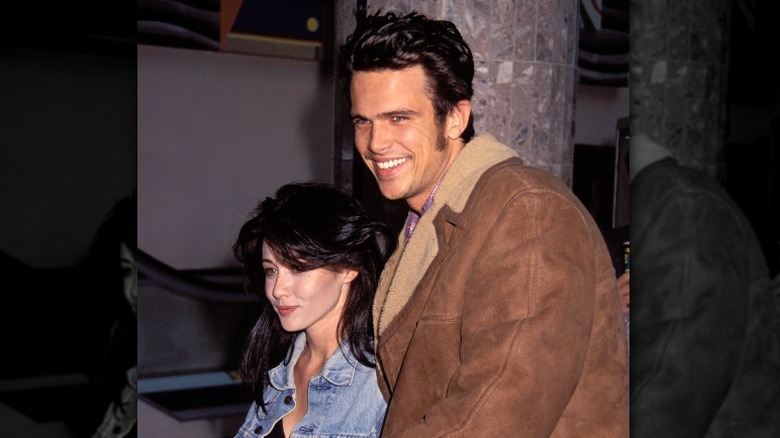 Vinnie Zuffante/Getty Images
While separated from Judd Nelson, Shannen Doherty met and married fellow actor, singer, and notorious "bad boy" Ashley Hamilton. Doherty and Hamilton married October 11, 1993, after a whirlwind romance which began when they met two weeks earlier.
The fast nature of the relationship, and their ages — the "Beethoven's 2nd" star was 19-years-old at the time, while Doherty was 22 — sparked plenty of media attention. Their wedding was a simple affair — surprising considering Doherty was known for going on $45,000 shopping sprees and living quite a lavish lifestyle while starring on "Beverly Hills, 90210." The couple instead celebrated their nuptials with a backyard party complete with flowers, tiki torches, beer, and a store-bought cake, per EW. The party was intimate, and the guest list did not include Doherty's "90210" cast mates.
The couple were mocked for rushing to tie the knot so quickly, but Doherty defended her decision to marry Hamilton. "I care about being with my husband. I take my marriage seriously," she said in January 1994. However, the pair only enjoyed a few happy months together before filing for divorce in April of the same year.
Shannen Doherty had another rocky romance with Rob Weiss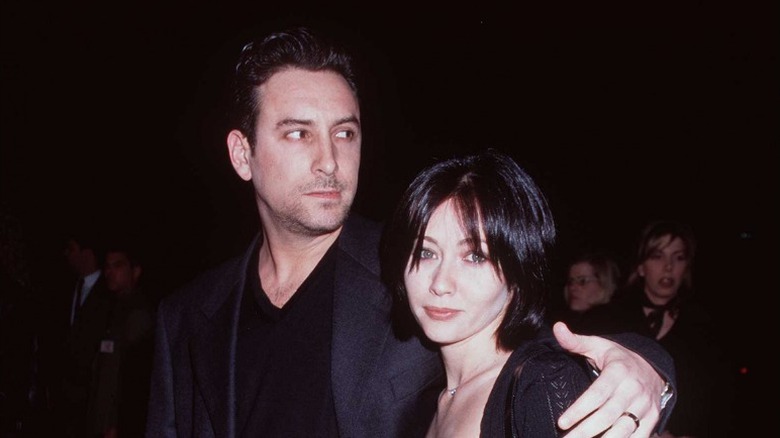 Brenda Chase/Getty Images
Shannen Doherty wasted no time before diving back into the dating world. After divorcing Ashley Hamilton, she restarted a romantic relationship with Judd Nelson in 1994, before moving on with Rob Weiss later that same year. The couple got engaged in 1995, after a year of dating, but it was a rocky relationship. Doherty continued the pattern of on-off relationships during her romance with the filmmaker, which lasted until they officially called it quits in 2000.
The couple temporarily broke up in 1996, before getting back together the following year. Their relationship lasted for another year, but they called it quits in 1998. Doherty and Weiss briefly reconciled in 2000 before parting ways for good.
However, unlike many of Doherty's relationships, she and Weiss ended their seven-year dalliance on good terms, becoming close friends afterward. "He went through the most tumultuous times of my life with me, and he played an essential part in my growing up," she said in an interview with LeBeau's Le Blog.
Shannen Doherty fell hard for Julian McMahon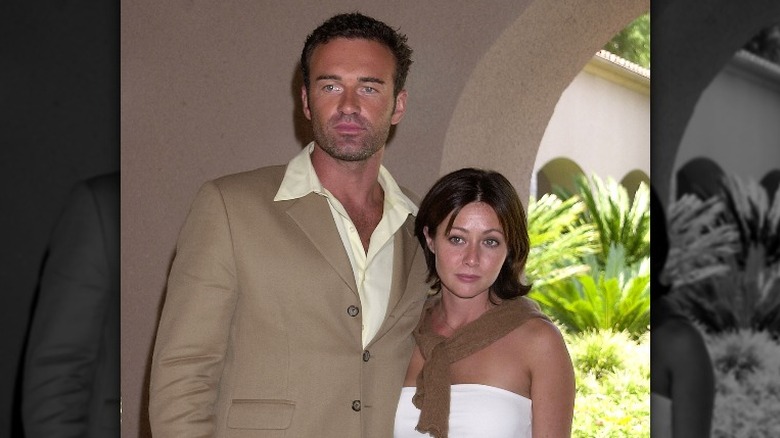 Gregg Deguire/Getty Images
Four years after leaving "Beverly Hills, 90210" behind, Shannen Doherty signed on to do another Aaron Spelling TV drama; "Charmed." For some of that time she was dating Rob Weiss, but in 2001, during her third and final season on the show, Doherty started dating one of her co-stars.
Australian star Julian McMahon joined the series as the on-screen love interest for Alyssa Milano's character Phoebe Halliwell, but the actor hit it off with Doherty behind the scenes. Their connection grew as they worked closely together on the 2001 sci-fi thriller "Another Day." However, McMahon was married to model and "Baywatch" actor Brooke Burns, the mother of his daughter Madison, at the time.
Naturally, Doherty and McMahon's relationship became public knowledge, and unfortunately, it didn't end well for anyone. In an interview with Stuff magazine in 2002, Burns revealed that she found out about the affair from the papers. "It was the straw that broke the camel's back. He's a good father. Funny, he was really great when we were together ... he got carried away by all the Los Angeles hoopla" she said (via Paparazzi.buzz).
Shannen Doherty married Rick Salomon in 2002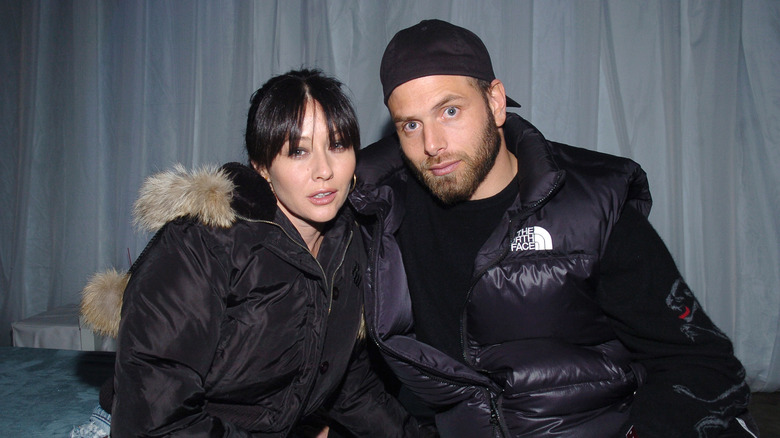 Dimitrios Kambouris/Getty Images
After splitting from Julian McMahon, Shannen Doherty made some sudden moves with her love-life. Moving into the fast lane, she married film producer-turned-professional poker player Rick Salomon after a mere two days of dating. The couple wed in 2002, but their marriage only lasted nine months before Doherty had it annulled in 2003.
Her split from Salomon was especially difficult as it was followed up by his sex tape with Paris Hilton being released in 2004. Doherty was deeply affected by it. "It ended up being very embarrassing for me ... and humiliating and disgusting," she recalled to the Chicago Tribune in 2008.
But this marriage — compounded with her past relationships — presented her with the opportunity to reflect. "I've had some bad relationships and two failed marriages. It's like, 'Why did I pick these men?' I guess it was about what I thought I could do to help them. But, in truth, I was only hurting myself," she admitted to Parade in 2010. "It's like my second husband Rick Salomon. After we split, he was on those sex tapes with Paris Hilton. I'm not going to lie and say I didn't love him even though the bad times sure outweighed the good. But, like any badass, I think I've learned from my mistakes," she said.
She dated Andrew Levitas and Jason Pomeranc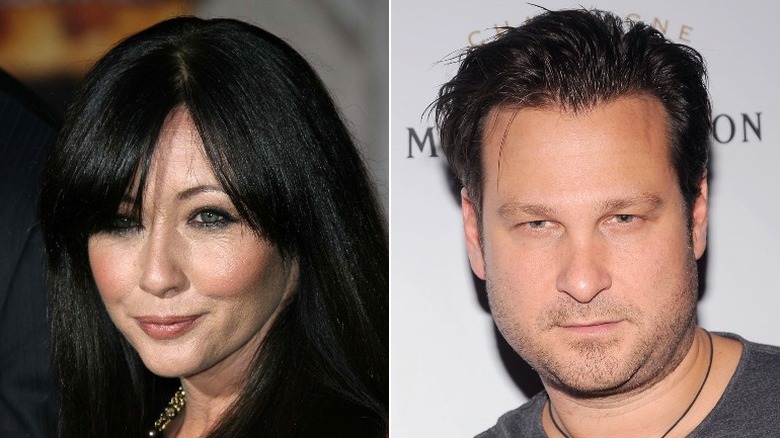 s_bukley/Shutterstock & G. Gershoff/Getty Images
Shannen Doherty had two more short-lived relationships before settling down with her third husband, so it seems she truly did learn from her mistakes. In 2003, after splitting from Rick Salomon, Doherty dated Andrew Levitas, another filmmaker, actor, and all-round creative. He is best known for working on features such as "Flower" starring Zoey Deutch, "At Any Price" starring Dennis Quaid and Zac Efron, and "Affluenza" starring Nicola Peltz-Beckham. Doherty and Levitas parted ways after a brief romance, with Levitas eventually going on to marry Welsh singer Katherine Jenkins, and Doherty setting her sights elsewhere.
She went on to date another famous Jason — though she and Pomeranc were a little more serious than her and her "90210" co-star. The "Charmed" alum was in a relationship with the businessman and hotelier who founded the SIXTY Collective for around four months, dating from September 2004 until January 2005.
Shannen Doherty married Kurt Iswarienko in 2011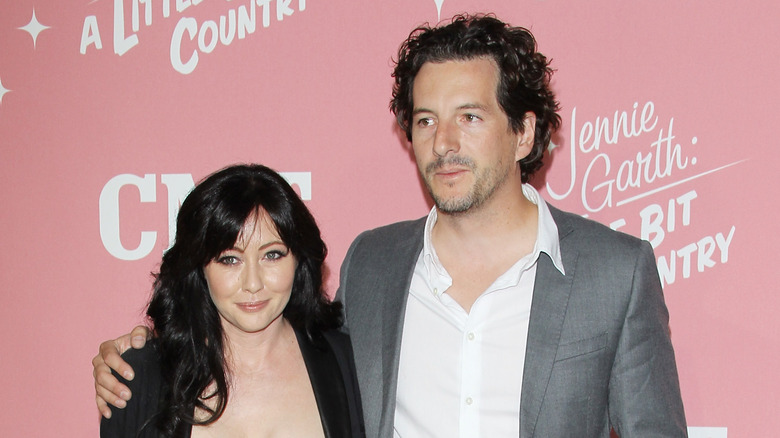 Michael Tran/Getty Images
By 2008, Shannen Doherty's wild days were slowing down, and she'd more or less been able to let go of the "bad girl" image which had been hanging over her career. She even had the opportunity to revisit "90210" with the rebooted show, which became a bit of a full-circle moment. She had truly started to do things differently. "I have a rep. Did I earn it? Yeah, I did. But, after a while, you sort of try to shed that rep because you're kind of a different person. You've evolved and all of the bad things you've done in your life have brought you to a much better place," she told Parade.
Meanwhile, in her love-life, Doherty was also doing things differently and looking forward to the future by building a solid foundation for a meaningful relationship with her new beau, photographer Kurt Iswarienko. The couple took this relationship at a much slower pace than Doherty's romances have traveled in the past, getting married in 2011 after three years of dating.
Kurt Iswarienko supported her during cancer diagnosis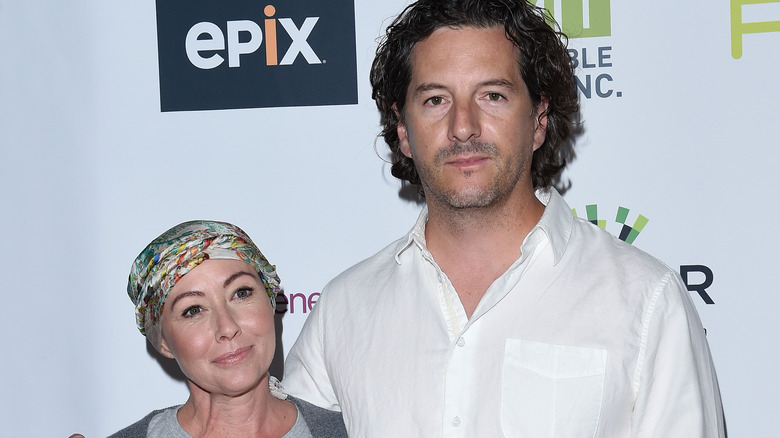 Axelle/bauer-griffin/Getty Images
Shannen Doherty and Kurt Iswarienko were able to enjoy a few years of wedded bliss before the earth moved underneath them. In 2015, the Lifetime movie actor was diagnosed with breast cancer. As Doherty documented her journey on social media, Iswarienko was by her side supporting her, and attending Stand Up 2 Cancer events with her.
Although a horrific experience, Doherty managed to find some silver linings in her diagnosis. "Cancer has, in a strange way, done some amazing things for me. It's allowed me to be more me, like much more in touch with who I am, and much more vulnerable and the person that I always was, but I think it got hidden behind a lot of stuff," she told ET. The actor also told People that it brought her and Iswarienko closer together. The couple then celebrated together when Doherty went into remission in 2017, and he was her rock once more when it progressed to stage 4 in 2020.
They split in 2023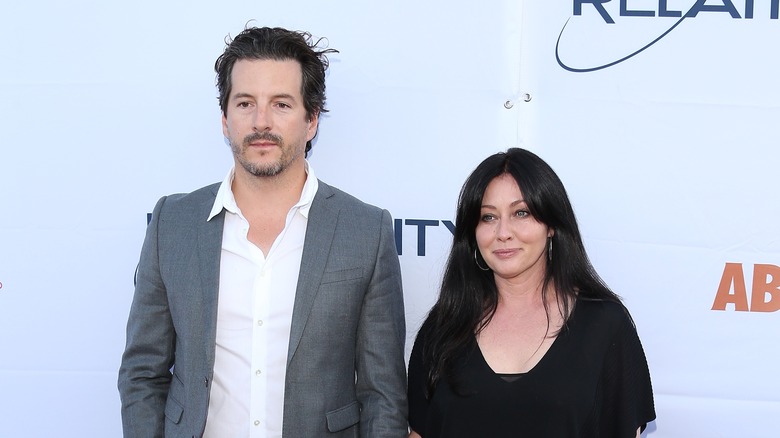 Jb Lacroix/Getty Images
In spite of Shannen Doherty's cancer diagnosis, she and Kurt Iswarienko spent over a decade of happy years together, marking Doherty's longest romantic relationship. They appeared deeply committed to each other. However, in April 2023, it came to light that the couple had made the decision to split permanently. They'd separated earlier in the year, in January, with Doherty filing for divorce a few months later.
Although the reason for their split remains unknown, it seems like the pair aren't ending their marriage on good terms. A statement from Doherty's rep Leslie Sloane told People: "Divorce is the last thing Shannen wanted. Unfortunately, she felt she was left with no other option." That statement, coupled with Doherty's cryptic Instagram post about deserving love, kindness, and respect from the people in your life, suggests there may have been infidelity or another form of betrayal on Iswarienko's part. Additionally, according to court documents obtained by Us Weekly, Doherty is seeking spousal support from Iswarienko, while petitioning to deny any spousal support requests from her estranged husband.