What Shannen Doherty's Relationship Was Like With Luke Perry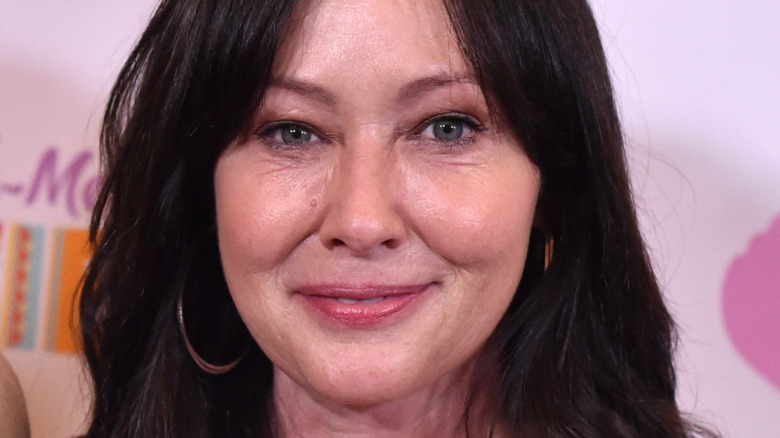 Shutterstock
The death of Luke Perry had a profound impact on several of those who were close to him, including former co-star Shannen Doherty. In late February 2019, CNN reported that Perry had been hospitalized following a massive stroke. Sadly, he never fully recovered. Days later, he died on March 4, 2019 (via Today). The actor was only 52 years old at the time, and it came as a shock to the entertainment world. Several celebrities, including his former "Beverly Hills: 90210" co-stars, filled social media with beautiful tributes to their beloved friend. "Yesterday morning I got a phone call that devastated me. I'm struggling with this loss and am having a hard time with my thoughts," Doherty wrote on Instagram alongside a series of photos of the pair together. "But, my heart goes out to his family and friends who were blessed by his light in their (and mine) lives. Processing this is impossible right now."
A few days after her initial post, Doherty shared another throwback of herself and Perry and added the simple caption, "that smile... " In July 2019, the actress shared yet another tribute to the late actor on Instagram. "I am deeply honored to pay tribute to Luke on Riverdale. The care in which this show takes in honoring his memory is beautiful," she said. "He is missed. Today. Tomorrow. Forever." Let's take a look back at Doherty's relationship with Perry.
Inside Shannen Doherty and Luke Perry's on-screen love
It's no secret that Shannen Doherty and Luke Perry were close when Perry was still alive. The pair kicked off their relationship on Season 1 of their hit show "Beverly Hills: 90210" when their characters began dating (via IMDb). Perry played the role of Dylan McKay, who was a "bad boy," and Doherty played the role of Brenda Walsh. Their on-screen chemistry was undeniable, but their characters still went through many makeup and breakups, and their relationship was very similar to that of Zack Morris and Kelly Kapowski. Perry and Doherty remained friends after the show, and in 2015, Perry raved over his co-star at REWindCon. "None of us are up here today without Shannen," he said amid Doherty's breast cancer diagnosis. "She's been through a lot. She's not doing well right now, but sometimes her contributions are minimized."
He also shared that Doherty had been thrown under the bus and stuck up for her after she famously exited the show amid reports that she was not getting along with the cast. "I've been accused of driving it. But she's a very big part of the success of this show. She taught me a lot. I'm glad she was my scene partner. She was great at what she did in the character with me." He also noted that Dylan and Brenda were his favorite couple on the show. Keep scrolling for more.
Shannen Doherty on Luke Perry's death
Shannen Doherty shared in the same sentiments as her co-star when it came to their on-screen relationship, and before Luke Perry's death, she often posted throwback photos of the two together on Instagram. It comes as no surprise that most of the images that she shared earned rave reviews from fans. Doherty talked adoringly about Perry again after his tragic death and gave another glimpse into their relationship. 
"Luke was a smart, quiet, humble and complex man with a heart of gold and never-ending well of integrity and love. Luke reached out to me during my cancer journey and we picked right back up, albeit older and wiser, but that connection remained in tact," she told People in March 2019. She also shared that there was a "special kind of love" between them because of their experience on "Beverly Hills: 90210." 
In addition, she said that the two had plans to work together before the actor died, but sadly, the plans never came to fruition. "Luke and I were working on show ideas for us. We wanted to work with each other again and create something special and meaningful for our fans at this stage in our lives. I will miss him everyday. Every minute. Every second." Excuse us while we go cry into our pillows.