Did Jason Priestly Have A Fling With Beverly Hills, 90210 Co-Star Tori Spelling?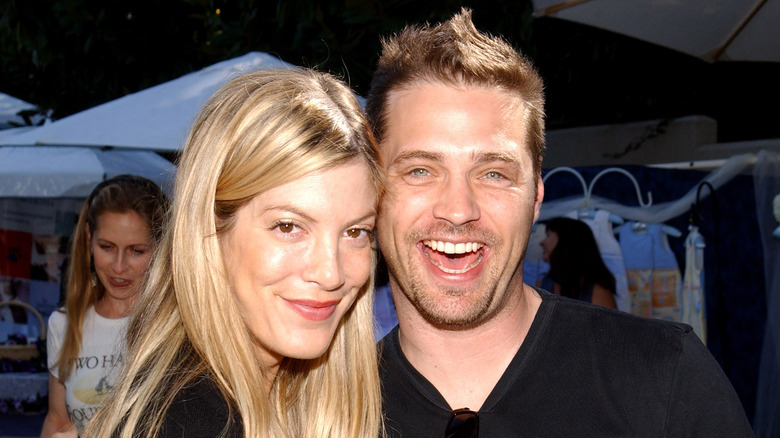 Jean-paul Aussenard/Getty Images
"Beverly Hills, 90210" was one of the top teen dramas of the 1990s, but in real life, the cast members had some drama of their own. In 2015, "90210" alum Tori Spelling, who played Donna Martin on the series, claimed that she slept with two of her co-stars from the show –- but one of the names she dropped was a total surprise to fans. The big reveal came when Spelling appeared on "Celebrity Lie Detector" and was asked about her "90210" hookups. After some serious prodding from host Louise Roe, Spelling admitted that she once had sex with her co-star, Jason Priestley, who played Brandon Walsh on the hit Fox drama.
"Half my friends don't even know this," Spelling said, per People. "It was a summer fling, it was off set, It was our version of, like, a summer romance, the '90210' version and that was it." After spilling the beans, Spelling added that she knew she was going to get into a lot of trouble for revealing her secret rendezvous with Priestley. And as predicted, Priestley did have a clap back.
Jason Priestley shut down Tori Spelling's claim that they hooked up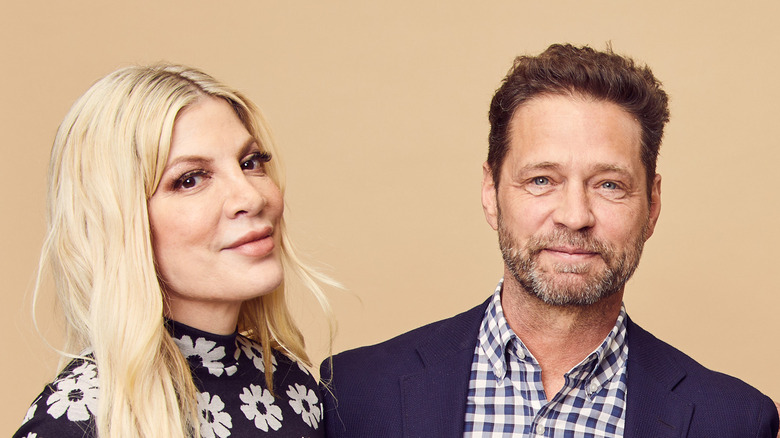 Emily Assiran/Getty Images
Tori Spelling's story about her and Jason Priestley came around the same time a Lifetime movie, "The Unauthorized Beverly Hills 90210 Story,"' was released. When a fan on Twitter asked him about Spelling's TV lie detector test, Priestley replied, "Didn't watch." But he definitely heard what his former co-star said about him. After another fan wrote, "Tori Says: I Slept with Jason...true or false?" Priestley responded with, "I'm not getting into this... It's nobody's business... Either way."
Priestley also noted that he has nothing bad to say about his former TV show. "I'm only speaking with negativity about the Lifetime movie and Tori's lie detector... Nothing but love for 90210," he wrote.
The prior year, Priestley told Access that while he did engage with some of his female co-stars, Spelling was not one of them — because she was the daughter of "Beverly Hills, 90210" producer Aaron Spelling. The actor added that he considered the legendary TV producer to be much more than his boss. "Aaron was a great friend and a great mentor and a great teacher," Priestley said before noting that the famed producer let him direct an episode of the show at age 23. "In the end, I started producing the show with him and executive produced the show with him for two seasons. He really invited me into his inner circle in and taught me the television business in a way that nobody else could." Priestley said. "He was a great, great, great man.
Jason Priestley and Tori Spelling dished on another Beverly Hills, 90210 romance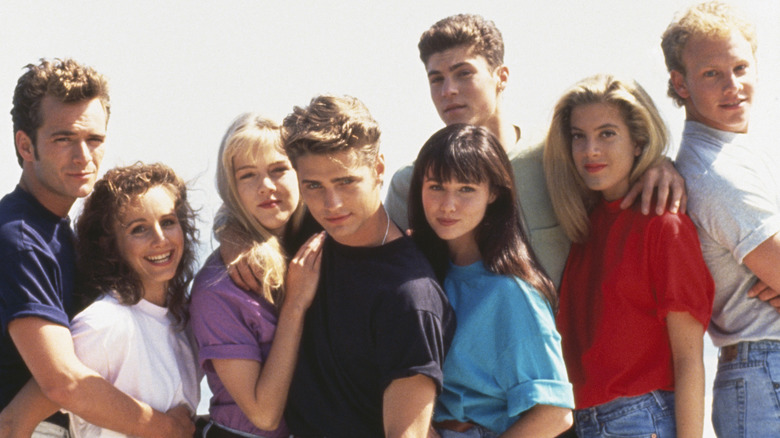 Mikel Roberts/Getty Images
Although Jason Priestley didn't confirm nor deny Tori Spelling's claim about a summertime fling between them, he did dish on cast hookups in his book, "Jason Priestley: A Memoir." In the tell-all, he teased that various co-stars slept with each other over the show's 10-season run. One of those pairings was Tori Spelling and Brian Austin Green, who played David Silver in the series.
On the "Celebrity Lie Detector" episode, Spelling said her teen relationship with Green was special and not just about sex. "We grew up together. I think I was always in love with Brian," she revealed, per Us Weekly. Green also confirmed that he had a thing with Spelling, although he didn't paint it as a teenage love story in the same way that she did. "We hooked up. We did. We were young, so that's what young people do," he said on an episode of "Watch What Happens Live."