Why Keanu Reeves' Girlfriend Alexandra Grant's Age Gets So Much Attention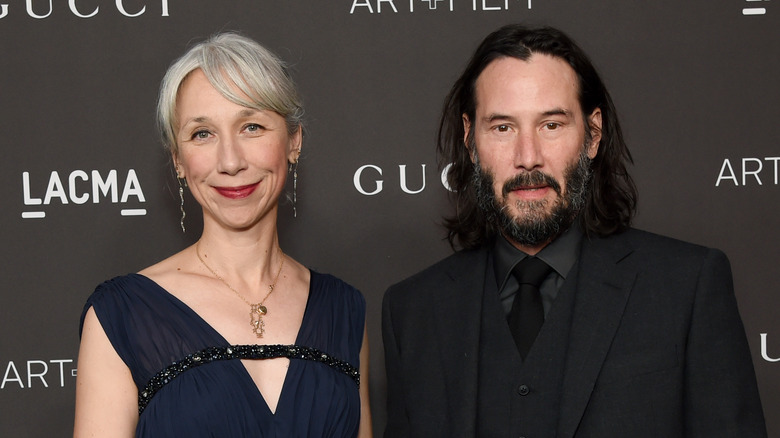 Michael Kovac/Getty Images
People were abuzz when Keanu Reeves walked the red carpet with his girlfriend Alexandra Grant in 2019. It was notable because that was the first time the "John Wick" star had made a public appearance with a partner in years, plus people were buzzing about Grant's age. When Reeves attended the LAMCA Art + Film Gala with Grant, it was the first time he had made a public appearance with a girlfriend since the untimely death of his ex-partner Jennifer Syme, who died in a car crash in 2001. The pair broke up after their child was delivered stillborn at 8 months but remained good friends until Syme's tragic death. Seeing Reeves go public with a partner, even years later, was big news.
"The Matrix" actor met Grant at a dinner party in 2009. The two became friends and collaborated on books together. Including the adult picture book "Ode to Happiness" which was authored by Reeves and illustrated by Grant. "The book was made as a surprise, by me, for Keanu, as a private gift," the artist told British Vogue in 2011. Friendship and collaboration eventually led to a closer relationship. Before making their red carpet debut, the couple had been dating for quite some time. "I think everybody wishes that they had something like that. It's not a razzle-dazzle Hollywood romance," actor Jennifer Tilly — a friend of Grant's — told Page Six in 2020.
When they took their relationship public, fans were fixated on Grant's silver-gray hair, which sparked a conversation about her age.
Fans pointed out a double standard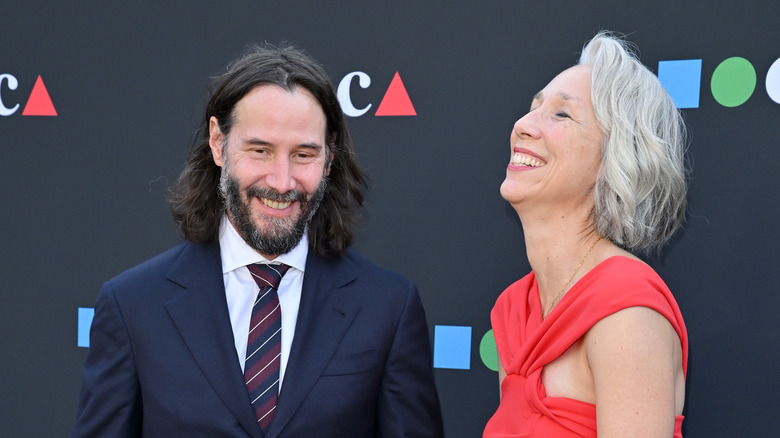 Axelle/bauer-griffin/Getty Images
Alexandra Grant does not dye her hair and wears it naturally gray which caused many to discuss Keanu Reeves's decision to date a woman close to his age — which is often not the norm in Hollywood. A slew of fans heaped praise on the veteran actor. "[O]f course Keanu has an age-appropriate girlfriend. he is a Good Man," one fan tweeted after the pair made their red carpet debut in 2019.
Although multiple Twitter users pointed out that — despite her gray locks — the "Point Break" star is still almost a decade older than his girlfriend. "[H]ow is it 'age appropriate' for keanu reeves to be dating a woman who's 46 when he's literally thousands of years old," one person wrote – referencing a longtime joke that Keanu Reeves is immortal and ageless. Others noted that the conversation about Grant's natural look brought attention to both ageism and sexism in Tinseltown. "This talk of Keanu Reeves and his girlfriend is reeeeeeally highlighting the double standards imposed on women," a Twitter user wrote.
The following year, Grant spoke about the deluge of attention she received after walking hand-in-hand with Reeves. She seemed more interested in opening a dialogue about the strong reaction her look caused. "But the question I've been asking in all of this is: 'What is the opportunity for good?'" Grant told British Vogue in 2020. "I'm a 6ft 1in woman with white hair," she said adding that going under the radar was never in the cards for her. The couple later sparked rumors about possibly tying the knot.
Keanu Reeves shared intimiate details about his relationship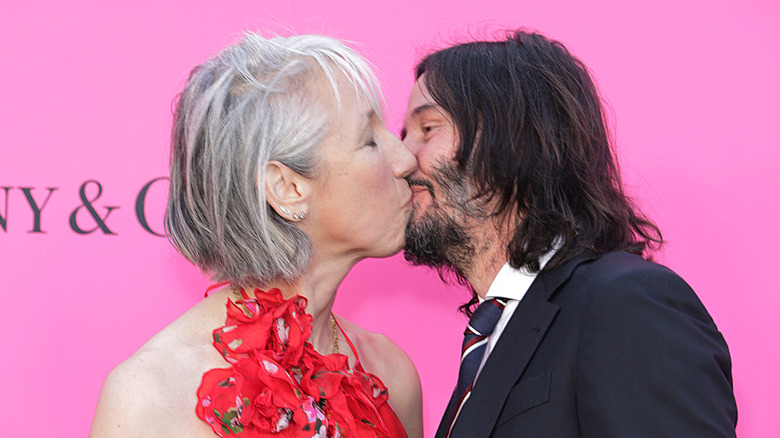 Momodu Mansaray/Getty Images
As mentioned, Keanu Reeves and Alexandra Grant had been dating for quite some time before they made their first public appearance. When speaking to British Vogue in 2020, Grant was asked if she and her beau had plans for marriage. "Over a glass of wine ... I would love to tell you," the artist coyly responded. "Love at every level is deeply important to my identity," Grant added.
Perhaps walking the aisle may not be in the cards for the couple, but by all reports, Reeves is smitten with his girlfriend. "Keanu and Alexandra are head over heels for each other," a source told Us Weekly in 2021. Two years later, the "Constantine" actor's flame for his girlfriend still burned bright. During an interview with People in March, Reeves was asked about the last time he felt blissful. "A couple of days ago with my honey," he told the outlet. The "Speed" star proceeded to give a rare glimpse into his romantic life. "We were in bed. We were connected. We were smiling and laughing and giggling," he added.
A month later, Reeves and Grant offered another intimate glimpse into their relationship. The pair once again made red carpet headlines when they shared a kiss while attending the Museum of Contemporary Art Gala in Los Angeles in April. It seems clear that regardless of their respective ages, their love is timeless.