Who Is Keanu Reeves' Longtime Girlfriend, Alexandra Grant?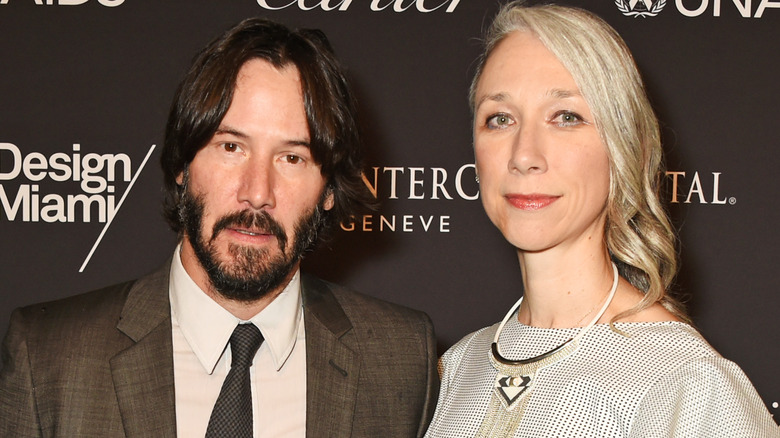 David M. Benett/Getty Images
Keanu Reeves has long been seen as Hollywood's sweetheart — but IRL, he's a taken man. In fact, the "John Wick" actor has been with his girlfriend, Alexandra Grant, for a number of years. Just one question: What do we know about her?
Reeves made headlines in late March when he revealed to People that he was at his happiest when spending time with Grant. The outlet asked if he could pinpoint his most recent moment of true joy, and he didn't think twice. Recounting the casual lie-in he and Grant had, the actor beamed, "We were in bed. We were connected. We were smiling, and laughing, and giggling. Feeling great. It was just really nice to be together." An adorable little gush sesh, and particularly noteworthy given how private he's been in the past. As he told Parade in 2008, "I don't mind speaking about work, but when the talk turns to, 'Who are you?' and 'What do you do off-screen?' I'm like, 'Get out of here.'"
Granted, he's been significantly more open about his personal life since he began dating Grant. On top of attending events together, Reeves has made numerous mentions of his girlfriend in interviews and she's done the same in interviews of her own. It's pretty clear, then, that the two of them are smitten. So, what do we know about Grant? 
Alexandra Grant's an artist (and Keanu Reeves' business partner)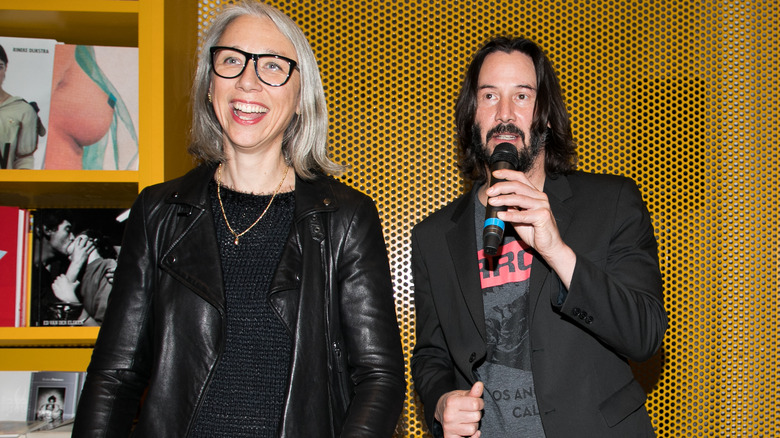 Marc Piasecki/Getty Images
Keanu Reeves isn't the only creatively inclined partner in this relationship. Au contraire, Alexandra Grant is an artist. And, as she told British Vogue in 2020, that played a role in their meeting. 
Though Grant didn't go into specifics about how and when she and Reeves met, she did reveal that they had the same group of friends — and that they had been pretty close since at least 2011. That was when they released their book, "Ode to Happiness." But, in a sweet revelation that pointed directly to just how close they were at the time, Grant told British Vogue that her initial plan was to put it together for Reeves alone. "The book was made as a surprise, by me, for Keanu, as a private gift," she said. As far as love letters go (even if it was a platonic love, back then), we'd have to say that's a pretty epic way to go about it. 
The now-couple ultimately went ahead and published "Ode to Happiness," and a few years later, they went into business together with their own publishing company. Add that to the long list of Grant's hustles, though. She's one busy woman, and when she's not helping other artists publish their work, she still finds the time to create pieces of her own.
Like her beau, Alexandra Grant had a nomadic childhood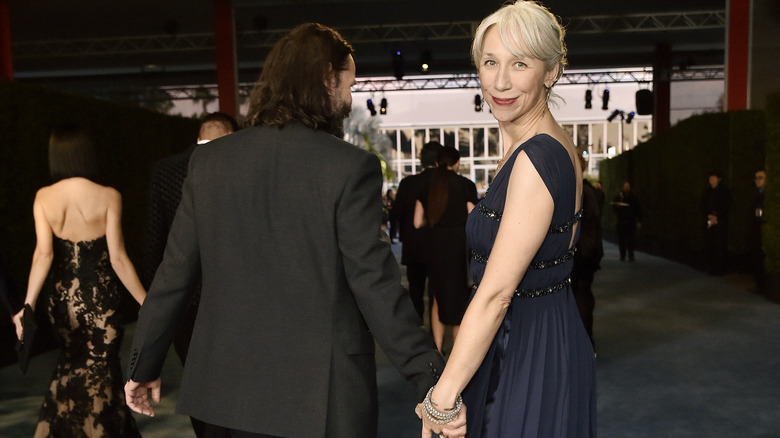 Stefanie Keenan/Getty Images
Another thing Keanu Reeves and Alexandra Grant have in common? Nomadic childhoods. 
It's well known that Reeves spent the early years of his childhood moving from place to place. And no, we don't mean moves from one town to another. By the time he was 7 years old, he'd lived in no less than four countries. Likewise, Grant told British Vogue that she'd lived in multiple different countries by the time she was 11 years old, herself. At that point, she asked to be enrolled in a St. Louis boarding school. It's safe to say, though, that those years spent moving countries made a positive mark. In fact, as noted on her website, her global upbringing is what inspired her interest in language, a major subject matter in her artworks. Even so, she told British Vogue that she was happy to have settled down in L.A. when she did. As for Reeves, he's previously told Parade that he enjoyed being nomadic, even as an adult. That is, until he hit the big 4-0. At that point, he decided it was time to put down roots, and "bought [his] first home." 
Given their shared international upbringing, it's not all that surprising that these days, they're happy to stay in one place. However, the sweetest part of this love story — at least, if Reeves' comments to People are anything to go by — is that their happiest place is with each other.