Why Jon Voight Was A No-Show At Angelina Jolie And Brad Pitt's Wedding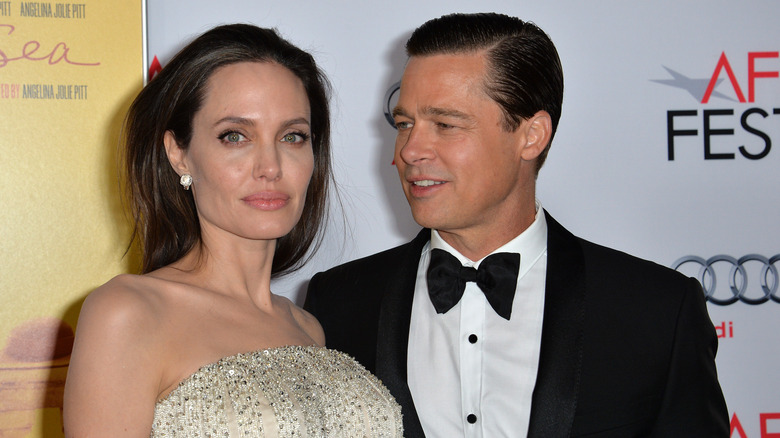 Jaguar PS/Shutterstock
Brad Pitt and Angelina Jolie were supposed to go the distance, but they've decided to do life on their own terms — even though their divorce is still not final. However, their 2014 wedding remains one of the most revered celeb weddings of all time. After nearly a decade of dating and raising a very large family, Jolie and Pitt married on August 23, 2014. According to People, the wedding took place at the couple's private French hideaway, dubbed Château Miraval, and heavily revolved around their children. "It was important to us that the day was relaxed and full of laughter," Pitt shared with the publication. "It was such a special day to share with our children and a very happy time for our family."
Despite the magical backdrop, they had a relatively scaled-down wedding. "The only guests were Brad's family from the states — his mom and dad, Bill and Jane Pitt; his brother, Doug; sister Julie; and their kids, so it was no more than 22 people in total," reported E! News. Unfortunately, all of Jolie and Pitt's family didn't get to participate in their special day. Jolie's father, Jon Voight was nowhere to be found when the couple dedicated their life to one another. But why?
Angelina Jolie didn't invite Jon Voight to the wedding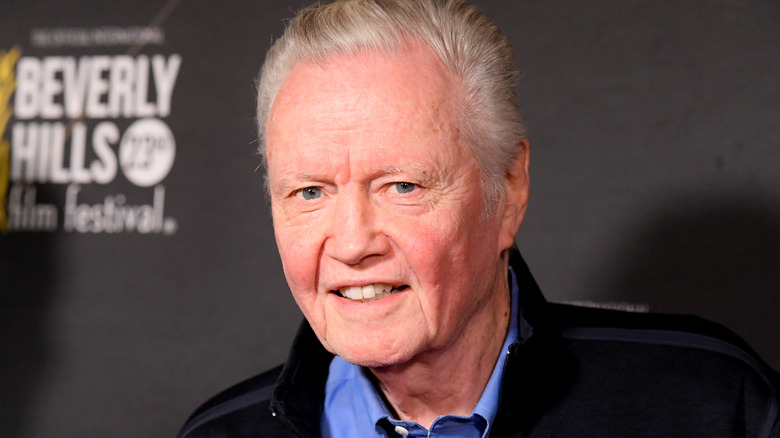 Michael Tullberg/Getty Images
Even though Jon Voight was not at Brad Pitt and Angelina Jolie's wedding, he still had kind words to say about the ceremony. "It sounds like it was a wonderful wedding," Voight shared to E! News a few days after the event. "It must have been very beautiful with the kids participating. I know it was during Emmy weeks and they were able to do it very quietly. I'm very happy for them." And while the publication noted that Voight was busy with various Emmy-related promo events, his professional commitments weren't the only thing that kept him out of the wedding.
According to TMZ, Jolie and Pitt didn't extend an invitation his way. In fact, Voight found out about the wedding at the same time the public did, when news broke online. And while Voight did refrain from publicly lashing out at his daughter and her new husband, he really did want to attend. Two years earlier, Voight spoke to Entertainment Tonight and supported Jolie and Pitt's engagement. "Listen, they have six kids, Whatever they do that makes them happy and keeps the kids happy, I'm all for it," Voight said. "Listen, if they give me a call and say we want you at a wedding..." he added. But it seems Voight never got that call.
Why Jon Voight and Angelina Jolie aren't super close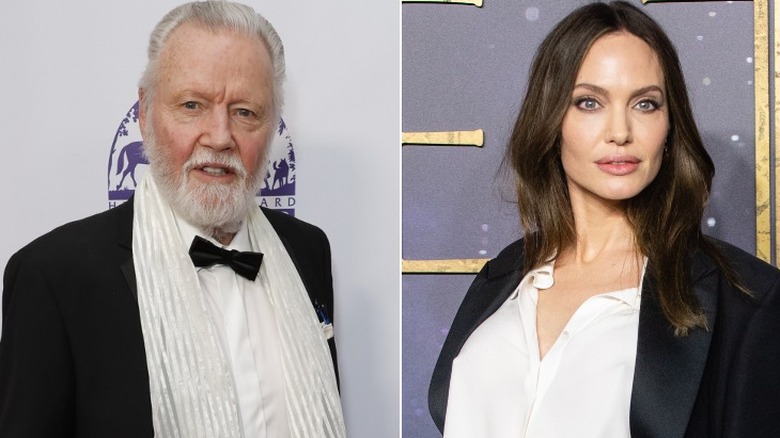 Samir Hussein/Getty & Frazer Harrison/Getty Images
No matter how small the wedding, parents are usually guaranteed invitations when their kids get married. Yet, Angelina Jolie opted to keep Jon Voight away from her wedding. Unfortunately, Voight and Jolie haven't always been the closest. Over the years, the father and daughter have publicly divulged their personal struggles to the world. The entire list of their issues is quite extensive, a couple of their most volatile feuds revolved around a couple of potentially relationship-ending problems. 
The first was an insensitive comment Voight made regarding Jolie's mental health. In 2002, Voight spoke with Access Hollywood claiming that he was "brokenhearted ... because I've been trying to reach my daughter and get her help, and I have failed and I'm sorry." He continued, "Really I haven't come forward and addressed the serious mental problems she has spoken about so candidly to the press over the years, but I've tried behind the scenes in every way." 
Voight also cheated on Jolie's late mother, Marcheline Bertrand, whom she greatly revered. "When my father had an affair, it changed her life," Jolie wrote in the New York Times in 2020. "It set her dream of family life ablaze. But she still loved being a mother." Despite all the heartbreak and tension, in a 2021 interview with Turner Classic Movies' Ben Mankiewicz, Voight praised his daughter, saying, "She's really remarkable. She's got her own thing, man. She's got her own way of dealing with things, you know?