Jeanine Pirro's View Blowout Was Worse Than We Thought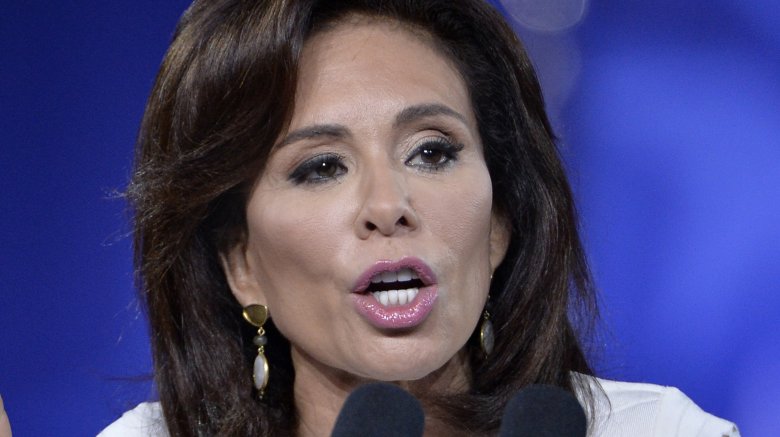 Getty Images
Who knew Jeanine Pirro's The View appearance got this bad?
On Thursday, July 19, 2018, Pirro appeared on The View, and things quickly got heated between her and the show's co-hosts, especially Whoopi Goldberg. The two screamed at each other during taping, arguing over President Donald Trump, and their beef apparently only worsened when the cameras turned off.
Sources told Page Six that Pirro used some nasty words to describe the ladies of the show. One insider said she "ripped off her microphone and threw it at one of the guys on the crew and said, 'Those c**ksuckers!'" about the panel.
"It was a jaw-dropping moment," a source added.
Goldberg seemingly addressed this incident during The View on Friday, July 20. She told viewers that Pirro had "called everybody at the table a name I cannot repeat on TV and said it in front of the audience." Disputing Pirro's claims about what went down on set, Goldberg added, "I did not spit on her. I did not intimidate her. No one chased her out of here ... but she did leave here cursing at the people who book the show. She cursed at the guys who do the security for the show."
Goldberg also noted that Pirro had been upset from the start due to Ana Navarro, who is anti-Trump, filling in for Joy Behar.
So just what went down to spark such hate between Goldberg and Pirro? Well, the whole blowout appeared to have been sparked after Pirro accused Goldberg of having "Trump Derangement Syndrome." Goldberg responded by saying, "I'm tired of people starting a conversation with 'Mexicans are liars and rapists.' ... I've never seen anybody whip up such hate," referring to Trump. The two then started shouting over each other, with Pirro saying, "You know what's horrible? When people who shouldn't be here end up murdering the children of American citizens!" and Goldberg yelling, "What is horrible is when the president of the United States whips up people to beat the hell out of people."
Goldberg, evidently having had enough of their spat, then told Pirro, "Say goodbye. I'm done!" The show then went to commercial.
According to Page Six, Goldberg told Pirro backstage, "F**k you, get the f**k out!" Pirro allegedly told Goldberg, "I've done more for abused women than you will ever do."
Pirro later gave her take on what happened on Fox News, calling what Goldberg did "abuse."
It's seems a pretty safe bet that Pirro won't be asked to come back on The View any time soon.