Meghan Markle's Brother Lets His Feelings Be Known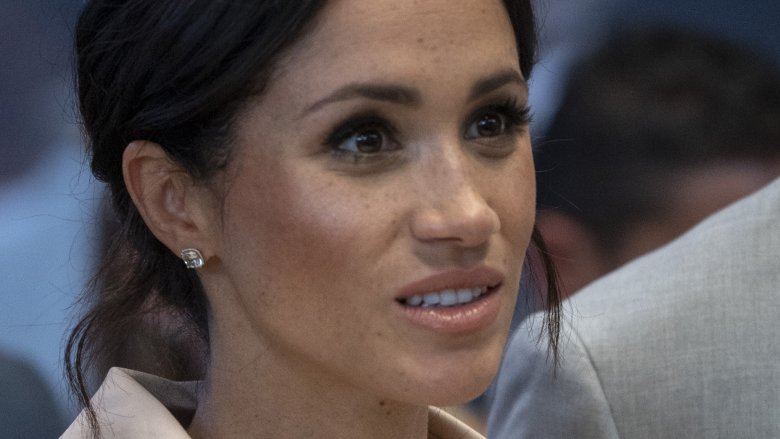 Getty Images
Meghan Markle's brother is speaking out about how his sister has allegedly changed since marrying into the royal family.
Radar Online reports that Meghan's half-brother, Thomas Markle Jr., sent a handwritten letter to Queen Elizabeth II, claiming that the former Suits actress isn't happy with her life after becoming a royal. "Meghan & Harry look very much in love and happy together, although Meghan [is] living under your rules and Royal household regulations," he began. He then boldly told the queen, "I think Meg may feel like she's being held prisoner and turning into a zombie."
Thomas Jr. then alleged that there was "tension" between Prince Charles' wife, Camilla, and Meghan, noting that "the pressure on Meg has got to be overwhelming."
He also told the queen that he'd be "sad to see Meg's dreams broken if she were to fail in her new position and disappear from the royal family," and he urged Queen Elizabeth to "treat [Meghan] like the rest of the royal family."
Thomas Jr. isn't the only member of the Markle family to express worry about Meghan since her marriage to Prince Harry. Meghan's father, Thomas Markle, told The Sun that he believes his daughter is "terrified" in her new role as a royal. "My thing about my daughter right now is that I think she is terrified. I see it in her eyes, I see it in her face and I see it in her smile," he shared. "I've seen her smile for years. I know her smile. I don't like the one I'm seeing now. This one isn't even a stage smile — this is a pained smile."
He continued, "That might be just having a couple of bad days. I don't know. It really worries me. I think she's under too much pressure," adding that there's a "high price" to be a part of the royal family.
As Nicki Swift previously reported, Meghan allegedly hasn't had much contact with her family since she married Harry in May 2018. Besides putting distance between herself and her half-siblings — who, like most of her family, were not invited to the royal wedding — Meghan has reportedly stopped speaking with her mother, Doria Ragland.
Hopefully Meghan's half-brother and father have it wrong and that she's enjoying being married to Prince Harry and performing her new royal duties. Otherwise, we can't imagine how difficult Meghan's life has become.