Did Anna Nicole Smith Get Along With Her Father, Donald Hogan?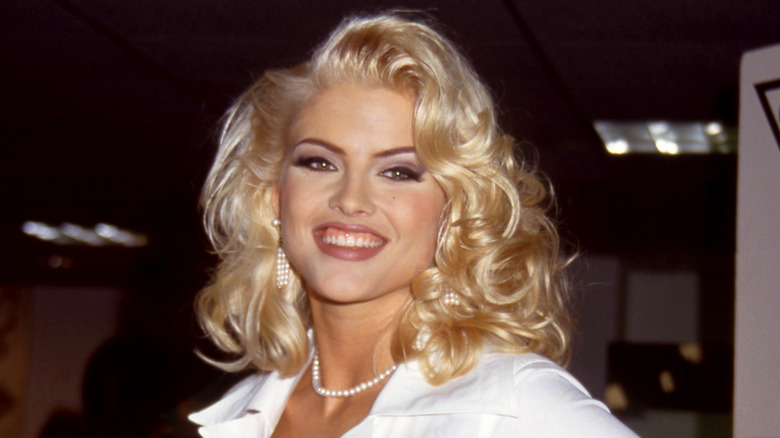 Ron Davis/Getty Images
The following article includes mentions of sexual assault.
As of late, Anna Nicole Smith's tragic life story has generated more buzz with the release of the Netflix documentary "Anna Nicole Smith: You Don't Know Me." According to Us Weekly, the doc takes a deep dive into Smith's personal life, which stirred up a great deal of controversy during her lifetime. The late model skyrocketed to fame when she appeared in Playboy in 1992. In 1994, she tied the knot with J. Howard Marshall II, who was 63 years older than her and died just a year after they got married. Smith faced off with his family in a legal fight over his estate, with fans questioning if she married Marshall for his money.
Smith's marriage and claim to fame weren't the only parts of her life that drew attention. The documentary also sheds light on Smith's familial relationships, including her father, Donald Hogan. Apparently, the star didn't have contact with him growing up. Just days before she won her title of Playboy's Playmate of the Year, Smith hired a private detective to locate Hogan, per the New York Post. Following a phone call, she made arrangements to meet her father for the first time by flying him and her brother Donnie to California to join her for the awards ceremony. But once they met, things took a dark turn.

Anna Nicole Smith's father faced sexual assault allegations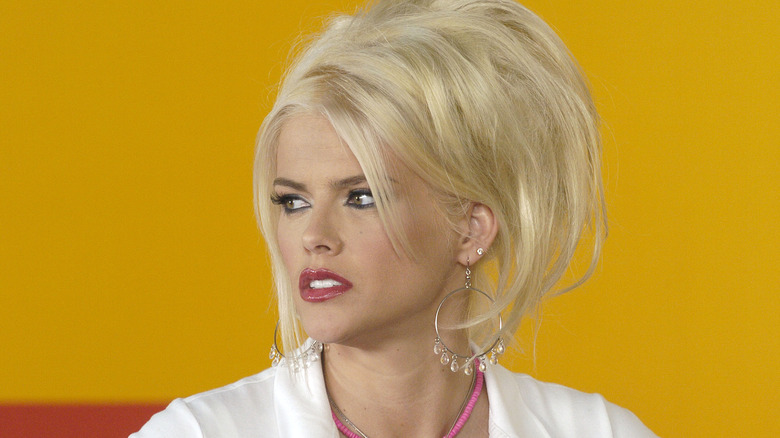 L. Cohen/Getty Images
The new Netflix documentary "Anna Nicole Smith: You Don't Know Me" reveals some alarming details about the late model's life, including an alleged assault involving Anna Nicole Smith's father, Donald Hogan. According to the New York Post, Hogan tried to rape her when she was 24. The purported incident, which took place in 1993, occurred after Smith received the title of Playboy's Playmate of the Year. In the documentary, her secret girlfriend Melissa "Missy" Byrum shared, "She told me that her father had tried to have sex with her. I was really sad to see that. She was so so disappointed." In addition, her brother Donnie said, "I wouldn't put it past [our dad]."
Sadly, Smith's tragic story wasn't an isolated incident. According to The Guardian, Hogan had a history of sexual assault charges. He served a six-month jail sentence for the rape of Smith's Aunt Kay and an underage female. Donnie said, "He told me a story about how he raped his wife's sister. He chased her down by a tree when his wife wasn't around. She was a child. He's very scary. I was always afraid of him." Later on, he allegedly sexually abused his other daughters.
Inside Anna Nicole Smith's relationship with her mother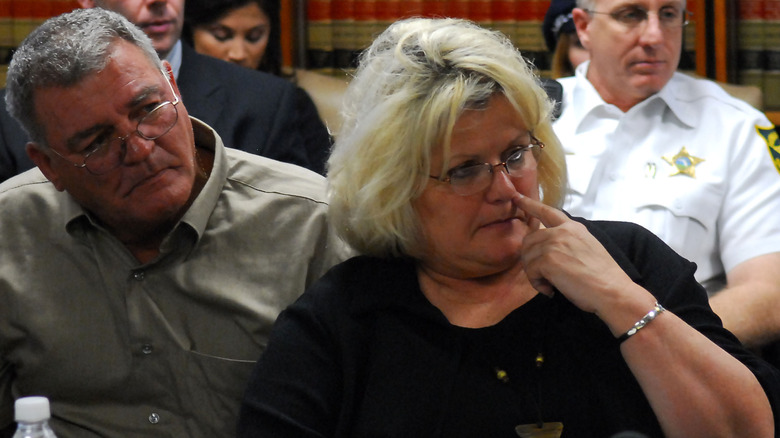 Jeff Daly/Getty Images
Anna Nicole Smith's relationship with her father wasn't the only strained dynamic she endured. As reported by The Guardian, Smith detested her mother Virgie Mae Hogan for attempting to keep her at a distance from her father. Smith and Hogan frequently fought, with Hogan handcuffing her as a form of punishment. As she entered high school, Smith moved out of her mother's house and into her Aunt Kay's home.
According to E! News, Melissa "Missy" Byrum revealed in the documentary that Hogan would "just beat her mercilessly." Smith described her mother as "kind of a tyrant." Pol' Atteu, a designer and close friend of Smith's shared, "She would always tell me, she hated her mother ... The only thing I knew that Anna ever wanted to do was never to be like Virgie."
Yet, Smith's brother Donald Hart denied any claims of abuse that Smith made toward their mother. He called her "a very sweet, loving person," adding that as time went on, "they did talk to each other behind the scenes, and they cared about each other." Byrum also remarked that "the only person" that consistently pulled through for Smith was Hogan. As Smith's mom was a sheriff deputy, she explained, "There were times that we got out of a lot of trouble because of Virgie. If she had not been in law enforcement, we would've been in prison a couple of times." 
If you or anyone you know has been a victim of sexual assault, help is available. Visit the Rape, Abuse & Incest National Network website or contact RAINN's National Helpline at 1-800-656-HOPE (4673).