Celebs Who Were Kicked Out Of Interviews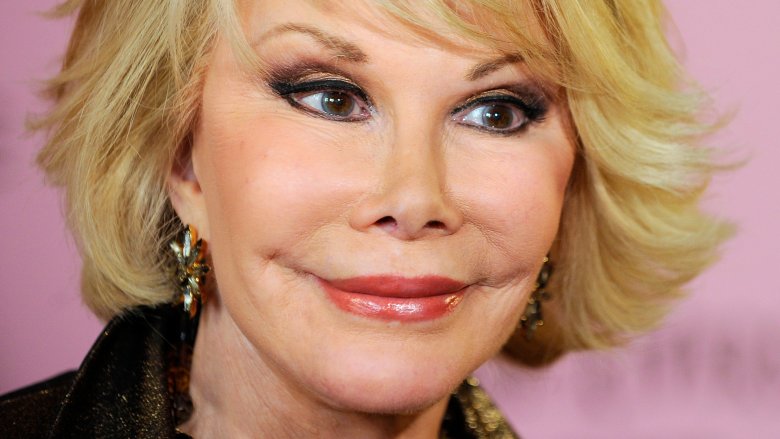 Getty Images
Given the sheer amount of entertainment content that's now available now through everything from broadcast and cable TV, to YouTube, Netflix, and other digital streaming outlets, it can be daunting to try to keep up with it all. That's why it's almost vital for shows to generate viral clips, so that if even for a fleeting moment, they can rise above the din and get noticed by a huge audience they otherwise would not reach.
A disastrous celebrity interview is almost a guarantee for virality, and there have been more than a few in recent years. However, the biggest interview crash-and-burns occur when the host actually asks their star subject to leave. Yes, this has happened.
Whether it's in the form of cutting the chat short or even having to physically remove the famous guest from the set, these interviews did not go as planned, to say the least. These are the celebs who were kicked out of interviews.
Hopelessly devoted to POTUS
If you've paid even mild attention to the Twitter page of CNN's State of the Nation host Jake Tapper, you're aware that he's not a huge fan of President Donald Trump. When he interviewed Stephen Miller, Trump's senior policy advisor, the fireworks were bound to fly.
Miller offers a predictable blend of effusive praise for Trump and accusations that Tapper and his CNN colleagues enjoy "trying to stick the knife in" the administration with their alleged bias against the president and his team. After repeated and unsuccessful attempts to redirect Miller to policy questions, Tapper abruptly ends the interview by saying, "I think I've wasted enough of my viewers' time." Miller's microphone is then muted, and Tapper teases an upcoming segment. But it doesn't end there.
According to sources speaking with Business Insider, Miller refused to exit the set after being "asked to leave multiple times" and ended up being "escorted out" by security. Though Tapper came away looking like the more seasoned media pro, he later lamented on Late Night with Seth Meyers, "I would not have booked him if I thought that was going to happen."
You'd think such a clearly embarrassing incident would be scolded by one's boss, right? Well, Trump praised his underling's combativeness on Twitter, tweeting that Miller "destroyed" Tapper, whom he described as a "CNN flunky." Um, was he watching the same interview?
Don't ask Dice if he runs a gym
Things went downhill fast during comedian Andrew Dice Clay's 2003 interview with Allan Chernoff on CNN's now defunct financial channel CNNfn. Unfortunately, only a clip from the end of the interview lives on in viral infamy, so it's unclear how long their chat went on before the Diceman starts dropping f-bombs like he's doing a midnight stand-up show rather than a live cable broadcast. Dice addressed the controversial appearance more than a decade later in an interview with 100 Percent Rock Magazine.
"[Chernoff] was looking to insult me, so I destroyed him," Dice said. The insult that set the funnyman off was Chernoff's suggestion that he was no longer a headlining comedian, as well as an assertion that Dice left comedy for a while to "run a gym." Neither was true, as Dice pointed out that the whole reason he was on the show was to promote his stand-up gig the following night at NYC's Beacon Theater, which he called "a 3,500 seat room."
Clearly, Chernoff didn't do his research. Does that make him a "f***ing jerk*** a**hole guy," as Dice so eloquently screamed off camera after having his microphone cut? We'll leave that for you and internet eternity to decide.
Sleep deprivation is no joke
There's not a lot of backstory required to set up this clip of Workaholics star Blake Anderson getting kicked off a local Cincinnati morning show. The segment starts off weird, and only gets weirder when Anderson appears on screen munching a bagel. He then tries to describe the film he's there to promote, Dope, by incoherently rambling about the plot before trailing off and eventually admitting, "Sorry, I just woke up like five minutes ago."
"It's like six o'clock over here ... Jesus Christ," Anderson says, describing the time difference in Los Angeles, where he is. The flustered anchor tries to keep going until Anderson says, "It's very early, and I'm very tired. You know the Warriors won the f***ing championship last night — sorry I just said the f-word." 
The anchor then literally directs the control room to cut back to him and says, "Hey, if you want to see this out again, you can check it out on YouTube, I'm sure, in just a couple of hours." More than 380,000 views later, how right he was.  
They don't BS on Morning Joe
Author Michael Wolff's Fire and Fury paints a scandalous picture of President Trump as an incompetent rube who doesn't even have the confidence of his closest advisors. The book made Wolff an overnight celebrity, but due to several factual errors discovered in the book by outlets like The Washington Post, the author quickly became a polarizing figure himself.
One of the more dubious claims, which Wolff made in the form of a blind item in the book, and alluded to during an appearance on Real Time with Bill Maher, was his implication that President Trump was having an affair with UN Ambassador Nikki Haley.
Wolff later appeared on Morning Joe, where co-host Mika Brzezinski had a real problem with the claim. Not only could Wolff offer no proof during the segment, but he even walked back his implication of the affair by saying, "[Haley] has decided to deny what she has not been accused of." Brzezinski wasn't having it. She informed Wolff that on Morning Joe, "We don't BS here," then abruptly ended the segment by saying, "I'm sorry, this is awkward. You're here on the set with us, but we're done." 
Wolff subsequently attacked Brzezinski on Twitter, writing that "off camera" she and co-host Joe Scarborough were "eager to gossip about who Trump might be sleeping with."  
Ugh, is this a presidency we're talking about or an episode of The Real Housewives of D.C?
Wendy Williams' wig is a red line
Wendy Williams is basically the queen of drama, so imagine what it took for her to be so offended that she cut a celebrity interview short. Apparently, reality TV villain and former Trump White House aide Omarosa Manigault Newman found that line in 2008, when she shaded Williams over the talk show host's appearance.
The moment arrives at the end of an already tense conversation, during which Williams implies that Newman perpetuates the "angry black woman" stereotype, and Newman calls Williams "fake." After a line of questioning about plastic surgery, Newman tells Williams that it looks like she'd gotten a nose job. Williams denies going under the knife, then suggests Newman get some fillers in her cheeks because "they say good black don't crack — she's cracking." Claws. Out. Newman fires back, "And I would suggest a wig that doesn't sit off my head three inches." Visibly irritated, Williams ends the interview right there. 
The two women then sparred in the press, both speaking with the AP (via Fox News). Newman called Williams "a phony." Williams clapped back by calling Newman "a delusional, D-list, pathetic woman" and insisted she would never have her on the show again.
Cut to less than two years later, and Newman was back on The Wendy Williams Show, where the pair acted thick as thieves, never even mentioning their previous feud. Did these two Gemini twins of drama pull a fast one on everyone for the sake of ratings?
You book Joan Rivers, you better have a 'bleep button'
Comedian Joan Rivers made a name for herself by having no filter. She never stopped causing controversy in her stand-up act, during red carpet interviews, and on her E! Show Fashion Police, but she apparently crossed the line on the British show Loose Women and got herself kicked out.
While describing an unpleasant interaction with Aussie actor Russell Crowe, Rivers calls him "a piece of f***ing s**t." In fairness to the legendary comic, she did preface the expletive with, "Get ready to bleep this." The problem: Loose Women is a live show with no delay, hence no bleeping ability. The hosts apologize and nervously laugh off the gaffe, but according to Rivers, all was not hunky dory.
Speaking with The Guardian, Rivers said she was then booted during a commercial break. Never one to miss a joke opportunity, Rivers added that she thought the Crowe comment would be fine because "they earlier showed a picture of a man with an obvious erection under his coat."
Was Rivers upset about the ejection? Hardly. "I have won an Emmy, been nominated for a Tony award, done every show and become an icon," she said. "And when people ask me what is left in my career I have always said I don't know, but I have never been forcibly thrown out of a TV studio. It is another milestone." Classic Joan.
Groping isn't a gag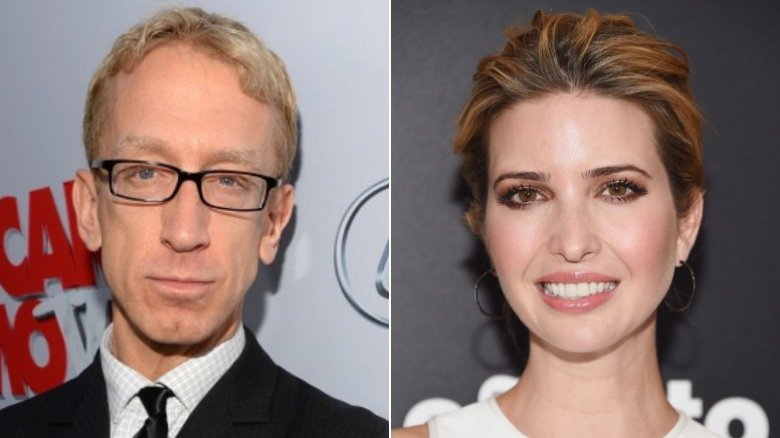 Getty Images
Jimmy Kimmel had to forcibly remove Andy Dick from his show in 2007 after the actor refused to stop touching fellow guest Ivanka Trump. Afterward, Kimmel downplayed the incident to Extra, telling the tab that Dick "was a little out of it," and that "he wanted a big, wet kiss [from Ivanka]." Kimmel added, "He always makes me a little uncomfortable."
The incident resurfaced online in 2018, after Dick was "charged with misdemeanor sexual battery and misdemeanor simple battery" after being accused of groping a woman on the street in Los Angeles, according to People. Yikes.
Oddly, Dick even reminisced about the Ivanka incident in December 2017, via an Instagram post in which he claimed he was "jokingly carried off by security" and "mistakenly thought [Ivanka] would date me." 
Okay, we know this guy is a comedian, but he does realize that unwanted touching is an actual crime, right?
Some people just don't get Norm MacDonald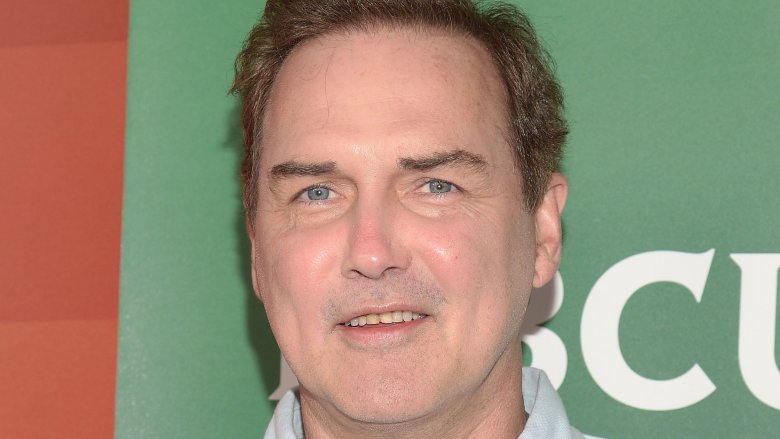 Getty Images
Comedian Norm MacDonald tanked an interview seemingly on account of low energy, though KGO radio host Ronn Owens couldn't have been more polite while ousting MacDonald from his show.
Though he claimed he was a huge fan, Owens was somehow unaware of the low-key comic's lethargic schtick, which often includes a lengthy slow burn to his punchlines. After three-and-a-half minutes of mounting frustration with MacDonald's signature droning, Owens throws in the towel by saying, "Here's what we're going to do. You know I've said it before, and I'll say it to your face: I love you, you make me laugh like crazy ... don't be upset with me — we're done, okay?"
MacDonald chuckled at the ouster, but Owens apparently couldn't let it go. According to the blog Knot Move, he later called MacDonald "a dullard" and insinuated that he was potentially inebriated. If we're being totally honest here, it's this Owens guy who comes off sounding like a real jerk.