RHONJ: What Kathy Wakile's Kids Victoria And Joseph Are Up To Today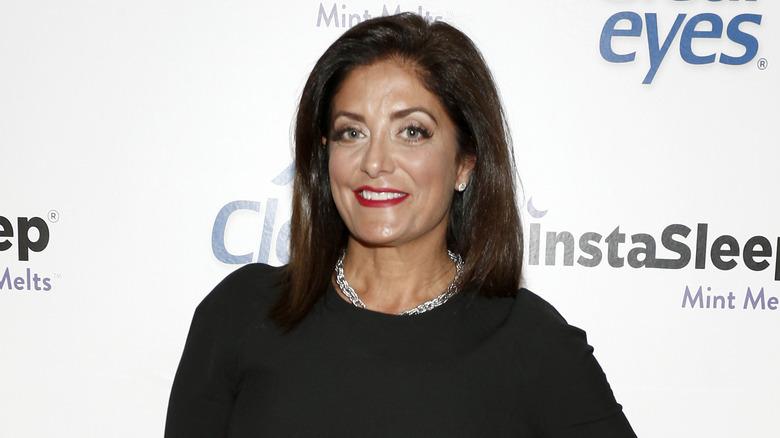 Brian Ach/Getty Images
Cannoli queen Kathy Wakile and her family, including her husband, Richard Wakile, and her two children, Victoria and Joseph Wakile, first burst onto the reality television circuit way back in 2011 during Season 3 of Bravo's "Real Housewives of New Jersey" and quickly stole the hearts and minds of many.
Viewers were shaken to learn about Victoria's past health struggles and subsequent surgery to remove a benign brain tumor, all at the tender age of ten. "It was a scary and difficult time because her tumor affected her unexpectedly yet so severely," Wakile penned in her Bravo TV blog after the episode aired. "We consider ourselves very lucky and I want to thank all of you who have reached out with concern for my daughter. She is doing very well and we appreciate how much you care," she added. Meanwhile, Kathy's youngest child, Joseph, brought a breath of fresh air to the hit reality show with his comedic quips and wisecracks. Never forget the moment a 15-year-old Joseph matter-of-factly told his parents, "When I'm a senior, and possibly when I'm a junior, you know that I'm probably going to have a drink on a Friday night or a Saturday night." YIKES. "No, I don't know that," Kathy deadpanned back. Good times, good times.
But what have the made-for-television siblings been up to following their days in the Housewives spotlight? The answer may or may not surprise you... 
Victoria Wakile got married
That's Mrs. Victoria Wakile Kosmidis to you! Victoria tied the knot to her longtime boyfriend, Teddy Kosmidis, in a ceremony fit for her royalty on February 13, 2021, in West Orange, New Jersey. "I am so excited to be sharing my life, love, and forever with my husband Teddy Kosmidis," the blushing bride told E! News. "I am so thrilled to be celebrating with family and close friends. We are so ready to start our future together!" Meanwhile, it appears the occasion was a tad bittersweet for her mother, Kathy Wakile. "You'll always be my baby," Wakile penned in a birthday post for Victoria less than a month out from the couple's lavish nuptials. 
But that's not all. In December 2022, Victoria and Teddy took another leap of faith and purchased their very first home together in none other than — you guessed it — the Garden State. And in true fashion, Victoria's proud mother was there to cheer them on! "We're Beaming with Pride for Our Daughter & Son In Law. Welcome to the Suburbs," she gushed in an Instagram post along with a photo of the proud couple standing in their new kitchen. Congrats, Victoria!
Joseph Wakile is still making wise cracks
As it turns out, Joseph Wakile is all grown up too! In March 2023, Wakile took to her Instagram account to wish her only son a happy 27th birthday. "Happy Birthday My Handsome Gentleman," she penned in the post along with a photo of Joseph looking much taller and sporting much more facial hair than "Real Housewives of New Jersey" viewers were used to.
Alas, all grown up or not, it appears Joseph is still up to some of his old tricks — including delivering those famous one-liners. In the days after his sister's wedding, Joseph ruffled some feathers on social media when he referred to Joe and Melissa Gorga as "farm animals." The story goes that when a fan asked why Kathy's cousin Joe and his wife Melissa had not been invited to Victoria's wedding, Joseph quipped, "Lmao we cut those farm animals out of our life years ago. That's why they weren't in attendance." YIKES. Later, when asked about the insult, Melissa chalked it up to the entire Wakile family being "sour" over Kathy's dismissal on "Real Housewives of New Jersey." Melissa was still adamant, however, that she had nothing but love for the entire Wakile family. "I wish them all well; I love the Wakile children," she added. Meanwhile, it appears his Kathy wasn't too bothered by her son's comment. "While his response to a ridiculous question was sarcastic, I know he didn't mean any harm," Kathy told Us Weekly.