Dolly Parton Hasn't Always Gotten Along With All Of Her Siblings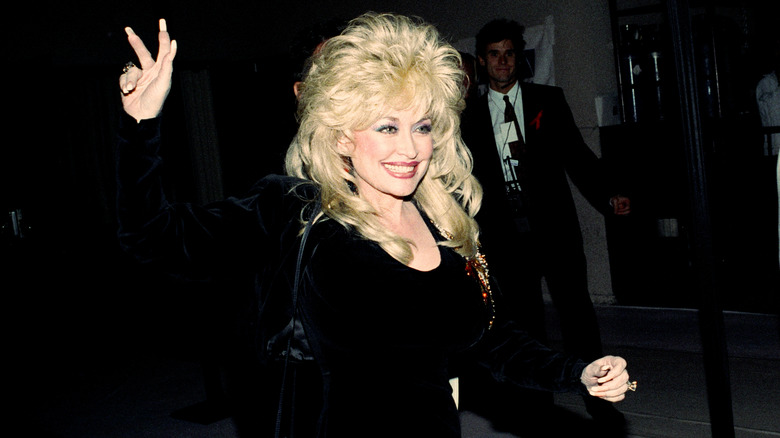 Bart Sherkow/Shutterstock
Who doesn't like Dolly Parton? Apparently, one of her siblings. Now, not everyone gets along with their brothers or sisters, whether you fight about clothes or something more serious. And seeing as Parton has eleven siblings, it seemed like it was only a matter of time before one of them had an issue with the country singer.
Growing up, Parton and her siblings seemed to have a close relationship with each other because of their upbringing, per USA Today. The "Jolene" singer gave insight into her childhood and what it was like to grow up with eleven other kids in the house. She shared, "By the time they [her parents] were 35 and 37, they had 12 kids -– six girls, six boys. We just were mountain people, grew up in the church. We grew up knowing Jesus loved us and through God all things are possible..."
Being a part of such a large family, the "Jolene" singer has a lot of love for her brothers and sisters. To this day, Parton continues to show her love to her eleven other siblings. In a 2017 Instagram post, the musician shared a sweet photo of her and her brothers and sisters in honor of National Sibling Day. But, not everything has been picture-perfect for the Parton family. One of the "9 to 5" singer's younger siblings, Stella, has been extremely open about how difficult it was to grow up with the country singer.
Dolly seemed irritated with Stella Parton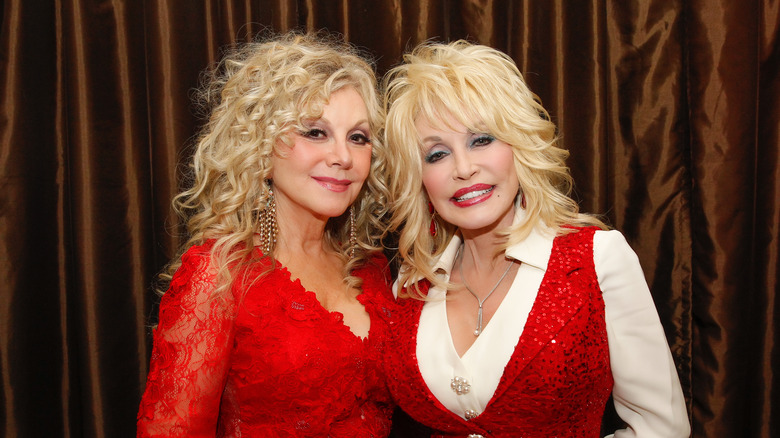 Terry Wyatt/Getty Images
Younger siblings can sometimes be annoying and Dolly Parton knew exactly what this felt like. Out of her eleven siblings, Dolly was the third eldest, so she had eight younger siblings, per Oldest. While each of them probably got on the "9 to 5" singer's nerves, Stella Parton felt she was the one that irritated the musician the most. According to the Daily Mail, Stella revealed in her memoir, "​​Tell It Sister Tell It: Memories Music and Miracles," how at a young age, Dolly always seemed to be bothered by her presence. She shared, "One of my earliest memories is of Dolly's impatience with me because I couldn't come up with a satisfactory line in one of these early collaborations. I think I was always a pain in her neck."
As Dolly and Stella got older, they continued to have problems, especially because Stella pursued music just like her older sister. Having two Partons in the music industry caused a rift between the two, and Stella revealed that Dolly even asked her to change her last name, per Daily Mail. She recalled the "Jolene" singer telling her, "Well Stella, if you are going to sing then you need to change your name." Despite all the pushback to pursue music, Stella never listened to her haters, even if it was her sister. According to Country Thang Daily, Stella has had 30 songs hit the charts and has won several awards for her music.
Stella called out Dolly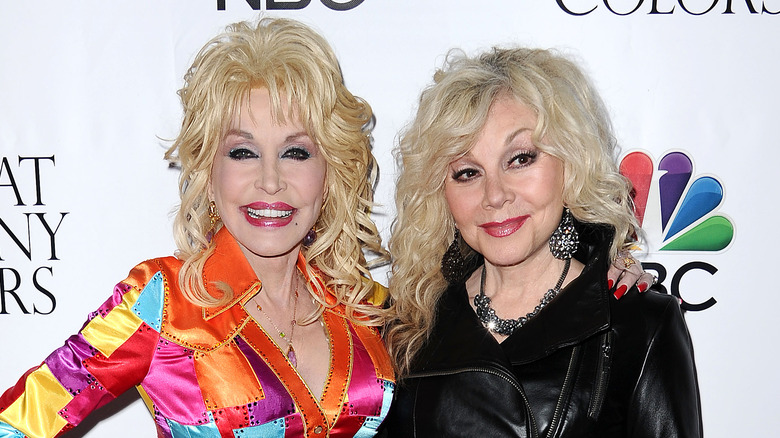 Jason Laveris/Getty Images
Dolly Parton is known for advocating for various social issues, but when she didn't speak out on one in particular, her sister, Stella Parton, was quick to call her out.
While speaking on the "Our Stories" podcast, Stella shared how disappointed she was in Dolly for not speaking out about the #MeToo movement in the country music scene. Stella said, "I'm ashamed of my sister for keeping her mouth shut. She can run it when it is about something else, but speak up about injustice, Dolly Parton. Speak up. And speak out. Defend women, and don't just do it in a little song. Speak up." The musician revealed this was the first time she's "publicly" called out Dolly, but felt it was necessary. She said, "...it's high time that some of these older women speak up and speak out. They've all gone through all kinds of abuse in this industry so: speak up!"
However, Dolly has spoken about the issue. She told Sky News, "With the new Me Too movement, it kind of brought up the subject again with the harassment in the workplace, and the fact that women are still not getting the chance to do as much as they can or paid equal for the work that they do, so there are still all those issues." At the time, this statement didn't seem like enough to Stella as she was upset with her sister. However, the two have overcome their issues and remain close.