David Foster's Daughter Speaks Out About His Engagement To Katharine McPhee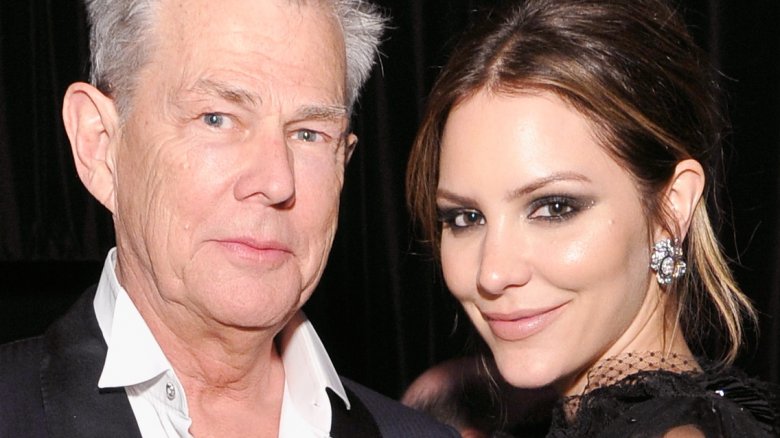 Getty Images
Amy Foster, daughter of music producer David Foster, has something to say to all those who who've judged her father for his romance with Broadway star and American Idol alum Katharine McPhee.
At Entertainment Weekly's Comic-Con Bash on Saturday, July 21, Amy called out her dear old dad's critics, telling Us Weekly, "I know that some people have been hating on that relationship. All I can tell you is it absolutely works when you see them together. It's love." Driving the point home that David Foster, 68, and Katherine McPhee, 34, make a wonderful couple, she added, "The haters [can] shut the f**k up because they are perfect for each other."
Furthermore, Amy also opened up about her own relationship with McPhee, revealing that the two are "so close." She shared, "She's amazing and funny, fun, smart, elegant, timeless, beautiful, talented. I can't say enough about her."
Amy's not the first Foster to share their two cents about the pair's romance, which is rumored to have started in May 2017. Sara Foster, another child of David's, revealed back in December 2017 that she and her siblings "totally approve" of the relationship. "I mean, listen, we approve of whoever is going to be good to my dad at the end of the day and we're very honest about it," Sara explained. "If we ever thought that anyone was in something for the wrong reasons, we would be very vocal about it. We just want someone that's going to treat him well and that cares about him, and I think he's with someone right now that really does."
Hitting back at their family's haters — just like Amy — Sara continued, "He's happy in this relationship and it bothers me that anybody would say anything negative about it. It's like, people have way too much time on their hands. If someone is happy, leave them alone." Commenting on the 34-year age difference between her dad and McPhee, she said, "[McPhee] is a grown a** woman. She's not 20, she's turning 34. And my dad is very young. He's like a very young, young dad/grandpa."
As Nicki Swift previously reported, Foster and McPhee got engaged while vacationing in Capri in early July 2018, nearly two months after the pair made their public debut as a couple on the 2018 Met Gala red carpet. McPhee showed off her sparkly new engagement ring on social media weeks later, paying tribute to her late father who'd recently passed away by celebrating the love in her life. Explaining that her "ring was the last thing [she] showed [her] dad" before he died, she shared, "[It] makes me smile when I look at this as a reminder of our last conversation. And now I'm ready to share with all of you what has been my sunshine amongst this painful loss."
She went on, "My love wisely said to me the other day that 'death is the only thing that is 100 percent inevitable and the thing we are least prepared for.' So today we're celebrating life and not forgetting love."
Foster's future wedding to McPhee will mark his fifth marriage. Prior to his relationship with McPhee, the producer was married to Yolanda Hadid, Real Housewives star and mother to models Gigi and Bella Hadid. The two separated in December 2015 and finalized their divorce in October 2017. Before their marriage, Foster was married to B.J. Cook from 1972 to 1981, to Rebecca Dyer from 1982 to 1986, and to Linda Thompson from 1991 to 2005.
McPhee, on the other hand, was married once before to Nick Cokas, whom she wed in 2008 and whom she'd allegedly cheated on with Smash director Michael Morris. McPhee and Cokas went their separate ways in 2016.
Strangely enough, Foster had a special connection to McPhee and Cokas, as he'd played the piano at their wedding reception as McPhee serenaded her new husband with Natalie Cole's "Unforgettable." Turns out that song choice was a good one...just not for the reasons anyone could've predicted at the time.