The Tragic Death Of Tina Turner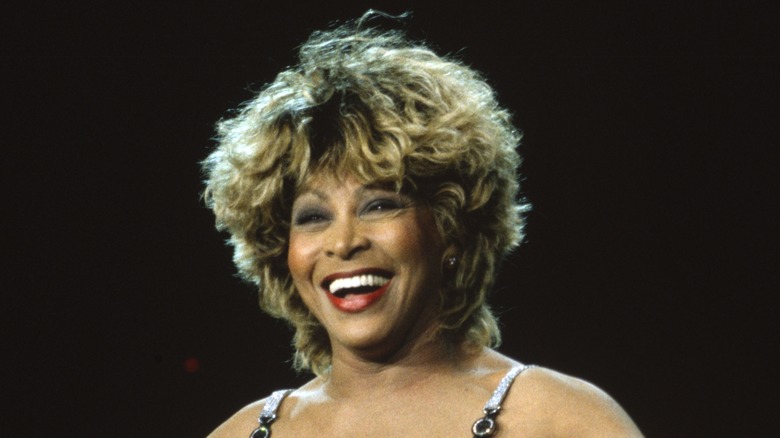 Tim Mosenfelder/Getty Images
American singer, songwriter, and actor Tina Turner died at 83 years old on May 24, according to the Daily Mail. The legend died at her Switzerland home after an undisclosed illness, the outlet reports.
Born Anna Mae Bullock, the rock 'n' roll star wowed audiences for over five decades and was nothing short of an icon. Born on November 26, 1939 in Tennessee, per Britannica, she moved to St. Louis, Mo., and immersed herself in the music scene. It was here that she met Ike Turner and joined his band, the Kings of Rhythm, and thanks to her magnetic stage presence, she changed her name and became the front liner. They began touring as the Ike and Tina Turner Revue, according to the outlet. The duo married in 1962. Turner adopted Ike's two children, Ike Jr. and Michael, and had two biological children of her own: Craig Raymond, whom Turner shared with Raymond Hill, and Ronald Renelle, whom she shared with Ike, according to The Sun. Craig died by suicide in 2018, per TMZ.
The view from the outside was that Turner had never been more famous or successful. But what was revealed in hindsight is that Ike was abusive towards his wife. He stole from her, physically abused her, and, as The New York Times said, "[t]hrough it all, he made her sing, even if blood was running down her throat." While the first chapters of Turner's life were harrowing, she went on to rise all on her own. Here's that story.
Tina Turner's family confirms the singer's tragic death on Instagram
Shortly after Tina Turner's tragic death made headlines, her team took to the singer's Instagram account to confirm the heartbreaking news. "It is with great sadness that we announce the passing of Tina Turner. With her music and her boundless passion for life, she enchanted millions of fans around the world and inspired the stars of tomorrow," they wrote alongside a black-and-white photo of Turner. "Today we say goodbye to a dear friend who leaves us all her greatest work: her music. All our heartfelt compassion goes out to her family. Tina, we will miss you dearly."
In response to the post, fans flocked to the comment section to give their condolences. One fan wrote: "Thank you for your amazing legacy." Another fan commented: "Rest in peace... the legend. U are simply the best forever." Supermodel Naomi Campbell also commented on the post with a heartbreaking message. "REST in Peace & Power THE QUEEN, LEGEND, ICON... Cherish my times with you." she wrote.
Weeks before her shocking death, the music icon opened up to British Vogue about her expansive life. "My life has been full, but with lots of sad times that I now forgive and strive to forget," she explained on April 17. "Maybe that's the answer to keep moving forward, to let go and aim to fill your life with love. That is where I am now, and I am grateful."
Tina Turner resisted being called strong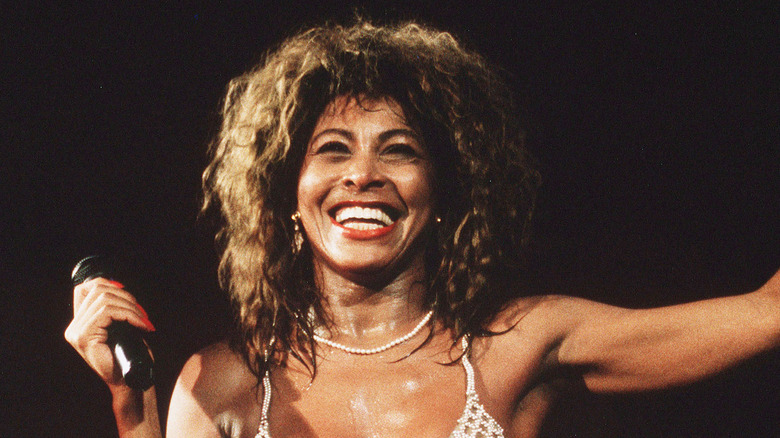 Dave Hogan/Getty Images
Tina Turner was famously reticent about the abuse she received at the hands of Ike Turner, but she did speak her truth about Ike's treatment of her in her 1986 book "I, Tina." As The New York Times points out, this vulnerability shifted public perception of her "from popular singer to living legend."
Turner got away from Ike for the last time in 1976, broke and physically wounded. But she came back in the most major way imaginable. She moved to Europe and recorded the comeback album "Private Dancer" in 1984, per the outlet. It was in Europe where Turner met German Erwin Bach, who was 16 years her junior. Despite the age difference, the pair had happened upon each other's forever loves. They married in 2013, according to Harper's Bazaar, and they set up a life together in Zurich, Switzerland. Since this happy development, Turner wrote two more books, one called "My Love Story" and "Happiness Becomes You," a guidebook to help people create a better life. There was also a Broadway musical on her called "Tina: The Tina Turner Musical" and an HBO documentary on her called "Tina." 
Considering the immensity of her life, Turner has been dubbed with so many empowering accolades. But she told The New York Times in 2019: "I don't necessarily want to be a 'strong' person. I had a terrible life. I just kept going. You just keep going, and you hope that something will come."
If you or someone you know is dealing with domestic abuse, you can call the National Domestic Violence Hotline at 1−800−799−7233. You can also find more information, resources, and support at their website.