The Truth About Tina Turner's Husband Erwin Bach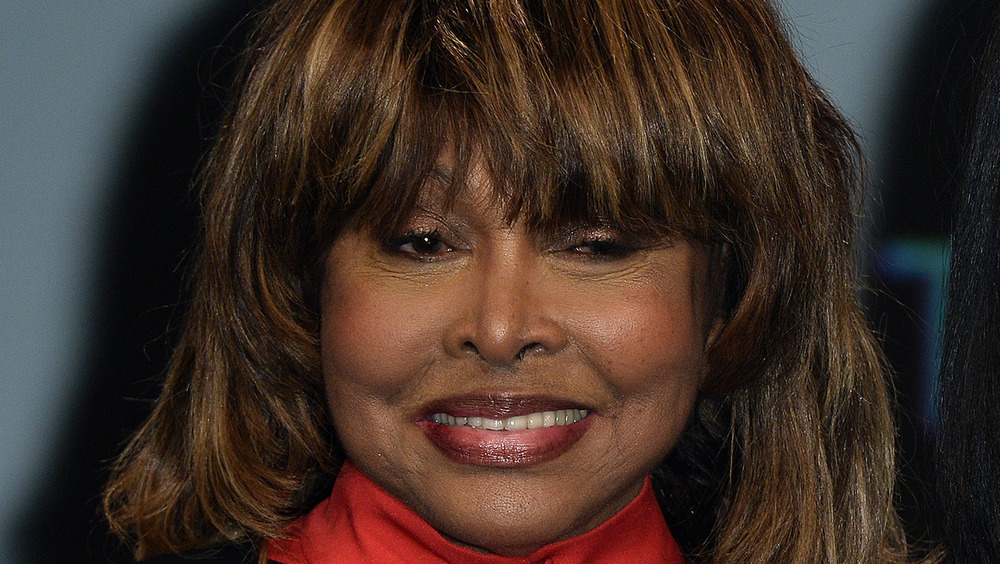 Eamonn M. Mccormack/Getty Images
Tina Turner was a hit-making, beloved musician since she rose to fame in the 1960s with her musical and real-life partner Ike Turner. While Tina was idolized by millions as a famous singer, she unfortunately never felt the same type of love in her personal life.
In her farewell documentary, Tina, which premiered on HBO and HBO Max on March 27, 2021, she opened up about never feeling love from her own mother, who abandoned her when she was a kid. "Even after I became Tina, Ma was still a little bit like, 'Who did that?' and 'Who did this?' And I said, 'I did that, Mom!' I was happy to show my mother what I did. I had a house, I had got a car, and she said, 'No, I don't believe it. No, you're my daughter, no you didn't!'" she said, per The Sun. The "A Fool in Love" singer also detailed her abusive relationship with Ike, who she separated from in 1978. "It wasn't a good life. The good did not balance the bad," she reflected.
However, despite having unhealthy personal relationships for the first part of her life, things seemed to look up when Tina started dating Erwin Bach in 1986. They married in 2013. So, who was the man that Tina credited with being the light in her life? Keep scrolling for the truth about Tina Turner's husband Erwin Bach.
Erwin Bach was Tina Turner's dream man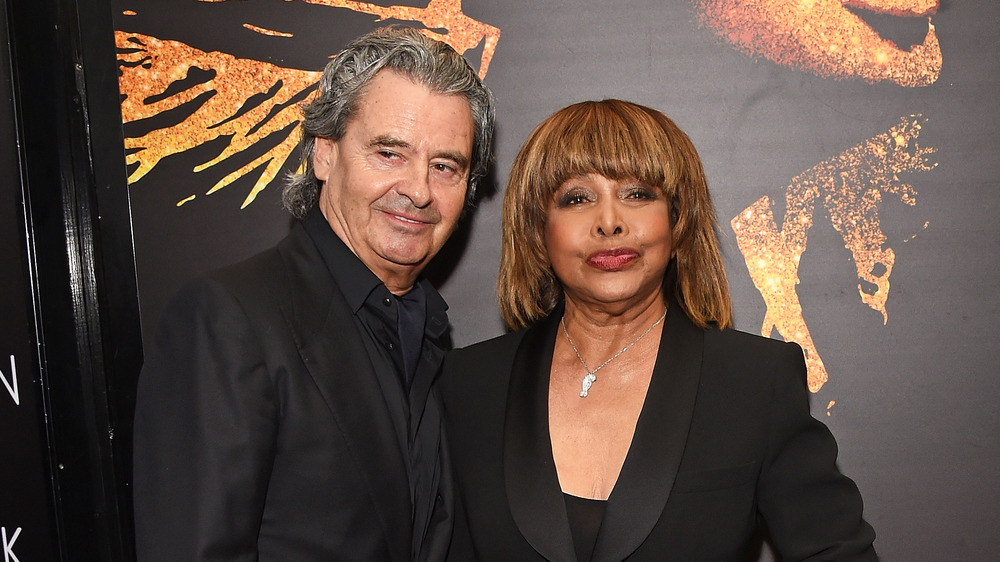 David M. Benett/Getty Images
Erwin Bach is a German music and film producer, having worked on two Tina Turner documentaries, including 2021's "Tina and 2020's Tina Turner: One of the Living." He met Turner in an airport in Germany by chance and they had since been inseparable. "I instantly felt an emotional connection," Turner wrote about first meeting Bach in her 2020 self-help memoir "Happiness Becomes You: A Guide to Changing Your Life for Good, according to People." She said, "I listened to my heart. I left my comfort zone and made it a priority to get to know Erwin. That simple first meeting led to a long, beautiful relationship — and my one true marriage."
Bach's deep love for Turner was shown when he donated his kidney to her in 2017, which Turner revealed in her book. Besides quite literally physically supporting his wife, Bach seemed to hit the right notes for Turner in all aspects of her life. "Erwin, who is a force of nature in his own right, has never been the least bit intimidated by my career, my talents, or my fame," she gushed in her book. "He shows me that true love doesn't require the dimming of my light so that he can shine. On the contrary, we are the light of each other's lives, and we want to shine as bright as we can, together."
Erwin Bach amassed a fortune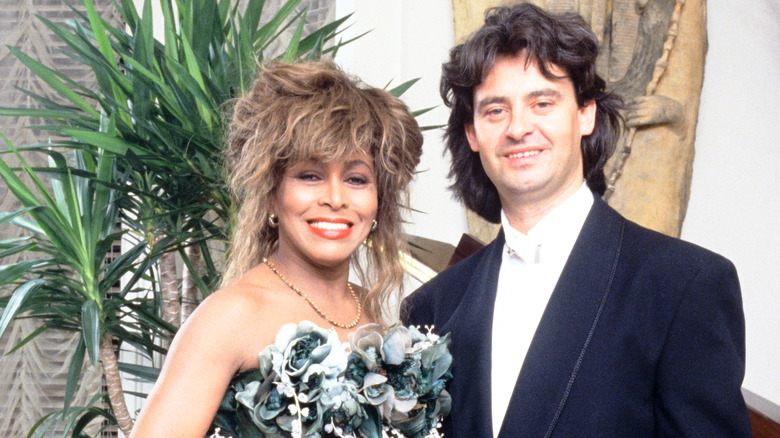 Dave Hogan/Getty Images
Standing next to Tina Turner is its own reward, but Erwin Bach has enjoyed quite a career in music, which helped set him up for life. The successful music executive, although not nearly as recognizable as Turner, was ranked highly in the business realm. Bach has worked with musicians just as, if not more so, successful as Turner. Bach was previously employed by EMI Germany as a divisional managing director. And while he doesn't appear to be actively working today, he can boast about having helped produce music for Pink Floyd and Lenny Kravitz, among others. He is currently worth $200 million dollars. 
Since Turner's death, which took place on May 24, 2023, it isn't yet known if Bach will inherit Turner's vast fortune, which Celebrity Net Worth has valued at $250 million. With that said, he seems like the most likely beneficiary, given that Turner's two biological children passed away before her death. Turner also legally adopted two of Ike Turner's children during their marriage. However, Ike Turner Jr. has claimed that Turner stopped prioritizing their relationship. At this time, the terms of Turner's possible will is unknown, although Radar Online has reported that she's had plans in place since 2021 to prevent any familial disputes.
Erwin Bach helped Tina Turner learn a great lesson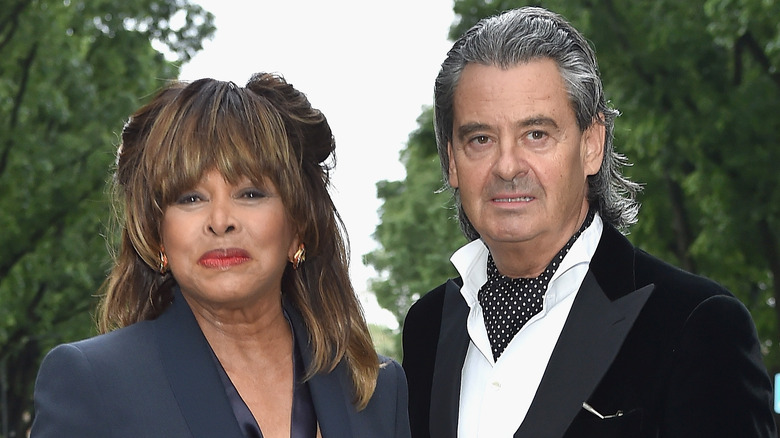 Jacopo M. Raule/Getty Images
At the time of this writing, Bach hasn't released a statement about Tina Turner's death. However, no statement could exemplify the once-in-a-lifetime love the couple shared. But that doesn't mean Bach never came close. In 2021's "Tina," Bach spoke earnestly of his enduring affection for his wife. "It's love, it's something we both have for each other," said Bach (via Biography). "I always refer to it as an electrical charge. I still have it. I still have it even though when I left her two hours ago, three hours ago, this morning, I still have that feeling. That feeling is still with me. It's in my heart. I feel very warm about this." 
And while Turner's death will never rest easy with Bach, he can find comfort in knowing he contributed to one of Turner's greatest lessons: how to live. After Turner died, Oprah Winfrey paid tribute to the star on Instagram, revealing a bittersweet tidbit about Turner and her marriage and inner circle. "Once [Turner] claimed her freedom from years of domestic abuse, her life became a clarion call for triumph," wrote Winfrey. "She once shared with me that when her time came to leave this earth, she would not be afraid, but excited and curious. Because she had learned how to LIVE surrounded by her beloved husband, Erwin, and friends. I am a better woman, a better human because her life touched mine. She was indeed simply the best."