Whoopi Goldberg Admits She Was In Love Once (But Not With Any Of Her Ex-Husbands)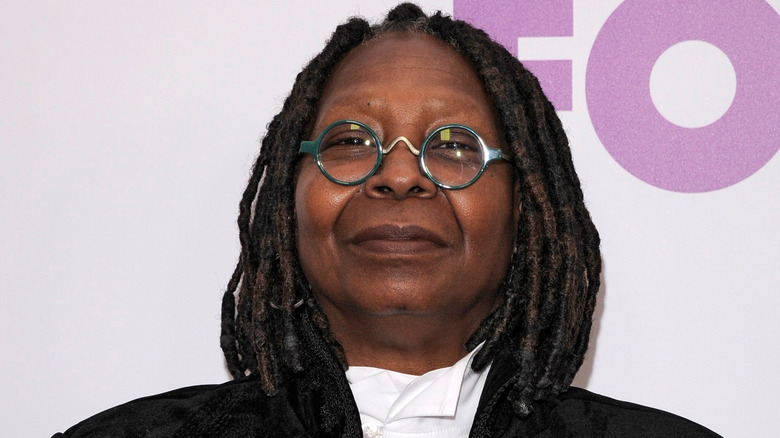 Ron Adar/Shutterstock
Whoopi Goldberg has opened up about being in love. The "Sister Act" star has previously been linked to fellow performers like Ted Danson and Frank Langella, per Us Weekly. She tied the knot on three separate occasions and went through divorces with Alvin Martin, David Claessen, and Lyle Trachtenberg. In 2019, Goldberg chatted with The New York Times Magazine about her former unions, stating that she was never compatible with married life. "I tried marriage, and it wasn't for me," Goldberg said. "You can't be in a marriage because everybody's expecting you to."
Goldberg further explained why her relationships haven't panned out during a visit to the talk show "Loose Women" in 2018. "You want to have somebody in your life because you want to be able to say, 'Where were you? I'm just curious.' I don't want anyone asking me," Goldberg said. "I don't want them asking me; I don't want them expecting me to be anywhere." In past years, Goldberg discussed the one person she fell in love with.
Whoopi Goldberg was in love with someone the public doesn't know about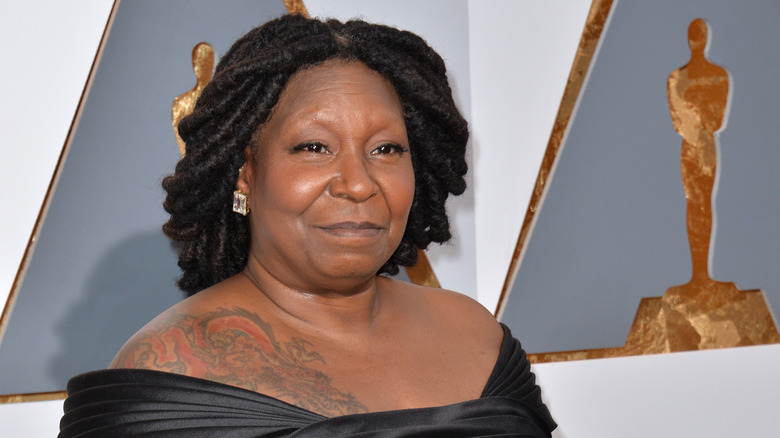 Featureflash Photo Agency/Shutterstock
Whoopi Goldberg developed very special feelings for just one of her ex-partners. In 2011, Goldberg was a guest on "Piers Morgan Tonight." During this talk, she said that she wasn't in love with any of the men she got hitched to, and she's only been in love on one occasion. Additionally, Goldberg revealed that the man she was previously in love with is not a person the public would be familiar with. "I snuck a couple in on y'all, and nobody knew," Goldberg said. She also detailed that "it was a long time ago" that she'd fallen for this ex. Though she held strong feelings for them, Goldberg noted that she doesn't hold regrets over not tying the knot with them "because ... [she doesn't] want to live with anyone." She added, "I like my privacy."
Her past dating experiences have shown Goldberg that she doesn't have the desire to maintain a romantic relationship. "For me, I came to understand that relationships require a minute to minute, hour to hour, day to day give and take," Goldberg said in a 2015 ABC News interview. She went on to state, "And so I can't be in a relationship  ... You have to do the work, and I don't want to." Goldberg has elaborated on her enjoyment of living the single life.
Whoopi Goldberg is 'very happy' being single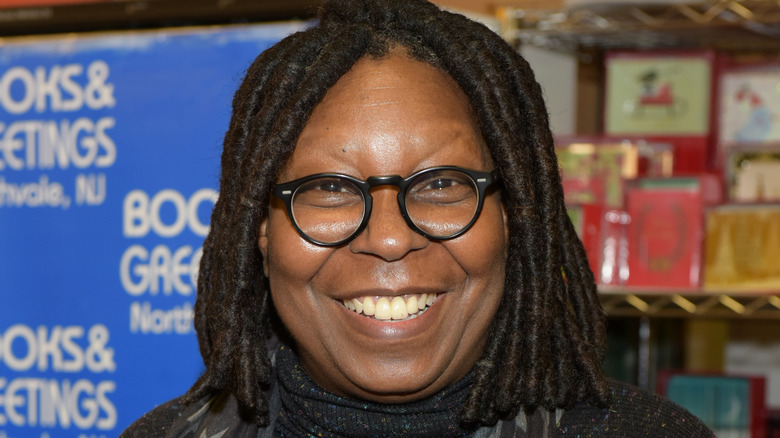 Eugene Parciasepe/Shutterstock
Whoopi Goldberg is satisfied being single. The "Ghost" actor confirmed that she wasn't seeing anyone while being interviewed on "The Late Show with Stephen Colbert" in 2015. Goldberg also touched upon the fact that she's been married three times, after which she fully embraced being single. "It took me all those times to realize that I'm OK being on my own," Goldberg said. 
More recently, Goldberg got candid about her attitude toward relationships when she stopped by "The Drew Barrymore Show" in late 2021. "I think they're great for other people," Goldberg said of romantic partnerships. "For many, many years I thought, 'I've got to get this right.' And then I realized one day, 'I don't got to get this right. I got this right for me.'" Furthermore, in 2019 Goldberg again expressed her contentment with the single life on an episode of the "Tamron Hall Show." "People keep saying, 'Well, you'll find somebody.' But ... I'm not looking for anyone. I'm very happy. I don't want to live with anybody," Goldberg said, per Entertainment Tonight.