How Tina Turner And Elton John's Explosive Feud Went Over The Edge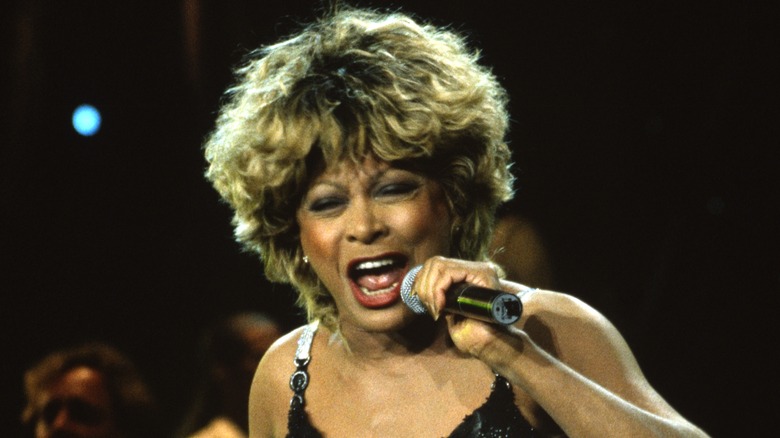 Tim Mosenfelder/Getty Images
When news broke of the tragic death of Tina Turner, it rocked the music world. The Daily Mail reported that Turner died on May 24, 2023, at her home in Switzerland following a long illness. She was 83 years old. Stars and fans flooded social media with heartfelt condolences and tributes to the "Queen of Rock 'n' Roll." 
Nothing shows off John's shady side better than his seemingly never-ending list of catfights and contretemps. Per Grunge, John has butted heads with Madonna, Rod Stewart, David Bowie, and Keith Richards over the years, among many other famous names. John even once fell out with Princess Diana after she did a 180 on writing a foreword for the AIDS charity book "Rock and Royalty," claiming in his memoir, "Me Elton John" that Buckingham Palace forced her hand as they didn't want to be associated with it.
John and Turner used to be tight. They'd regularly collaborated and even planned to embark on a joint tour in 1997, which quickly turned disastrous during the planning stage. He even told Turner to "shove her song up her f****** a***" during a furious fight, per the Daily Mail. The tour was subsequently canceled, and Tina Turner and Elton John's explosive feud went over the edge.
The clash of the divas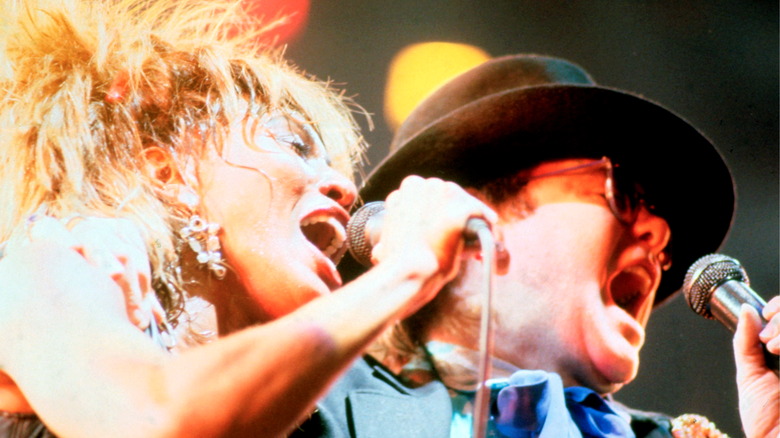 Michael Putland/Getty Images
Elton John is notorious for fighting with his fellow musicians. Still, it was his feud with Tina Turner that really turned explosive. John, whose birth name is Reginald Kenneth Dwight, wrote about their epic altercation in "Me Elton John." He shared some of the juiciest bits in a piece he wrote for the Daily Mail.
John claimed that during the planning stage of their ill-fated 1997 joint tour, Turner called him while he was at home "with the express intention of telling me how awful I was and how I had to change before we could work together." He said that she told him his piano was the wrong color and that his love of dressing in his beloved Versace did him no favors. In fact, it made him "look fat," and she allegedly ordered him to dress in Armani instead. Elton wrote that he "burst into tears" following the call, telling his husband, David Furnish, that Turner had sounded like his mom.
He claimed things deteriorated from there on. Elton alleged that Turner acted like a diva during rehearsals, screaming at the musicians and refusing to address them by name. "Maybe it was insecurity on her part," he sniffed. John claimed they later made up and that he invited Turner to dinner at his home, where she "left a big lipstick kiss in the visitors' book."
Two sides to the story
Bruce Glikas/Getty Images
Tina Turner gave her side of the story about her fall out with Elton John during an interview on the appropriately named "Divas Live '99" show. 'I made a mistake when I needed to show him how to play 'Proud Mary,'" she admitted.
"You don't tell me how to play my piano," Turner claimed John sneered. "Oh lord, it just exploded. It was like the past slapping me back in the face." She said that all she'd been trying to do was "get a new arrangement." Turner claimed that John threw a massive hissy fit and stormed off, which he later apologized for. "I was wrong, I was wrong, I'm sorry, I'm sorry," Turner deadpanned to the camera. She accused John of not being "professional enough" to collaborate with, comparing him negatively to Mick Jagger and other musicians. "He's just very sensitive," Turner observed. "Very, very sensitive."
Ironically, Mick featured John in his documentary "Being Mick," and it didn't show off his best side. The Rolling Stones frontman was down to earth and humble when he attended John's annual AIDS charity "The White Tie and Tiara Ball" with his daughter, Elizabeth Jagger. John? Not so much. After joking about his tantrums, Mick listened to John critiquing Madonna's recent concert performance. "I thought it was alright," he sniped. "But I'd heard so many great things. I was disappointed."