Actress Brigitte Nielsen Opens Up About Getting Pregnant At 54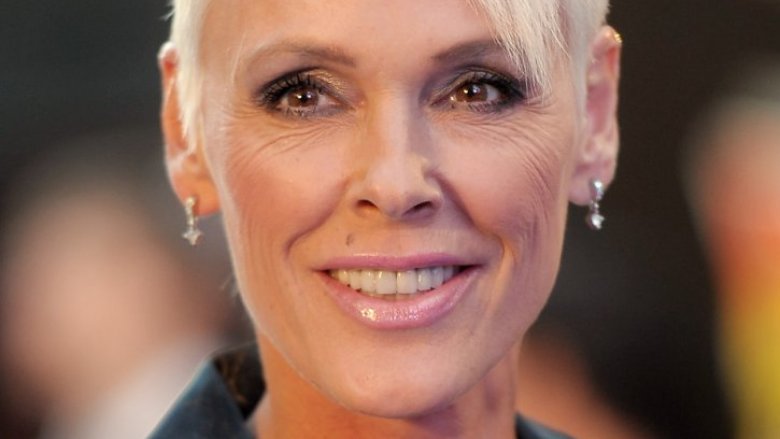 Getty Images
Actress Brigitte Nielsen is opening up about her recent headline-making pregnancy.
During an exclusive interview with People, published on Wednesday, July 25, 2018, the Danish model revealed the long, difficult road to her fifth pregnancy at age 54, which included freezing her eggs at 40 and undergoing in vitro fertilization treatments for over a decade.
"What I want women to know is that everything is possible, but you have to be realistic," Nielsen, now 55, told the magazine. While explaining, "I didn't have a lot of eggs, but I had enough," she said that she experienced a lot of disappointment throughout the IVF process, which she warned readers is very expensive. "It's that phone call going, 'It's negative.' It's the waiting." Of this type of journey toward pregnancy, the Beverly Hills Cop II actress added, "I think at times you can feel lonely, because a lot of women don't talk to each other about it."
In response to certain criticism she's received for having a baby at a later maternal age, Nielsen admitted she understood people's skepticism, but went on to defend her decision, as well as those of other women. "We should hold hands because there's nothing wrong with wanting to have a baby, whether you're 20, you're 30, you're 40 or, in my case, 50," she said, while later adding, "I also totally respect the fact that not everybody likes it and agrees with it, but it is my life."
As Nicki Swift previously reported, Nielsen and her husband, 39-year-old model Mattia Dessi, welcomed their daughter Frida on June 22, 2018. While their baby girl is the famous model-actress' first child with Dessi, she was already a mom to four sons from previous relationships: Julian Winding, 34, Killian Gastineau, 28, Douglas Meyer, 25, and Raoul Meyer Jr., 23.
"We are overjoyed to welcome our beautiful daughter into our lives," the happy couple, who married in 2006, told People following their little one's birth. "It's been a long road, and so worth it. We've never been more in love."
Nielsen, who is also known in part for her past romance with rapper Flavor Flav, first revealed in late May 2018 that she would be expanding her family for the fifth time. "Family getting larger," she wrote on Instagram at the time, captioning a snapshot of herself holding her baby bump.
A number of fans quickly flooded her social media accounts with messages of love and support, with those who were also hoping to have children later in life calling her an inspiration. "Nobody has the rights to lead your own decision unless you allow them to do so," Nielsen replied to one social media user's comment (via E! News). "You're the only one in charge of yourself and your own happiness. Best of luck!"