Celebs Who Flirted With Each Other On Live TV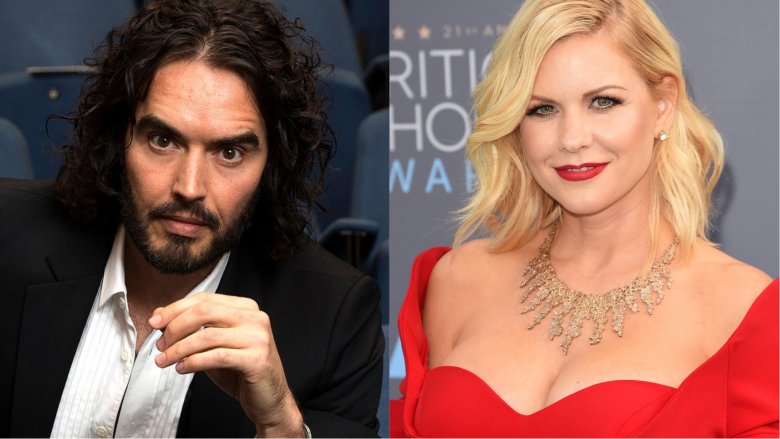 Getty Images
It is simultaneously awkward and compelling when famous people flirt on live TV. So many questions arise from these questionably amorous encounters: Is it real? Did they plan this beforehand? What happened afterward? In almost every case, the answer is: We don't know! That's what makes stars flirting such great TV.
We've got plenty of examples of it here. Whether it's two actors meeting for the first time and totally hitting it off, a talk show host hamming it up in front of a particularly attractive celeb guest, or a star clearly making moves on an interviewer, the romance was clearly in the air for these flirtatious famous folk.   
And if you're thinking, "Oh, come on, it's all just for show," just wait until you get to Russell Brand and Carrie Keagan, because we're honestly shocked they didn't make a baby before the interview was over. Anyway, without further ado, here are the celebs who flirted with each other on live TV.  
Winter smolder
On a very special episode of The Late Late Show with James Corden, viewers got to watch actors Sebastian Stan and Sharon Stone basically fall in love. Well, that's not exactly accurate. The reality is that the Avengers: Infinity War star had been smitten with the Basic Instinct vixen for quite some time, and he capitalizes on the shared gig by spitting game so tight that even Tony Stark would have been impressed.
In a cheek-reddening confession, Stan lays out his long-held devotion for Stone by telling her, "I've been meaning to tell you this for a while ... probably about 15 years, but uh, you know, I feel like I've seen you all my life." He continues, "And here you are in person and you look so great."
The heat doesn't stop there. Later in the interview, Stan throws a pick-up line at Stone in his native tongue of Romanian, and she finally admits, "Okay, you are pretty cute." 
Corden absolutely can't handle it, at one point declaring, "I feel weird being here ... I feel like I could cut this with a knife." So, did they or didn't they? We'll just say this: If they didn't, what hope does anyone have for romance in this crazy world?
Colbert's been kissed on TV by a dame
It's a bit of a misnomer to define what happened between Dame Helen Mirren and Stephen Colbert as "flirting," because Colbert actually got some action before the two exchanged words. The legendary British actress was the aggressor during her interview on The Late Show, walking straight up to Colbert and planting a passionate kiss on him just seconds after being introduced.
The stunned funnyman stood there frozen, as any red-blooded man would, for what we feel like was the rest of eternity in his mind. When he finally pulled himself together, a relentless Mirren told him that she'd "been dreaming of doing that for about 15 years," and that she wished she'd done more.
Later in the week, Colbert, who is married, said that his wife was fine with the flirtation, because "she is now free to make out with a gentleman actor of a certain age." Mirren, who is also married, later doubled down on her Colbert crush, telling Woman's Day (via the Daily Mail), "I've been deeply in love with Stephen Colbert for a long time ... for real!"
The best part of all of this for Colbert? The night after he necked with Mirren, fellow legendary actress Sally Field, having apparently viewed Mirren's kiss as a challenge, went in for the full-on makeout sesh. Dream job: confirmed.
Fifty shades of uncomfortable flirting
During a promotional interview with reporter Chris Van Vliet for their movie How to Be Single, Dakota Johnson and Leslie Mann spend the entire time treating him like a piece of meat. Not that he minds one bit. In fact, when one of the first things out of Mann's mouth is, "You're handsome," Van Vliet replies, "Wow, thank you! Tell me more."
Things progress quickly as Mann takes the flirtation lead, while Johnson just sort of gazes at Van Vliet like he's a t-bone and she hasn't eaten in a week. After attempting to set him up with a few off-camera ladies, Mann then asks Van Vliet to take off his shirt. They compromise at him undoing three buttons, at which point both Mann and Johnson are both googly-eyed and smiling so hard you'd think they just won the lottery and a basket of puppies.
The under-three-minute interview ends without Van Vliet asking a single question other than to try out two pick-up lines on the infatuated stars. "I don't have a library card, but can I check you out?" he asks. "That one might work," they both agree.
Why don't you take a picture, Conan?
Like his idol, David Letterman, late night host Conan O'Brien has a long history of flirting with attractive female guests on his show, but his interview with X-Factor judge Nicole Scherzinger stands out above them all, because of the way she ruthlessly puts him on blast for it.
Despite the fact that she introduces herself as "a groupie [of O'Brien] forever," Scherzinger later interrupts her story about Simon Cowell to scold O'Brien for sneaking a peak at her cleavage, which is on display thanks to a skin-tight, low-cut dress. "Focus, Conan," she says, gesturing with her hands from her chest up to her face.
Of course, O'Brien then uses the rest of the segment to exaggeratedly gawk in that direction, because you don't give a comedian that kind of material and expect him not to use it. Were his wandering eyes actually out of line, or was it all just great late night television? We'll leave it to you to decide, but keep your eyes north of that neckline. 
'Sexy blackness'
Okay, we admit that New Orleans reporter Susan Isaacs may not technically count as a "celebrity" per se, but she's definitely famous in a local Louisiana news market, so we're counting it. That, combined with singer/actor Tyrese Gibson's shameless attempt to pick her up during a promotional segment, earns her a spot on this list.
It's clear from the jump that something scandalous is in the air, as Isaacs starts off the segment cheesing hard at Gibson and fellow R&B crooners Ginuwine and Tank, who are all there to promote a tour stop for their "supergroup" TGT. Almost immediately, Gibson makes his move, looking Isaacs up and down and suggestively saying, "What's up, Susan? What's happening? You doing good."
A few moments later, Gibson asks Isaacs what time she gets off work, then invites her "and her girls" to the concert by saying, "Whatever you need, I got you ... I take care of my sexy blacks, sexy blackness." The segment ends when Isaacs breaks down into uncontrollable giggles, unable to even read the teleprompter. At one point, she says, "I'm like really blushing over here." Us too, Miss Sexy Blackness (That's her name now, just go with it), us too.
'Chocolate helps everybody'
There are two interviews in which sparks fly between comedian Chelsea Handler and former Live! with Kelly and Michael host Michael Strahan. First, during a February 2016 appearance on the show, Handler suggests that Strahan "probably" has cellulite. He responds, "I'll be honest with you ... Black don't crack, ain't no cellulite over here." Handler is visibly delighted, and co-host Kelly Ripa even seems to pick up on Strahan's seemingly flirtatious reply.
Cut to three months later: Handler returns to inform Strahan that fans couldn't get over their "chemistry" last time. She then jokingly accuses the former NFL star of having "thrown his body at her," before confessing, "Well, I love black guys." Strahan, who was in a relationship at the time, awkwardly replies, "Doesn't matter who you are, chocolate, chocolate helps everybody," and then quickly moves on to an entirely different subject.  
Any chance he knew his girlfriend wouldn't be too thrilled about that candy-coated metaphor?
The Sean Connery accent gets it done
We circle back to late night talk show hosts for this entry about former The Late Late Show host Craig Ferguson. In keeping with his aforementioned colleagues, there is a wealth of online evidence to attest to Ferguson's flirtatious interview style, so once again, we're choosing to highlight a particularly amourous example.
During a 2012 appearance to promote her role in the James Bond flick Skyfall, French actress Bérénice Marlohe basically falls in love with Ferguson's Scottish accent, especially when he kicks it into overdrive with his Sean Connery impression. "Stop it. I will not be able to control myself," Marlohe says of Ferguson's impression. "Please do it again." His reply? "I'll talk like this all f***ing night if it gets — I can do this." He's cut off by Marlohe abruptly grabbing his tie, pulling his face towards her, and saying, "You're so sexy."
After that, they bond over Ferguson's knowledge of Paris, his ability to speak French, and, of course, more of that manly brogue. By the time the quirky host offers Marlohe a piece of fruit from his basket — *ahem* — it's hard not to imagine they've somehow secretly exchanged numbers already. Seriously though, who knew French women went nuts for Scottish accents?
What did Mavis think of all this?
There must be something in a late night talk show hosts' contract that stipulate that they turn into horny 14-year-old boys in front of beautiful celebs, because Jay Leno also joins this club as he drools over Dolly Parton for her entire 2003 Tonight Show segment. Right from the start, the innuendo is at play as Parton, wearing a top with a plunging neckline, makes a reference to "grasping at youth." Leno shoots right back, "I wouldn't mind grasping at youth right now." Game on.
Leno then makes a bunch of melon references — Get it? — and nearly loses his mind over Parton's story about streaking with "a bunch of girls" in singer Tom Jones' yard. The flirtation reaches its apex when Leno asks Parton to do a "pec dance," which she does while he stares at her chest like a wolf eyeballing a hen house. "Save that tape for me later," Leno says into the camera. "Put it on a loop."
They end the segment by having Parton go outside to launch 200 pounds of melons from a catapult, which is a pretty weird way to punctuate the preceding eight minutes of television, which was essentially a tribute to her famously ample bosom. We honestly have no idea what the symbolism there could possibly be, but as far as boob jokes go, we're fairly certain that this segment remains the gold standard.
Russell Brand and Carrie Keagan heat up Hawaii
Comedian and actor Russell Brand is quite possibly the most unfiltered celebrity of all time. He's also a self-professed sex addict. As such, the combination of his razor-sharp wit and almost uncontrollable libido have made for more than a few wildly flirtatious live TV moments. Of the many examples available online, Brand's interview with actress Carrie Keagan on her show Up Close is so fraught with sexual tension it would be fair to call it foreplay.
If that sounds like a gross exaggeration, consider this: In another chat with Keagan, who was in Hawaii interviewing the whole cast of Forgetting Sarah Marshall at the time, director Judd Apatow asks her point blank: "Is there any chance you don't sleep with Russell in the next two days?" Keagan's response: "Probably not."
Of course, she may have been joking, but that didn't stop Brand from pulling out all of the stops to try to collect on that promise. He offers to pay her to sleep with him, tells her he would "take advantage" of her corpse, delivers a twisted, improvised poem, and proclaims, "If I had to, I would sleep with Hitler to get to you."
The craziest part of the whole thing is that it actually works. "I kinda like you a whole lot," Keagan says, after Russell declares that her breasts have "torn me apart." We're comfortable saying Brand is the only man alive who can walk this razor's edge of offensive perversion and charm. In other words, kids: Do not try this at home.