Tina Turner Went By A Much Different Name Before Fame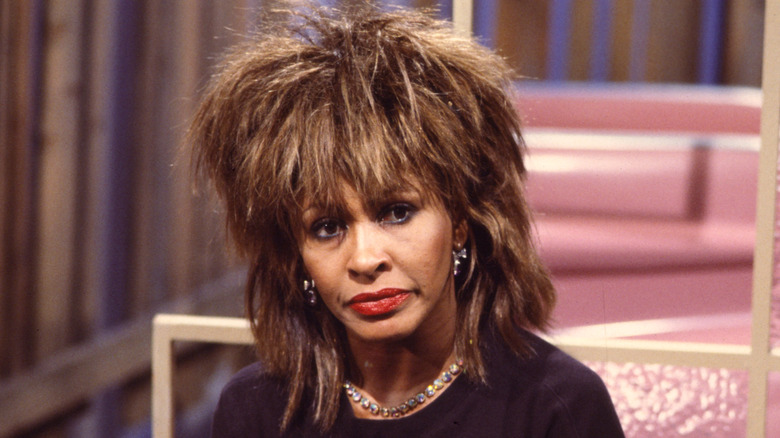 Gary Gershoff/Getty Images
Arguably one of the most famous artists of all time, Tina Turner's tragic death has left a huge void in the music industry. "It is with great sadness that we announce the passing of Tina Turner," a representative announced on Instagram. "With her music and her boundless passion for life, she enchanted millions of fans around the world and inspired the stars of tomorrow. Today we say goodbye to a dear friend who leaves us all her greatest work: her music."
With a career spanning more than six decades, Turner cemented herself as a music legend. Though she came into the limelight as one half of the musical duo, Ike and Tina Turner, she went on to have an even more successful solo career, winning multiple awards and earning several accolades. Yet, not only is she a music icon, but Turner was also widely regarded as the Queen of rock 'n' roll — a title she embraced until the very end. When asked in her final interview how she would like to be remembered, she told The Guardian: "As the Queen of Rock 'n' Roll. As a woman who showed other women that it is OK to strive for success on their own terms."
With a legacy so loud and proud, it might be hard to imagine that long before the fame, she was, in fact, not Tina Turner.
Tina Turner once performed under a different stage name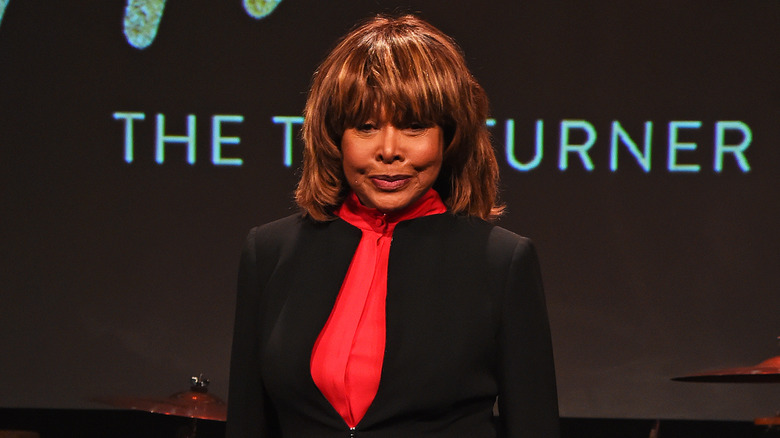 Eamonn M. Mccormack/Getty Images
The world knew her as Tina Turner, but long before becoming a rock 'n' roll star, the entertainer was known by a different name. When she was born in November 1939, Tina was named Anna Mae Bullock by her parents Floyd Richard Bullock and his wife Zelma Priscilla. While Tina went by this name throughout her childhood and teenage years, she soon ditched it for a different moniker after joining Ike Turner's Kings of Rhythm band as a featured vocalist. In the 1958 song "Boxtop" — her first recording — Tina was credited as Little Ann, per The Evening Standard. But it wasn't long before Tina swapped out Little Ann for another name.
Before the official release of her 1960 hit single, "A Fool in Love," Ike decided the young singer needed a better stage name. Drawing inspiration from one of his favorite television characters, Sheen, Queen of the Jungle, Ike settled for Tina. Given that the pair's relationship had evolved from professional to personal at the time, Ike added his last name to Tina to form Tina Turner — the name for which she'll forever be known.
When asked in 2021 if Tina was only a persona to sell her music, the late music icon shared that it was as much her name as Anna Mae. "I'm Anna Mae, and I'm also Tina. They're two sides of my personality, two facets of my life," she explained to Harvard Business Review. "I'm sure aspects of Anna have merged with Tina and vice versa."
She initially had no ownership of her name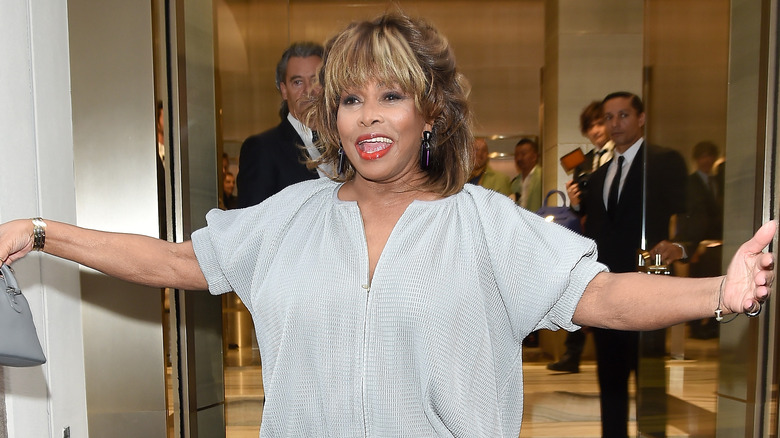 Daniele Venturelli/Getty Images
Though the name Tina Turner ended up becoming one of the most recognized in the music industry, it actually started off as a testament to the abuse the rock 'n' roll legend suffered in the hands of her ex-husband Ike Turner. According to The U.S. Sun, after coining it, Ike trademarked the name Tina Turner, giving him exclusive rights and making it impossible for the singer to use it in the case that she left him. "Tina was his name. It was patented as you call it, so he could own me," she told Oprah in 2013. "He was smart. He wasn't an educated smart man but he had a common sense."
So, when Tina eventually filed for divorce in July 1976, the singer knew it would be difficult to get a financial settlement from Ike. Instead, Tina opted to ask for just one thing — her name. "The divorce, I got nothing. No money, no house. So I said, I'll just take my name," she once recounted, according to Insider. But even this request was initially met with some resistance. "Ike fought a little bit because he knew what I would do with it. And it was through court that I got it, Tina," she shared in her HBO documentary (via The Guardian).
Her name was apparently all she needed, as Tina Turner went on to make great strides in her music career. Now, the world will always remember her as the legend she is!