Nick Jonas And Priyanka Chopra Are Reportedly Engaged To Be Married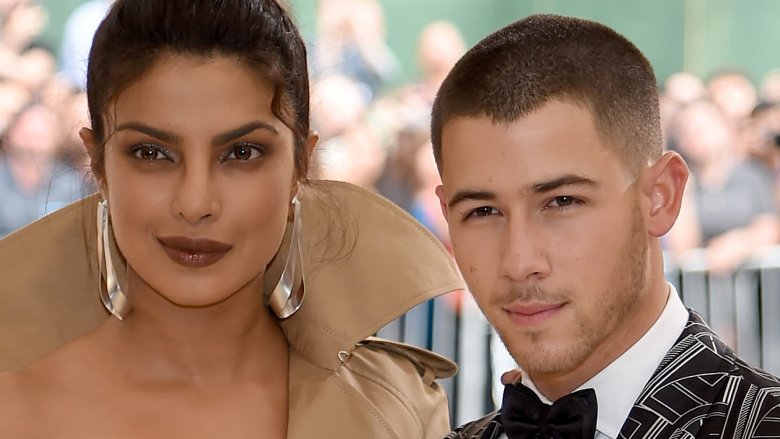 Getty Images
"Jealous" singer Nick Jonas has reportedly proposed to Quantico actress Priyanka Chopra after just two months of dating.
According to People magazine, Jonas popped the question while the two were in London together, asking her to marry him on her 36th birthday on July 18, 2018. "They are so happy," a source shared. That same source revealed that, prior to getting on bended knee, Jonas searched for an engagement ring by reportedly shutting down an entire Tiffany & Co. jewelry store in New York City.
While neither Jonas nor Chopra have publicly commented on news of their engagement at this time, an insider noted that Jonas' family is happy for the couple, as they'd never witnessed Jonas be as committed to someone as he is to Chopra. The source said, "His friends and family have never seen him like this, and they're all really excited for him. He's definitely very serious about her."
On Thursday, July 19, 2018, Bharat director Ali Abbas Zafar seemed to hint that Chopra, who'd previously signed on to do his film, had accepted a proposal from Jonas. In an announcement revealing that she would no longer be appearing in the movie, he tweeted, "Yes Priyanka Chopra is no more part of @Bharat_TheFilm & and the reason is very very special," he wrote in the post. "She told us in the Nick of time about her decision and we are very happy for her ... Team Bharat wishes @priyankachopra loads of love & happiness for life."
While Jonas and Chopra have a significant age difference between them — he is ten years her junior — the Jumanji: Welcome to the Jungle actor reportedly prefers to date older women. A source told Us Weekly that Jonas, who has dated the likes of actress Kate Hudson and singer-songwriter Delta Goodrem in the past, "loves women who are mature like him," which "usually means he dates a little outside of his age bracket."
Jonas and Chopra first sparked romance rumors when the two walked the Met Gala red carpet together back in May 2017. However, at the time, Chopra insisted that the two were just friends, explaining to Jimmy Kimmel, "We were both wearing Ralph Lauren, and we decided to go together because it was fun."
But one year later, Chopra reportedly changed her tune about Jonas, and, in May 2018, the two celebrities were said to have started dating. Since then, the pair have been seen together several times and have even left cute messages for one another on social media — a surefire way to tell just how smitten two people are.
In June, Chopra met Jonas' family when she attended his cousin's Atlantic City wedding as his date. That same month, Jonas met his Chopra's mother, Madhu, when he flew with Chopra to her home country of India for her friend Akash Ambani's pre-engagement party (via E! News).
The following month, Chopra and Jonas made headlines when they were spotted wearing matching gold bands, though the two A-listers wore the rings on their right hands — not their left, which would usually signify an engagement. Chopra and Jonas later spent some quality time with his brothers and former bandmates Joe and Kevin, as well as Joe's fiancée, Game of Thrones star Sophie Turner, while grabbing dinner together in London (via People).
Though Chopra and Jonas reportedly haven't been in a relationship together for long, they're certainly not the first celebrity couple to get engaged after dating for only a short time, especially in recent weeks. As Nicki Swift previously reported, news broke that pop star Ariana Grande and Saturday Night Live comedian Pete Davidson were engaged in June 2018, just a few weeks after the pair were said to have started dating. Soon after, superstar Justin Bieber, who'd been spotted with ex-girlfriend Selena Gomez earlier this year, proposed to on-again, off-again love, model Hailey Baldwin on July 7, 2018.
Guess it just goes to show that there's no set timeline for falling in love.