Martha Stewart's Stance On Plastic Surgery Is Clear As Day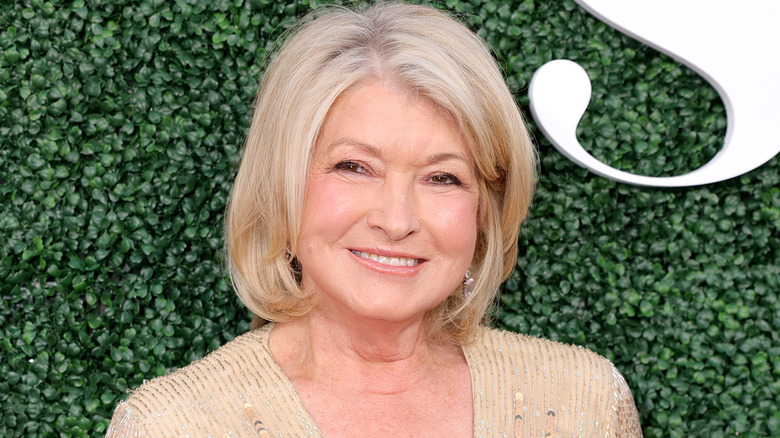 Michael Loccisano/Getty Images
Martha Stewart has mastered the art of aging gracefully. 
At 81, she became the oldest woman to pose for Sports Illustrated magazine as one of the four cover models for its 2023 annual swimsuit issue. The author, TV personality, and businesswoman showed off her youthful complexion and toned physique in a white-one piece with a plunging neckline and oversized robe on her cover shot, which has effectively taken the Internet by storm. She did nine other looks for the spread, which was shot on location in the Dominican Republic by photographer Ruven Afanador. "When I heard that I was going to be on the cover of Sports Illustrated Swimsuit, I thought, 'Oh, that's pretty good, I'm going to be the oldest person I think ever on a cover of Sports Illustrated,'" Stewart said. "And I don't think about age very much, but I thought that this is kind of historic."
Fans and fellow celebrities heaped praises on Stewart. Drew Barrymore called her "HOT," while Kerry Washington described the cover shot as "iconic." Even Tyra Banks was left speechless. "This!!! 81 years of WOW!" the supermodel gushed. In an interview with Variety, Stewart reacted to comments saying her SI pictures were over-retouched. "They're not. They are incredibly accurate pictures," she clarified. "I was really pleased that there was not much airbrushing." As for whether she had a lot of work done for the shoot, the lifestyle maven has since revealed where she really stands on plastic surgery.
Martha Stewart has never had plastic surgery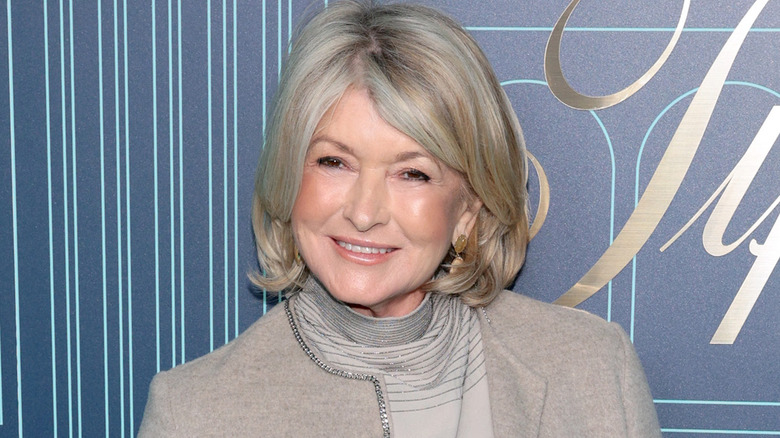 Dimitrios Kambouris/Getty Images
Martha Stewart set the record straight about whether or not she's had any cosmetic surgeries done in order to achieve her incredibly youthful looks. When speaking to Variety about her groundbreaking SI cover, the lifestyle mogul shared her candid thoughts about plastic surgery, saying that she hasn't done much on her face except fillers and Botox — and she hates Botox. "I've had absolutely no plastic surgery whatsoever," she said. "Every now and then there are certain fillers that I can do for a little line here or there, but I hate Botox. It's a weird thing for me." She added, "I really and truly don't do a lot."
In the past, Stewart has said that she only used Botox on one part of her body. In 2013, Stewart explained to Allure, "It works for certain things, like for skin under the chin," she said. "But I don't want a taut jawline and a quizzical look." As for getting dermal fillers, Stewart said she only does it every now and then, maybe twice a year. "That's basically the skin treatments that I get," the renowned chef told People. She credits her "excellent" and "very conservative" dermatologists for being extra careful about her face and skin. "I've never had a face-lift," Stewart said.
The secret to looking young, according to Martha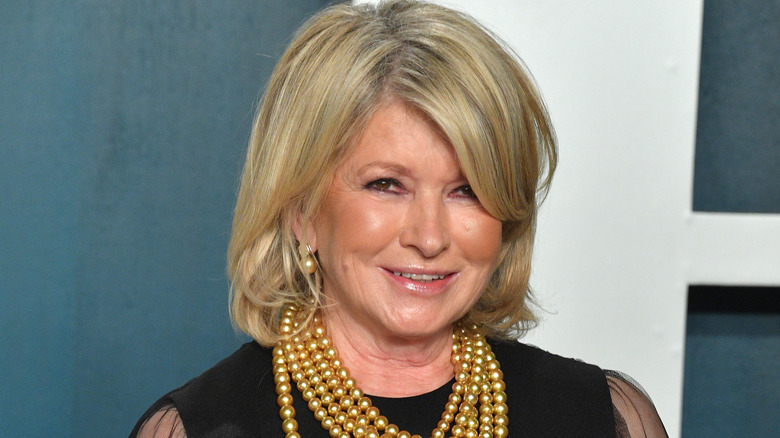 George Pimentel/Getty Images
According to Martha Stewart, the secret to looking young is...that there really is no big secret. To her, it all comes down to your lifestyle. "It's about being aware of things around you and leading a good healthy life," she told Yahoo Life in 2023. "A healthy lifestyle is very, very important to me. Healthy eating is very important. Having a healthy existence and working." 
On how she takes care of her skin and body, Stewart said that aside from keeping a balanced diet, she makes sure to exercise regularly. She's a huge fan of Pilates and horseback riding. ("I try to go to Pilates as many times a week as I possibly can," she told Yahoo Life.). She also steers clear of cigarettes and alcohol, and exposing herself to the sun! "I wear hats and I wear sunblock every single day," Stewart shared with Variety.
But genetics also play a major role, according to the business mogul. "My dad was a gorgeous man with very good skin. So was Mom. She was fantastic until she was 93 years old," she told People. But all in all, it's really about paying attention to yourself and your body. "I think if you look good, you feel good ... you're healthy, and it shows. It shows in the glistening skin, in the pink cheeks, in the nice hair, everything," said Stewart. "You can't be like that unless you've worked at it."