Lindsay Lohan Was Engaged Once Before Husband Bader Shammas (& It Didn't End Well)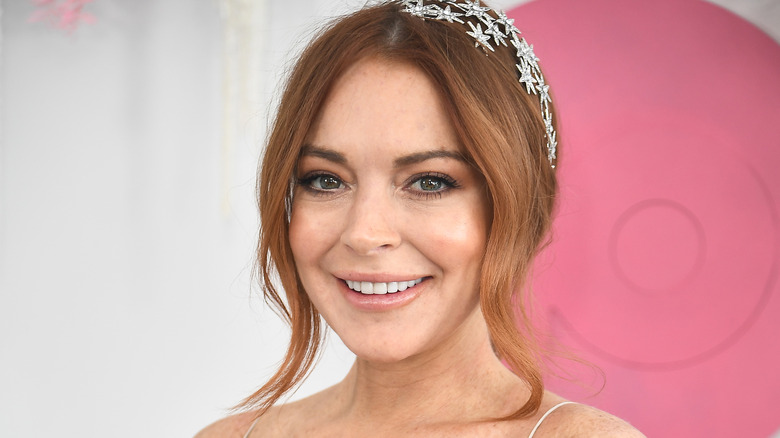 James Gourley/Getty Images
This article mentions domestic violence.
Lindsay Lohan may have a long dating history, but the "Mean Girls" star never took any of her relationships to the next level until recently. In mid-2022, Lohan tied the knot with Bader Shammas, making her a married woman for the first time. "You found me and knew that I wanted to find happiness and grace, all at the same time. I am stunned that you are my husband," she captioned the Instagram post that announced the news on July 2, 2022.
The relationship continued to grow, with Lohan revealing she was set to become a mother on March 14. Since then, Lohan has showcased her baby bump on Instagram here and there. Starting a family has always been her plan, but she hadn't found someone she wanted to do so with until now. "I would love to have two or maybe four kids but I have no plans to start my own family yet," she told the Mail on Sunday in 2018.
With Shammas, Lohan felt ready. "I found my partner. He's an amazing man and we're a great team," Lohan told "Good Morning America" in November 2022. The couple had become engaged a year earlier — a relationship milestone she also shared on Instagram. "My love. My life. My family. My future," she wrote to accompany photos in which she showed off her ring. This diamond sealed the deal, but it wasn't the first rock she ever wore. Fortunately, she didn't have that one for long.
Lindsay Lohan accused her ex-fiancé of abuse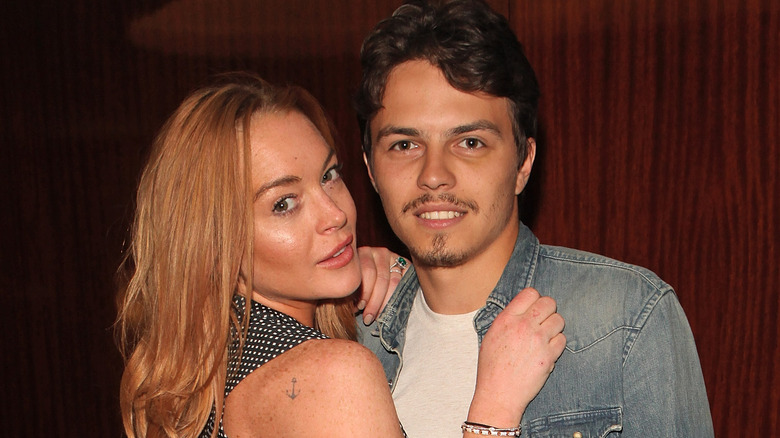 David M. Benett/Getty Images
Lindsay Lohan became engaged to Russian heir Egor Tarabasov in April 2016, mere months after they started dating in the summer of 2015. Lohan had confirmed they were in a relationship just one month prior. "I haven't known Egor for that long. We've been together for about seven months," she told The Sun in March 2016. The coupled walked their first red carpet together in late June 2016, and Lohan could be seen rocking her emerald engagement ring. 
But things took a turn for the worse only a couple of weeks later. Lohan and Tarabasov were captured in a physical altercation during a Mykonos getaway to celebrate her 30th birthday in early July 2016, "Good Morning America" reported. The images showed Tarabosov seemingly grabbing Lohan's arm from behind with force. The situation got even more troubling later that month when a neighbor recorded what looked to be Lohan calling out for help from the balcony of her London apartment, according to The Sun. 
"Please please please. He just strangled me. He almost killed me. Everybody will know. Get out of my house," she could be heard shouting. Police were called to intervene but found no one inside. Lohan called off the engagement shortly after, with Tarabasov moving out of her apartment a day after the incident. "She didn't want him trespassing in her apartment, but he went in and took all his possessions," a source told the New York Post. 
Lindsay Lohan argued the situation wasn't taken seriously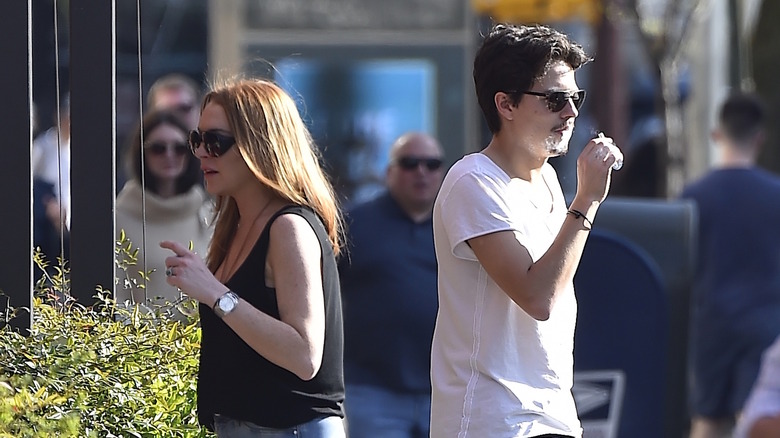 Alo Ceballos/Getty Images
Despite disturbing evidence that something was seriously wrong in the relationship between Lindsay Lohan and Egor Tarabasov, no one seemed to care. At least that's how Lohan saw it. "As if most women in America cared how I was abused by my ex fiancé... when not one person stood up for me while he was abusing me," she captioned a now-deleted Instagram post in October 2017. Lohan's comment was criticized for its timing, as she had just come out in defense of Harvey Weinstein, who was later convicted of sexual abuse. 
Her siding with Weinstein aside, Lohan does have a point. For the most part, the media covered the incidents like they were just new examples of her shenanigans over the years. Amid the intense media coverage and sensationalism that her breakup from Tarabasov generated, Lohan chose to address it. "I wanted to do this interview because it's time to tell the truth," she told the Daily Mail in August 2016. "There have been so many lies printed about me recently."
Lohan reflected upon her experience, delving into the reason she tried to make it work even after he showed signs of violence. "I genuinely fell in love with him but he broke my trust and made me feel unsafe," she said. But Lohan was able to learn from the situation. "No one is going to hurt me again," she said in the 2018 interview with the Mail on Sunday. 
If you or someone you know is dealing with domestic abuse, you can call the National Domestic Violence Hotline at 1−800−799−7233. You can also find more information, resources, and support at their website.