Lindsay Lohan Has A Big Update About Her Relationship With Bader Shammas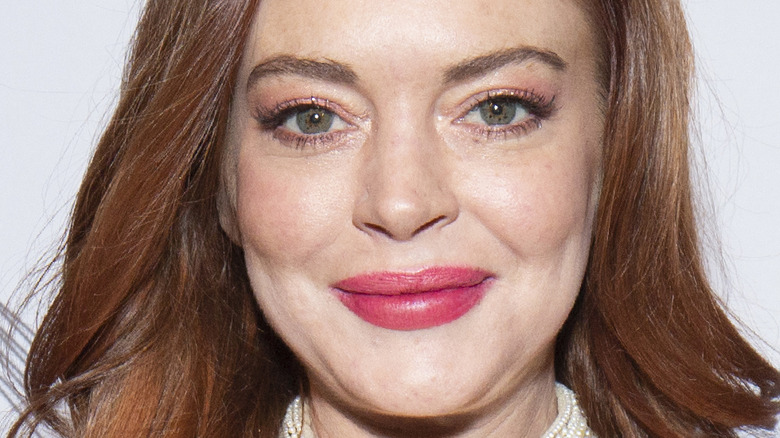 Santiago Felipe/Getty Images
Wedding bells are ringing because Lindsay Lohan and her fiancé, Bader Shammas, just took a big step in their relationship!
Back in November 2021, the two announced their engagement on Instagram in a set of photos of the pair giddily smiling at one another, and with Lohan showing off her new jewelry. Before Lohan's engagement, the pair had been dating for over three years after meeting in Dubai, where Shammas lives and where Lohan has also been recently living, per People. But while the two have kept their relationship under wraps for the past three years, the couple couldn't contain their excitement over their engagement. When announcing the news on Instagram, Lohan captioned the post, "My love. My life. My family. My future."
And since Lohan accepted Shammas' proposal, the two have been busy wedding planning. But don't worry, "The Parent Trap" star is no Meredith Blake type of bridezilla. Speaking with Extra back in February, Lohan revealed she is a relaxed bride, who just wants things to go the right way. "I want to do things right and I want to pace everything. But it's an exciting time. I'm very girly," the star revealed. When pushed for more details on the upcoming wedding, Lohan only gave one glimpse saying she would have multiple dresses, but kept the rest under wraps. Now, Lohan has big news about her life with Shammas.
Lindsay Lohan and Bader Shammas are officially married
Congratulations are in order because Lindsay Lohan and Bader Shammas are now married! While little about the wedding has been revealed, fans noticed that on Saturday, when posting a photo to Instagram, the "Mean Girls" star called Shammas her husband in the caption. 
"I am stunned that this is my husband. My life and my everything. Every woman should feel like this every day," Lohan gushed on Instagram, alongside a sweet photo of her leaning on Shammas smiling. "I am the luckiest woman in the world. Not because I need a man, but because he found me and knew that I wanted to find happiness and grace, all at the same time," she continued in the caption. After posting the photo, Lohan's representatives did confirm the two tied the knot, but didn't disclose further details, per TODAY.
And since the two have yet to announce more about the wedding — including more about those dresses Lohan hinted at — Lohan's father did reveal how much he loves Shammas and how these two are living happily ever after together. "He's not a Hollywood type, you don't see any pictures of them in the press. That was one of Lindsay's problems — the paps encroaching on her and coming up with stories," her dad Michael Lohan told Page Six. "Everyone's happy. Lindsay got her life back when she met him, she's been living a really happy and healthy life."